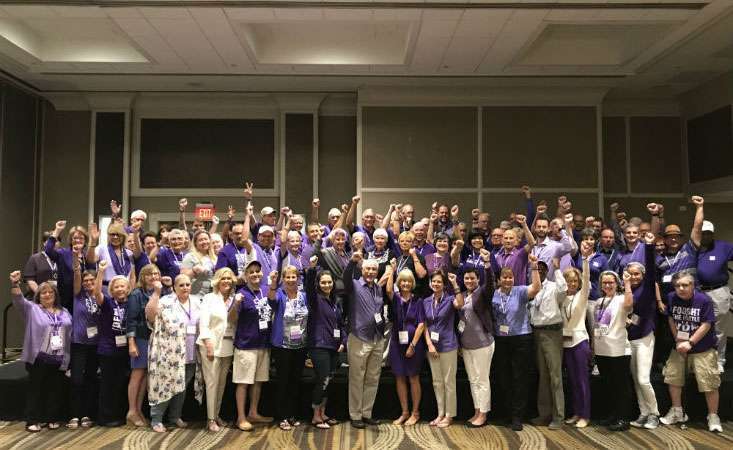 Pancreatic Cancer Action Network (PanCAN) President and CEO Julie Fleshman, JD, MBA, kicked off the organization's National Pancreatic Cancer Advocacy Day in Washington, D.C., this morning, welcoming a crowd of more than 530 purple-clad advocates comprised of nearly 100 survivors, families, caregivers, healthcare professionals, researchers and other supporters.
"We are here because we are fighting the world's toughest cancer, and every day we're making progress toward our goal," Fleshman said. "We've come a long way. And it is because of you."
The pancreatic cancer survivors attending Advocacy Day were welcomed to the stage by Fleshman and celebrated as the anthem "Hope's Alive," written and performed by Erin Willett, played. The crowd gave the survivors a standing ovation.
Today marks a day of training, story sharing and networking for attendees before they head to Capitol Hill tomorrow to urge their members of Congress to continue to invest in cancer research.
A highlight of this morning's schedule was a special Survivors' Breakfast, which gave pancreatic cancer survivors a chance to connect, be inspired and empower each other.
The theme for this year's Advocacy Day is Demand Better. For Patients. For Survival. For Breakthroughs. Advocacy Day is important in the movement to change outcomes for pancreatic cancer patients.
PanCAN's nationwide army of advocates is extremely influential: they were instrumental in the passage of the Recalcitrant Cancer Research Act in 2012, which led to the National Cancer Institute's (NCI) creation of a strategic plan for pancreatic cancer.
And, according to a press release distributed by PanCAN today, federal research funding for pancreatic cancer – the world's toughest – increased 22 percent in 2016 as noted in the latest data released by the NCI. The increase is the largest annual increase in NCI funding for the disease. Overall funding for all cancers increased nearly 15 percent in 2016.
Next up on the schedule for Advocacy Day today is the "Improving Patient Outcomes: The Path to Progress" panel, which will be covered live on Facebook and recapped on PanCAN's website later today. Appearing on the panel are NCI Director Norman Sharpless, MD; Pfizer Global Product Development Chief Development Officer, Oncology, Mace Rothenberg, MD; Mayo Clinic Professor of Epidemiology in the Department of Health Sciences Research, Gloria Petersen, PhD, who serves on PanCAN's Scientific and Medical Advisory Board; and PanCAN's Chief Science Officer Lynn Matrisian, PhD, MBA.
Tomorrow is National Call Congress Day. Everyone is encouraged to share their story with their members of Congress via phone, as well as the same important message – Congress must continue to fund vital research. Detailed instructions will be available at pancan.org/CallCongress on Tuesday.
Tune into Instagram Stories and watch our live media coverage and videos on Facebook and Twitter to experience Advocacy Day virtually. You can also join the conversation by posting with the hashtags #PANCaware and #DemandBetter.
Even if you are not attending Advocacy Day, you can join
Pancreatic Cancer Action Week
, taking place through June 19, from home. All it takes is a few
clicks
to be part of our fight to end pancreatic cancer – and ensure our message echoes through the halls of Congress.