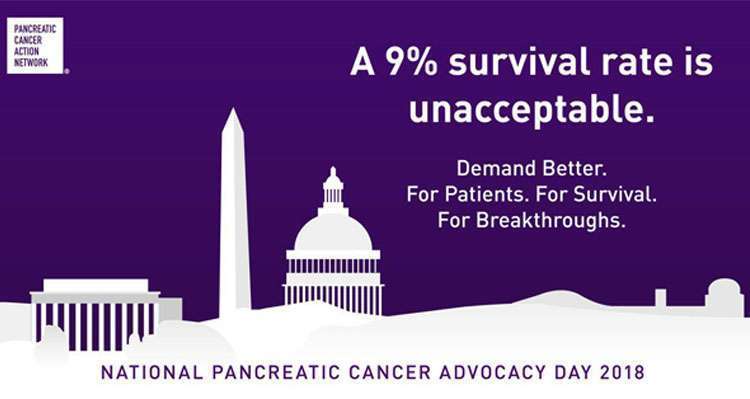 MANHATTAN BEACH, Calif. – (June 18, 2018) Federal research funding for the world's toughest cancer, pancreatic, increased 22 percent in 2016, according to the latest data released by the National Cancer Institute (NCI). This increase was influenced by the Pancreatic Cancer Action Network (PanCAN) and its army of volunteer advocates who changed history with the passage of the Recalcitrant Cancer Research Act (RCRA) five years ago and remain relentless in their efforts to increase federal cancer research funding year-over-year. The $27 million increase is the largest annual increase in NCI funding for the disease.
"Our advocates continue to change the federal funding landscape so new breakthroughs in pancreatic cancer research can be discovered and, in turn, allow more people to live longer," said Julie Fleshman, JD, MBA, president and CEO of PanCAN.
Since the founding of PanCAN in 1999, the NCI's pancreatic cancer research investment has grown from $17.3 million to more than $152 million in 2016. The latest NCI data also revealed a 15 percent increase in the number of research grants awarded for pancreatic cancer, which could accelerate future breakthroughs. Overall funding for all cancers increased nearly 15 percent in 2016.
Although the increase is laudable, the total funding for pancreatic cancer – which has a five-year survival rate of just 9 percent – pales in comparison to other cancer funding. Breast cancer, for instance, has a 91 percent five-year survival rate and received $516.2 million in NCI funding in 2016.
And, pancreatic cancer incidence and death rates are on the rise, despite an overall decline in cancer death rates across the United States.
In just two years, pancreatic cancer is expected to surpass colorectal cancer to become the second leading cause of cancer-related death in the United States. This year alone, an estimated 55,440 Americans will be diagnosed with pancreatic cancer equating to 152 mothers, fathers, sisters, brothers, friends and colleagues receiving the devastating diagnosis each day. Ninety-one percent of them will not survive to see the year 2023.
Advancements in pancreatic cancer have also proven challenging due to the complexity of the disease coupled with low clinical trial enrollment rates, lack of public awareness, doctors not having experience treating the disease and too few researchers studying the disease. These facts point to an urgent need for more resources and more researchers to make quick and meaningful progress to improve patient outcomes. There currently is no standard diagnostic tool or established early detection method.
Despite this current reality – and because of the urgency – PanCAN's nationwide army of advocates continue fighting to change the future of pancreatic cancer.
PanCAN's groundbreaking passage of the RCRA in 2012, which enlisted countless volunteer advocates to send 76,000 emails, make 14,000 phone calls and more than 1,300 visits to Congress, identified high-priority research initiatives for pancreatic cancer including RAS targeted therapy, studying the relationship between pancreatic cancer and diabetes, early detection and immunotherapy resulting in new initiatives and program announcements in these areas and more research dollars.
The passage of the RCRA and the $27 million NCI funding increase in 2016, among many other achievements, are due primarily to PanCAN's advocacy efforts. The voices of these advocates broke barriers and helped propel the national conversation about pancreatic cancer and the importance of federal cancer research.
"PanCAN will continue to privately fund leading-edge research across the country, but federal funding is especially critical to pancreatic cancer research now more than ever," said Fleshman.  "We commend Congress for continuing to fund vital research; however, the survival rate shows much more must be done. We cannot improve patient outcomes and reach our goal to double survival by 2020 without it."
The news comes as the largest national gathering of people committed to fighting pancreatic cancer, including more than 130 survivors, unite on the steps of Capitol Hill tomorrow for PanCAN's National Pancreatic Cancer Advocacy Day, urging elected officials to continue to invest in cancer research.
Learn more about how federal research funding improves patient outcomes by reading PanCAN's Impact Report or by visiting pancan.org. Follow the Pancreatic Cancer Action Network on Twitter, Instagram and Facebook.