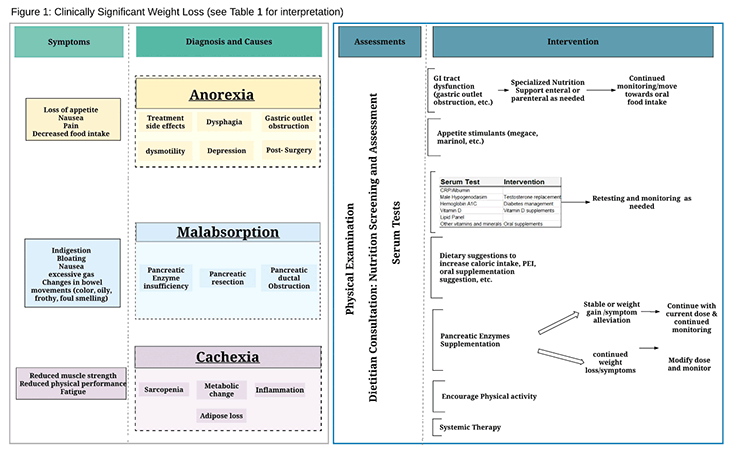 Weight Loss in Pancreatic Cancer Patients Should Be Treated as Agressively as Cancer Itself, Paper States
MANHATTAN BEACH, Calif. – (Jan. 2, 2019) A new article published in The Oncologist, representing the work of the Pancreatic Cancer Action Network's (PanCAN) Supportive Care Committee of Precision PromiseSM, categorizes pancreatic cancer-related weight loss into three categories: anorexia, malabsorption and cachexia,  provides best-practice recommendations for assessment and intervention for each cause, and states that weight loss in pancreatic cancer patients should be treated as aggressively as the cancer itself.
Evidence-based recommendations outlined in the paper include regular weight screenings, nutritional counseling with registered dietitians (as appropriate) and exercise. The authors also recommend patients be provided with pancreatic enzyme replacement therapy as needed.
"It is important to distinguish the three causes of weight loss in pancreatic cancer patients," said Lynn Matrisian, PhD, MBA, chief science officer at PanCAN and a coauthor of the article. "By identifying the specific cause of a patient's weight loss, clinicians will be able to more accurately combat the issue with the appropriate treatment, tailored to the patient's needs."
An estimated 85 percent of pancreatic cancer patients suffer from cancer cachexia, a condition that causes patients to lose significant muscle mass. Also, side effects of treatment, such as mouth sores or digestive problems, can make eating less appealing and lead to anorexia-related weight loss in patients. And if the cancer, or surgery to remove it, hinders the normal functions of the pancreas, patients can become malnourished and lose weight, as they're unable to digest food properly due to malabsorption.
Weight loss in pancreatic cancer patients can significantly lower patients' quality of life, ability to handle treatment and can impact survival. Proper supportive care can stabilize or reverse weight loss in these patients and improve quality of life, treatment tolerance and improve overall outcomes.
In addition to Matrisian, the paper's coauthors include Andrew E. Hendifar, MD, at Cedars-Sinai Medical Center, Maria Petzel, RD, CSO, LD, CNSC, at MD Anderson Cancer Center, Teresa A. Zimmers, PhD, at Indiana University School of Medicine, Crystal S. Denlinger, MD, at Fox Chase Cancer Center at Temple Health, Vincent J. Picozzi, MD, at Virginia Mason Medical Center and Lola Rahib, PhD, PanCAN's associate director of scientific initiatives.
Dr. Picozzi also serves as a member of PanCAN's Scientific and Medical Advisory Board.
Together, this group of scientists, physicians, and a dietitian are part of the Supportive Care Committee of Precision Promise, PanCAN's adaptive clinical trial platform for pancreatic cancer patients set to launch in 2019. This committee aims to establish best supportive care practices by fostering research and disseminating results.
Learn more about pancreatic cancer-related weight loss and supportive care practices by visiting pancan.org or by contacting a PanCAN Patient Services Case Manager. Follow the Pancreatic Cancer Action Network on Twitter, Instagram and Facebook.