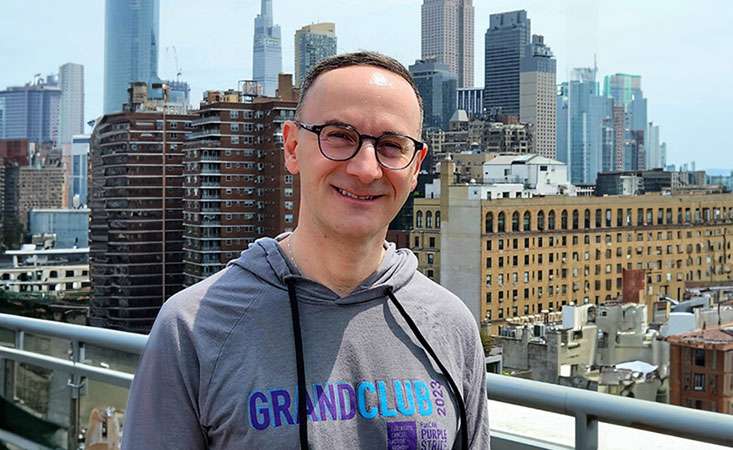 Sometimes simple things can have an outsized impact when it comes to feeling safe and accepted in a healthcare setting, said pancreatic cancer survivor Rob Caruano. One example: Having a Pride flag visible in a doctor's office or clinic.
"You have no idea what a difference that makes when somebody sees that, because then you know you're in a welcoming space," he said. "That's very important and simple and easy for a lot of providers to do."
Rob has two perspectives on inclusion in medicine: Not only is he a pancreatic cancer survivor who has been navigating the healthcare system through his own diagnosis and treatment, he is also an oncology patient advocate for a pharmaceutical company. Although he doesn't work specifically in pancreatic cancer – he focuses mostly on lung and skin cancers and has no professional connection to PanCAN – he talks with folks all the time about clinical trials and treatment options. The goal is to make sure patients' voices are heard in the drug development process.
"We work with the patient community to make sure that we're balancing the science, and theoretically what's possible, with what patients need and want," he said.
The Road to Diagnosis
It was after several years of working in this role that Rob became a patient himself. In December 2021, after experiencing intense pain in his abdomen in the middle of the night, he immediately sought out care to determine what was happening. The urgent care clinic he first went to in New York City turned him away – at the height of the omicron wave of the COVID-19 pandemic, resources were stretched extremely thin.
"That was a scary moment," he said.
Eventually, he found a primary care doctor to do an endoscopic ultrasound. When that revealed a concerning finding, he sought a gastroenterologist for an MRI.  This proved to be a challenge: The one physician he could find thought he had gallstones and initially refused to go through with an MRI.
Thankfully, Rob didn't let up and continued to advocate for the MRI. He describes it as the test that "changed everything" as it showed a mass on his pancreas. He went into surgery not knowing whether his cancer would be operable or not, as tests had also showed spots on his liver and it was unclear whether they were malignant.
For Rob and his husband, the six weeks leading up to the surgery were never ending.
"The not knowing was the worst," he said.
Thankfully, the surgical team found that the cancer had not spread. They were able to do a distal pancreatectomy, which involved removing the tail and part of the body of his pancreas, the gall bladder, spleen and some lymph nodes. Surgery was followed by chemotherapy.
Throughout his own diagnosis and treatment, his work with other patients diagnosed with cancer helped him figure out where to turn and next steps to take.
"I understood what biomarker testing was. I knew what genetic testing was. It was enormously helpful to have that base level knowledge," he said. "And I knew where to go for information. I knew to look for advocacy groups, which is how I found PanCAN."
Feeling Accepted and Seen
Looking back at his own experience as a patient, Rob points to another small detail that made a big difference for creating a safe space for him: The patient intake forms at his hospital asked about gender identity and sexual orientation. This simple check box can help patients feel accepted and seen.
"Make sure you have a care team that is understanding and supportive," he said. "You need to feel comfortable being who you are in a medical setting."
At every step of the way, his care team recognized him and his husband as a family – expressing compassion and concern for their overall well-being – which also went a long way towards him feeling confident moving forward.
"Even though we're a middle-aged gay couple, they were still very emphatic about having conversations about fertility, asking if we were sure we don't want to have children," he said. "Those are conversations that easily could be overlooked or just assumed not to be relevant for certain people. But the fact that they asked those questions and treated us like they would anyone else was exactly what you should be doing, and what other providers should be doing."
Cancer caregiver support groups specific to the LGBTQ+ community can also be beneficial, Rob said. And of course mental health, for both patients and caregivers, should be front and center.
"There's a link between healthy mind and healthy body," he said. "Take care of yourself physically and make sure that you're valuing yourself and not discounting warning signs or other health signs or health concerns."
Now the volunteer Advocacy Chair for PanCAN's New York City Affiliate, Rob plays a critical role in expanding PanCAN's reach. Like so many impacted by this disease, Rob is passionate about research, including a standard early detection test as well as better treatment options.
Also critical, says Rob, is more research that asks questions about sexual orientation and gender identity upfront, so that more can be understood about this population.
"That information is often not collected in cancer studies writ large," he said. "And it's important."