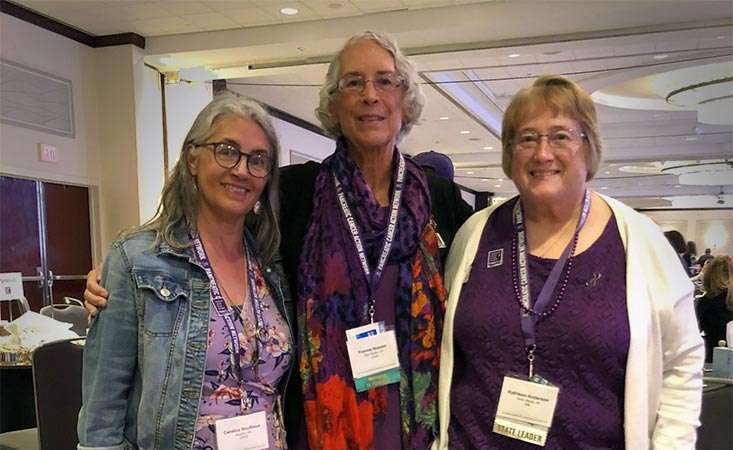 Editor's note: Today, Sunday, July 26, is Parents' Day. Here we share the story of three mothers who connected through the Pancreatic Cancer Action Network (PanCAN) after the devastating losses of their young sons to pancreatic cancer.
Tyler was smart and athletic. He was engaging and kind. A friend to many.
Kerry was generous, adventurous and curious with a great sense of humor. Like Tyler, he loved bringing people together.
Tom was caring, hardworking and determined. A dedicated dad to two young daughters. He was also Kathleen Anderson's firstborn, and they shared a special bond.
When he was diagnosed with pancreatic cancer at 36 years old, Tom said to Kathleen, "What am I going to do?"
She replied, "This mother didn't raise any quitters, so we are going to fight."
And Tom did, for almost three years.
Today Kathleen keeps Tom's memory alive by fighting on his behalf, including supporting PanCAN events like its annual Advocacy Day in Washington, D.C., where she urges Congress to increase federal funding for pancreatic cancer research.
It was at Advocacy Day 2019 when Kathleen, from Indiana, found something unexpected – two other mothers who had lost young adult sons to pancreatic cancer – and as such, an unbreakable bond.
Kerry's mother, Carolina Bouffioux of Ohio, was one of the moms. Like Kathleen, she continues the fight to honor Kerry's legacy.
Kerry was diagnosed at 26 years old and died two years later. He and Carolina had attended one PanCAN Advocacy Day event together, but he was not well enough to sign up the next year.
"He knew he wouldn't be able to attend but he kept asking me if I was going.
"'Yes! I'm going,' I told him. And just weeks after he passed away, I went to D.C. because I had said I would. I was in a daze, but I was there to speak for him. I'll keep doing so every year from now on."
Carolina remembered thinking that she was the only parent there who had lost a child to pancreatic cancer.
Then she was introduced to Yvonne Noesen, Tyler's mother, who lives in Southern California.
"It was a remarkable meeting in many ways," Carolina remembered. "Both our sons loved soccer. We formed a quick connection."
Tyler was diagnosed at 25 and lived with pancreatic cancer for five years. His cancer had been caught because he had pain in his abdomen – something he had attributed to a soccer injury. He was Yvonne's only child, and he attended several Advocacy Day events with his parents.
"Meeting Carolina and Kathleen was serendipitous," Yvonne said. "We all understand how each other feels.
"Advocacy Day gives us a sense of power, especially after we felt so powerless against the disease."
Yvonne, Carolina and Kathleen agree that their shared pain and passion make them an unstoppable force.
Although they were unable to be together in-person at Advocacy Day this year due to coronavirus concerns, they participated in virtual meetings with their respective members of Congress about PanCAN's advocacy priorities.
All three are committed to staying involved with PanCAN.
Carolina participates in PurpleStride Cincinnati, fundraises for PanCAN and volunteers with the PanCAN Cincinnati Affiliate. She encourages others who have been through the disease to get involved, telling them, "Even if you think there's nothing you can do to help, just join in. You'll be glad you did."
Yvonne and husband participate in PanCAN's PurpleStride events in Los Angeles and Orange County.
And Kathleen takes Tom's daughters, now 10 and 14, with her to PurpleStride Indianapolis, where they volunteer together.
"I feel like Tom would want me to stay active with PanCAN, so anything I can do to remember him and honor him, I do."
Join Carolina, Yvonne and Kathleen and
get involved
with PanCAN in your community.