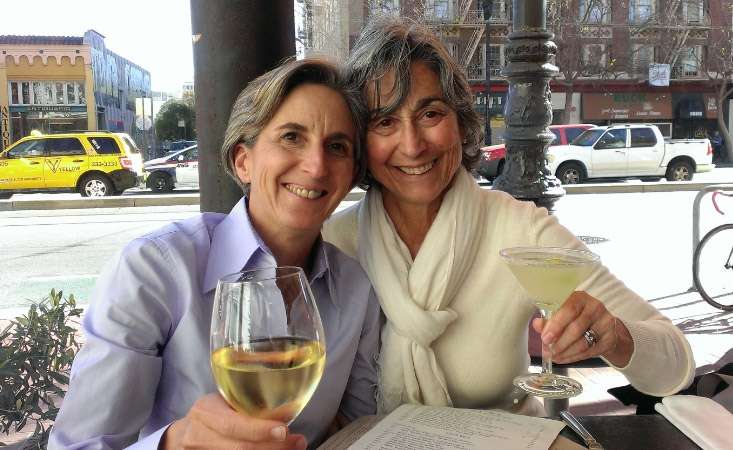 Editor's note: We recently announced that PanCAN donor and supporter Linda Amuso has joined the PanCAN Board of Directors. Linda lost her wife to pancreatic cancer, as well as her uncle. A good friend's father also had the disease. We recently sat down with Linda to hear her story.
PanCAN: Linda, welcome to the PanCAN Board of Directors. Thank you for supporting PanCAN in honor of loved ones affected by this disease. Tell us more about your wife, Susan.
Linda: Susan was amazing. She was a family person, and she was a successful businessperson. She was also incredibly fit and health conscious. She was a master swimmer. She did kickboxing, Pilates and strength training. She kept up with her doctor's appointments and was very on top of her health.
One day Susan mentioned casually that she was waking up sometimes with what felt like a stitch in her side. She chalked it up to working out too hard or something that she ate. She had a friend who was experiencing some gallstone issues, and we thought maybe that's what it was, too. She had no loss of energy or appetite, and had been losing weight, but she had been on a protein-centric diet and so she thought the weight loss was just occurring naturally. When the stitch become more prominent, she went to her doctor.
We really didn't think much of the doctor's appointment. I remember saying casually as she left that day, "Give me a heads-up when you're done."
The doctor recommended that Susan try an antacid for indigestion. But she hadn't really had digestive issues. She asked the doctor for an ultrasound, on the spot. Within an hour, she had the first indication that she had a growth on her pancreas. The next day, which was a Wednesday, a CT scan gave us a more definitive sense of what we were dealing with. By that Friday, we were speaking with oncologists and surgeons and having a biopsy, which confirmed that she had stage 3 pancreatic cancer.
We continued to move quickly. By Tuesday the following week, we had picked Susan's care team. A few days later, on Valentine's Day 2014, she had her first chemo treatment at Stanford, which was near our home in San Francisco. Unfortunately, she was not a candidate for a Whipple procedure. She did have targeted radiation, and she was also part of a phase 1 clinical trial at Stanford.
Susan lived for over two years, until June 1, 2016.
PanCAN: How and when did you learn about PanCAN?
Linda: I have a dear friend whose wife had been through cancer and they told me about the benefits of getting information from a cancer-specific organization. We found PanCAN and started getting information about the disease, which evolved into getting information about clinical trials and then how to use palliative (supportive) care to manage the side effects more holistically.
To raise broader awareness of PanCAN after Susan's death, I asked for people to make donations to PanCAN in lieu of giving flowers or gifts.
PanCAN: And you have also made gifts to PanCAN to honor Susan's memory, including funding a "2021 Career Development Award, made possible by Linda E. Amuso in memory of Susan A. Lombardi."
Linda: My work has given me exposure to the drug development process and the importance and challenges of research funding. When I was approached with the opportunity to donate and fund a research grant, it seemed like a purposeful investment…to help find a cure for something that is so underfunded. I was excited to contribute to funding Dr. Shannon Oda's research as a novel approach between science and technology and to also fund a female researcher, because it can sometimes be challenging for women to secure research funding.
PanCAN: What will you bring to the PanCAN board of directors, not only through your professional experience but also your personal experience as a caregiver?
Linda: I'm incredibly honored to join the PanCAN Board and excited that my background in business and as a caregiver can be a valuable addition.
My career falls into several different areas of expertise. I've been a leader in a variety of businesses and know the challenges of hiring, recruiting and retaining an amazing team. I think I bring business-building experience as we work toward continued growth at PanCAN. And while I'm not a scientist, I have knowledge of the process of bringing science from the lab to the patient. And then having had the experience of being a caregiver brings a different perspective for both the patient's and the caregiver's mental health and wellbeing.
PanCAN: What impresses you most about PanCAN?
Linda: PanCAN's investment in finding alternative solutions to the challenge that is pancreatic cancer – and being an active participant in that process – is very inspiring. Also, the tremendous leadership. As PanCAN President and CEO, Julie Fleshman's energy and commitment is very impressive – that level of leadership continuity in nonprofit is very powerful.
PanCAN: And what is your vision for the organization as it looks to continue increasing awareness and funds for the disease?
Linda: Finding a cure for pancreatic cancer of course is a priority, and one day we will. But if we can create a path to addressing pancreatic cancer as a disease you can live with for a lifetime, that would be a huge win. I'm passionate about improving outcomes and giving people an opportunity to live longer and meet their full potential.
For Susan, pancreatic cancer was an incredibly private matter. For anyone facing a health challenge, you have to address both the physical and mental health issues that arise. For the patient to be strong and have all the courage to fight is hard work. I learned that investing in physical health also required focusing on mental health and wellbeing. I'm very passionate about finding a way to help bridge this conversation for patients and caregivers.
Finding a way to bring caregivers together to build a support network can be equally as important to supporting patients in this journey.
Connections are so important. PanCAN Patient Services knows this and helps families connect – I'd like to advocate for more of this, and helping people understand how helpful a network can be.
Give today
and support pancreatic cancer research funding, free services for patients and families, and more.