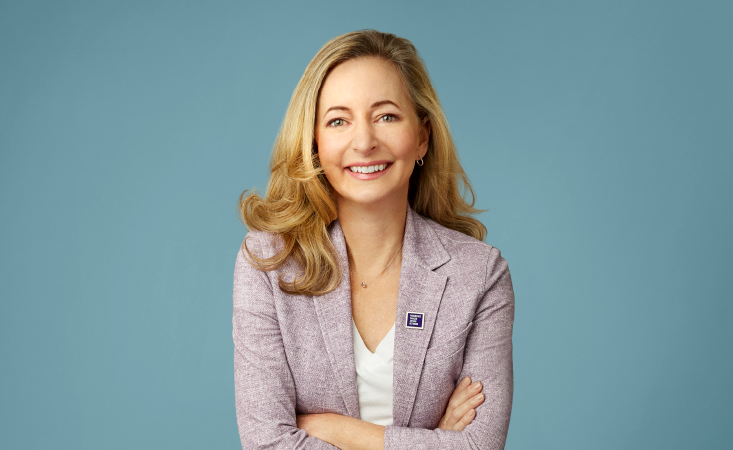 It's International Women's Day, a time to celebrate the outstanding achievements of women everywhere. PanCAN President and CEO Julie Fleshman, JD, MBA, is contributing in a big way to achievements in the pancreatic cancer community. Just last year, Julie was named "Nonprofit Executive of the Year" by "Los Angeles Business Journal." Here, we discuss with Julie the pancreatic cancer landscape, PanCAN's vision for the future of the disease, and what keeps her inspired, excited and motivated.
PanCAN: Julie, talk about how you got involved with PanCAN.
Julie: My dad was diagnosed with pancreatic cancer back in 1999. He only lived four more months. I was mad. I wanted to know why more wasn't being done – why my dad, and thousands of other patients – were offered no treatment options and sent home to die. After he passed away, I learned about PanCAN, which had just been founded, and I reached out to see if I could volunteer. I then went on to become the first full-time paid employee.
Over the last 22 years, we've grown from a staff of one with revenues of $228,000 to a staff of over 170 with a budget of nearly $50 million. More importantly, pancreatic cancer survival reached 11% this year. Although the survival rate is still unacceptable, we are making progress against this disease.
PanCAN: What is a favorite part of your work?
Julie: I get to work with so many passionate supporters and hear their stories – donors and volunteers who are changing the course of history for pancreatic cancer, patients and families who contact our PanCAN Patient Services for help and support, and the medical and research community committed to changing this disease. We also have an amazing staff – they are incredibly motivated and have the "sparkle spirit" (one of our core values) that keeps me going.
PanCAN: What about your work most inspires you today, 22 years later?
Julie: So many things, but extremely inspiring is getting to work alongside our supporters – all the people I just mentioned – to achieve our vision of creating a world in which all patients with pancreatic cancer will thrive. And working toward our bold goals: by 2030 we want to double the five-year survival rate for pancreatic cancer to 20%, raise $80 million annually and increase the visibility of PanCAN and pancreatic cancer.
Back when my dad was diagnosed, the pancreatic cancer landscape was very different – little was known about the disease, only a handful of researchers were studying it. The five-year survival rate was just 4%. So we've come a long way.
We are going to continue building awareness through national campaigns, media coverage, and strategic partnerships; and reaching more patients and families with resources and information they need to fight this disease. We'll continue to keep the patient at the center of everything that we do at PanCAN.
I encourage everyone to get involved in the way that is right for them – volunteering, making a donation, advocating for increased federal research funding; sharing their stories to raise awareness; participating in PanCAN PurpleStride and fundraising. There's so much more we need to do, and so much more we CAN do, with everyone's support.
That's how we will change the future for pancreatic cancer patients and achieve our vision.
PanCAN: You are Chair of the World Pancreatic Cancer Coalition (PanCAN is a founding member of the Coalition). What is the Coalition?
The Coalition consists of pancreatic cancer patient advocacy groups from all over the world. It raises global awareness and advances pancreatic cancer knowledge to drive transformational change for everyone affected the disease. By sharing best practices and leveraging expertise, we strengthen our collective impact and the impact of individual member organizations that will advance progress for pancreatic cancer patients everywhere. It's been amazing to see the Coalition grow so much – today, there are over 100 pancreatic cancer member organizations on six continents and in 37 countries.
PanCAN: What are you most excited about that PanCAN is working on right now?
Julie: There is always something to be excited about and motivated by here at PanCAN. Of course, our newest clinical initiatives, the PanCAN Precision PromiseSM clinical trials platform that accelerates new treatment options for pancreatic cancer patients, continues to grow. And our PanCAN Early Detection Initiative, designed to lead to an early detection strategy for pancreatic cancer, is enrolling patients to participate in the study. Also, more patients and families are reaching out to PanCAN Patient Services for help and support.
And I'm excited about PanCAN PurpleStride, the ultimate event to end pancreatic cancer. For the first time in history, all PanCAN PurpleStride events will take place on One Big Day – April 30, 2022. That's 60 events, and you can also participate from anywhere you are. Mindy Kaling is our PanCAN PurpleStride Ambassador. I invite everyone to join us at PanCAN PurpleStride on April 30 for a day of inspiration, impact, and of course, purple sparkle spirit.
Progress is made possible thanks to PanCAN supporters.
Your gift
today will fuel research and change lives.