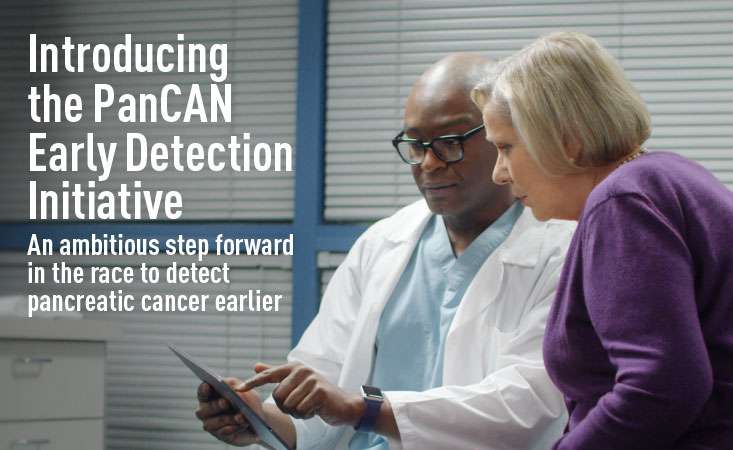 If only our loved ones had been diagnosed sooner…
Earlier detection of pancreatic cancer leads to more treatment options, including the potential for surgery to remove the tumor, and improved survival. But most pancreatic cancer patients are diagnosed after the disease has spread, limiting treatment options and – most tragically – limiting time with family and friends.
PanCAN is working to change this, with a $25 million investment into continued progress for patients with its new Early Detection Initiative. This is only possible because of our incredible donors and supporters.
PanCAN's Early Detection Initiative is the largest forward-looking clinical trial of its kind. The study will look at a specific group of people – those over the age of 50 with new-onset diabetes – to determine if imaging at the time of diabetes diagnosis could lead to earlier detection of pancreatic cancer.
---
"Pancreatic cancer doesn't have a colonoscopy or mammogram; there is no routine screening test for the disease," said PanCAN's President and CEO
Julie Fleshman, JD, MBA
. "To come up with a strategy to detect the disease earlier, we first need to identify a group that is at high risk for getting – or already having – pancreatic cancer."
---
The Early Detection Initiative will ask different questions – or ask questions in different ways – compared to other studies working to develop more effective early detection strategies. Many early detection efforts have focused on people at high risk for the disease due to a genetic link or family history, and most studies make observations after participants have been diagnosed with pancreatic cancer – not before.
PanCAN's Early Detection Initiative is distinct from other studies because it:
Focuses on new-onset diabetes, a symptom of pancreatic cancer that isn't well known
Identifies pancreatic cancer cases that are not linked to genetic risk
Will provide results that can change clinical practice through a forward-looking trial
There are several known risk factors for pancreatic cancer. Some can't be changed, like your genetic makeup and family history of pancreatic and other cancer types. Other factors may be modifiable, like smoking and obesity. Research has shown that diabetes can be both a risk factor and an early symptom of pancreatic cancer.
How Does the Early Detection Initiative Work?
While it's known that long-standing diabetes (more than five years) can slightly increase an individual's lifetime risk of developing pancreatic cancer, the fact that diabetes can be a symptom of pancreatic cancer was recently recognized.
"Diabetes is much, much more common than pancreatic cancer," Fleshman said. "To identify people newly diagnosed with diabetes who are most likely to have an undetected pancreatic tumor, we're also looking at the person's age and changes in blood sugar and weight."
PanCAN's Early Detection Initiative is a randomized controlled trial. Eligible participants will be identified through electronic medical record systems at participating institutions with the intention of finding patients at the earliest indication of diabetes. Only people identified through participating institutions' electronic medical records will be able to join the study.
Those who are eligible and consent to participate in PanCAN's Early Detection Initiative will get imaging tests of their abdomen to look for early indication of pancreatic cancer. In addition, they will answer survey questions and provide blood samples. The blood samples will be pooled with specimens collected through the National Cancer Institute's (NCI) New Onset Diabetes Study in order to search for blood-based biomarkers to indicate the early presence of pancreatic cancer. The ultimate goal will be to develop a screening approach that will allow doctors to catch pancreatic cancer sooner in a certain group of patients.
A project of this size requires multiple, sizeable partnerships and collaboration. Under the leadership of PanCAN's Chief Science Officer Lynn Matrisian, PhD, MBA, the Early Detection Initiative team is made up of experts from the NCI and researchers, clinicians, statisticians and diagnostic specialists from across the country.
While it's critical to bring a new early detection strategy to pancreatic cancer patients, early detection alone isn't enough. In order to create a world in which all pancreatic cancer patients will thrive, we also need to work toward better treatment options. PanCAN is taking on both ends of the spectrum – early detection and treatment – through its large-scale research and clinical initiatives.
To bring new and better treatment options to patients faster and more efficiently, we launched PanCAN's Precision PromiseSM adaptive clinical trial in October 2020. Precision Promise is now enrolling patients at 15 world-class institutions throughout the country.
PanCAN Patient Services team is also available to provide free information and resources to patients and their families, including a personalized clinical trials search and access to our Know Your Tumor® precision medicine service, as well as assistance for those who may be at risk for developing the disease.
"You – our incredible donors and supporters – allow us to take a comprehensive approach to funding and conducting lifesaving research and providing patient support to everyone faced by this disease," Fleshman said.
"We are overwhelmed with gratitude and hope for the future. We are confident in the potential impact of projects like our Early Detection Initiative and Precision Promise to improve and extend patient lives – so families don't have to be left wondering what would have happened if only their loved one had been diagnosed earlier."
You make it all happen –
donate today
to support PanCAN's comprehensive approach to fighting pancreatic cancer.