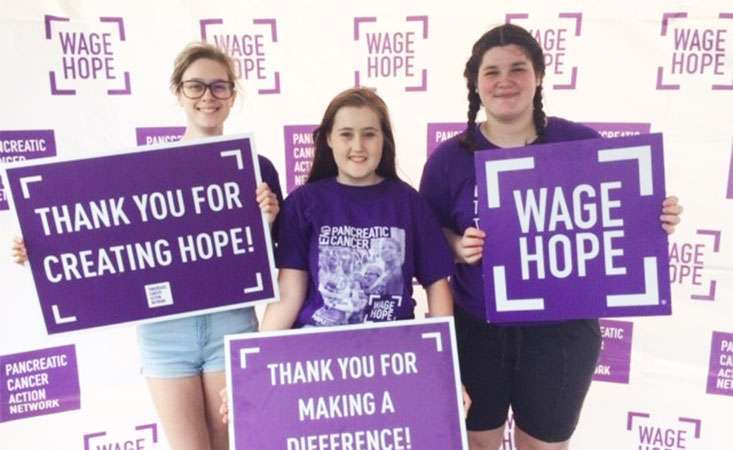 High schooler Mikayla Dolge is in the final semester of her senior year. Despite the hustle of preparing for graduation, she has dedicated time to raising awareness for pancreatic cancer, a cause very close to her heart.
Her mother, Kari Dolge, was a fighter up until her very last day facing pancreatic cancer.
Dolge recalls days when chemotherapy took everything out of her mom, but she always would find a way to make the best out of her situation. Her mother would say that there is good in even the worst moments, and sometimes you will have to fight to find the silver lining, but it is there.
Dolge took her mother's advice to heart. As the first anniversary of her passing approached at the beginning of November, Dolge refused to give in to her immense sadness.
Instead, she wanted to give back in a way that would make her mother proud.
After noticing the Pancreatic Cancer Action Network's (PanCAN) Instagram posts about Pancreatic Cancer Awareness Month, a fundraising idea clicked in Dolge's mind to honor her mother's passing and the November awareness month. She decided "to raise money for PanCAN and for the cancer that had taken so many wonderful people," like her mother.
With some help from educators and administrators at her school, the idea to sell bracelets and ribbons to her fellow classmates materialized. While it was tough sharing her personal story with the student body at her school, she saw overwhelming support from her classmates.
Dolge considers her fundraiser to be a success, not only because of the funds raised by selling the purple ribbons and bracelets, but also because everywhere she looks now, wrists are adorned with purple, and schoolbags are decorated with the ribbons.
"Pancreatic cancer is one cancer that often goes unseen, and to have a sea of purple made me feel like I did the right thing," Dolge remarked.
In June, Dolge will be striding in PurpleStride Sioux Falls 2019 with her team Kari's Angels. The funds raised from her school campus fundraiser are going toward her team's goal of $13,000 by event day.
Dolge offers this advice to other champions fundraising in the fight to end pancreatic cancer: Have courage. It is easy to internalize the riskiness of stepping outside your comfort zone. But Dolge found that a meeting with her school's principal and trusted teachers made everything feel manageable.
"Don't be afraid to get help," she instructs, "I thought I would be able to do my fundraiser by myself, but soon found it was a lot easier to carry the work, struggles and joys of the fundraiser when I had people there with me."
Be a fearless fundraiser like Mikayla Dolge in the fight against pancreatic cancer! Step out of your comfort zone and host fundraisers to benefit your local PurpleStride.
Help spread awareness about pancreatic cancer in your community by joining your
local PurpleStride