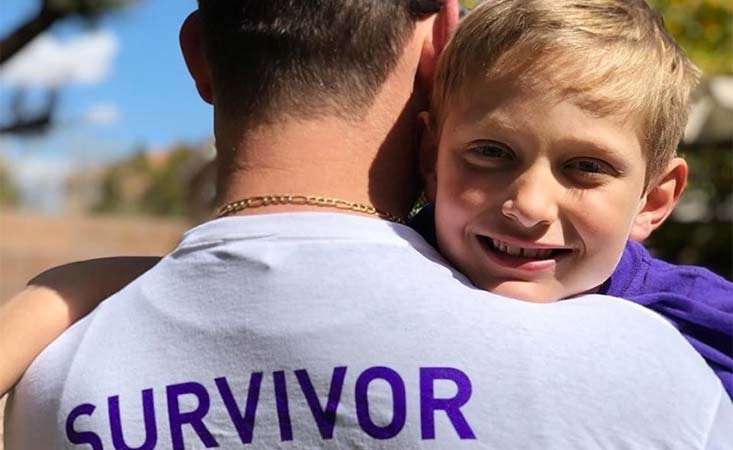 Editor's note: As the Pancreatic Cancer Action Network (PanCAN) transitions its in-person PurpleStride walks/runs through June into "Virtual PurpleStride" events as a result of COVID-19, supporters are showing no signs of slowing down on the fundraising front – and in their ability to get creative and Stride in their own way.
Renae Egan-Williams is still beaming, more than a week after PanCAN's PurpleStride Las Vegas.
As affiliate chair for PanCAN's Nevada Affiliate, she learned just 12 days before PurpleStride that the in-person event she and fellow volunteers had been planning for months would need to be a virtual event this year.
The virtual event involves people who had already registered for the walk or who were planning on it to use the time to do something meaningful to them to commemorate PurpleStride, such as a walk around their neighborhood while social distancing.
The idea was a hit, thanks in large part to Egan-Williams and other volunteers, who came together quickly on a transition plan.
With a "the show must go on" mentality, she and Team & Individual Development Chair Jess Luedtke, plus others, encouraged participants to walk if they were safely able to in their communities, or to honor a loved one in any other way that was special to them. And, they cheered participants and teams, "Keep fundraising – we're so close to goal!"
They also set up a Zoom video call for the morning of the Virtual PurpleStride so they could share the event's opening ceremony speeches, and prior to the call, they posted the link on Facebook, as well as emailed and texted participants on how to join.
The event went off without a virtual hitch.
More than 50 people tuned in on Zoom, where Luedtke shared her story of how pancreatic cancer has affected her family, a rendition of the National Anthem was performed by a local teen phenom, and the event's presenting sponsor, OptumCare Cancer Care, also spoke.
"It was as if we were at PurpleStride, but from home," Egan-Williams said.
The event exceeded its fundraising goal, with more than $172,000 raised, thanks to committed fundraisers and generous donors.
The top fundraising team, Brunson Family, raised more than $22,000 in honor of Team Captain and survivor Carl Brunson, and 12 of its team members are in the PurpleStride Grand Club (meaning they have raised $1,000 or more individually).
"There was so much love that day," Egan-Williams said.
"Sure, people were disappointed we couldn't all be together, but they still put on their purple and showed up in their own way. I've since heard from people who have said, 'We're going to continue fighting, and we will be back for PurpleStride next year.'"
PanCAN volunteer affiliates across the country supported their fellow Vegas striders, too. Several from PanCAN's Boston Affiliate shared on the Nevada Affiliate's Facebook page a video of their morning walk and said they were cheering on Virtual PurpleStride Las Vegas.
The Nevada Affiliate plans to pay it forward – they're readying messages and videos of support for other Virtual PurpleStrides happening in the coming weeks.
Egan-Williams lost her grandmother to the disease and understands how critical it is to raise money for the cause, now more than ever, given today's current events.
"Pancreatic cancer is not going away today," she said. "We still need PanCAN's PanCAN Patient Services for people to get answers to their questions…we need researchers to continue studying the disease. We can't afford to slow down now."
Egan-Williams offered these ideas for others looking for creative ways to fundraise, especially while so many people are at home and online, perhaps more than ever before:
Consider asking a pancreatic cancer survivor you know to record a short video that you can post on social media about how they can benefit from PurpleStride fundraising.

"I think it's helpful for people to understand that this is who we hold PurpleStride for – and PurpleStride is where we want to see more survivors every year," Egan-Williams said.

If you're part of a PurpleStride team, ask team members to record their own 30-second videos for social media about why PurpleStride – and raising funds for PanCAN – is important to them.
Host a virtual game night or movie night and ask participants to donate to your PurpleStride fundraising effort.
Set up a Facebook fundraiser by going to My Strider Central after you've registered for PurpleStride, and watch the funds quickly roll in.
Last but not least, customize your personal fundraising page on My Strider Central. Now is the time, while you have more free time!
Egan-Williams is moved and inspired by the support PurpleStride Las Vegas received this year as a Virtual PurpleStride, saying, "There is an entire purple village behind us all in this fight."
She also knows her grandmother is among them.
"She loved flowers. Every year in March, the week of PurpleStride, my climbing roses bloom. This year, they bloomed the day before our event.
"Even though we had a Virtual PurpleStride this year, Grandma still came!'"
Register
today for PurpleStride, the national movement that raises funds to improve outcomes for patients and their families.