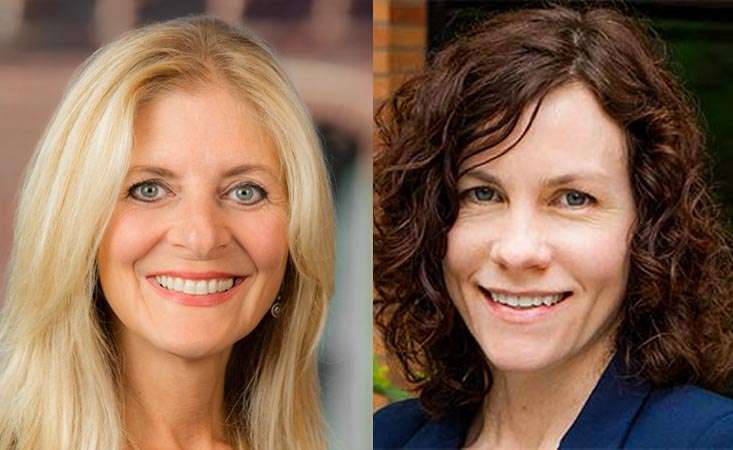 Editor's note: Today's article is part of our series for Pancreatic Cancer Awareness Month in which we share stories of hope, progress and change. Check our Instagram and website for a new story each day through November.
"It's especially meaningful to receive this grant from Nancy because of her passion and strong background in scientific research. She's a role model for me."
Pancreatic cancer entered the "vocabulary" of Nancy Stagliano, PhD, and her family when her uncle was diagnosed in the late 1990s. He died from the disease nine months later.
Despite this experience, Nancy's mother Julia's pancreatic cancer diagnosis in 2001 came as a "complete shock." In two months, Julia was gone.
"You can think you're mentally prepared," Nancy said, "but your life becomes completely different the moment you lose your best friend to pancreatic cancer."
Nancy quickly turned her grief into action – by participating in PanCAN's PurpleStride and running half marathons in support of the organization.
But when she thought back to the helplessness she felt every day during her mom's experience with pancreatic cancer, she wanted to do even more.
An accomplished biotechnology entrepreneur, Nancy knows how hard it is to bring novel treatments to patients – and how hard it is to succeed as a scientist starting out in the field.
So she put her experience to work in another meaningful way – she funded a $500,000 PanCAN Catalyst Grant in her mom's memory.
"That allowed me to have an impact bigger than me and my family," she said. "I personally believe that early investment in this disease is what we have to do."
Since its inception in 2003, PanCAN's research grants program has put emphasis on funding scientists and clinicians early in their careers.
Ingunn Stromnes, PhD, the recipient of the Catalyst Grant in memory of Nancy's mom, had previously received the 2017 Career Development Award from PanCAN, funded in memory of Skip Viragh. The Career Development Award helped her transition from a postdoctoral fellow into launching her independent lab, and the Catalyst Grant has allowed her to settle in and establish her research direction.
"It's difficult to convey what it takes to start a lab of your own. After years and years of training, you still wonder, 'Am I good enough?'" Ingunn said.
"Receiving these two early-career grants from amazing donors like Nancy and the Viragh family – and being selected for funding through PanCAN's expert peer review process – is extremely validating."
She added that she considers her role in helping carry on Skip's and Julia's legacies a huge responsibility.
Ingunn, an assistant professor in the department of microbiology and immunology at the University of Minnesota, focuses her research efforts on improving the effectiveness of immunotherapy for pancreatic cancer patients.
Millions of immune cells called T-cells circulate in our bodies, but only a tiny subset of them have the potential to recognize and attack pancreatic cancer cells.
Ingunn's lab works to build an army of T-cells that are carefully engineered to go after an abnormal protein found on the surface of pancreatic cancer cells. At the same time, the research team is working to block the activity of other cells near the tumor that impede an immune response.
The lack of activated T-cells around the tumor is considered one of the biggest barriers to successful immunotherapy for most pancreatic cancer patients.
In addition to the intellectual challenge that drew her to this research, Ingunn – like Nancy – brings personal passion and grief to the fight against pancreatic cancer.
A close family member was diagnosed with an aggressive cancer while Ingunn was completing her postdoctoral training in Seattle. Her relative enrolled in a clinical trial evaluating an investigational T-cell therapy similar to what Ingunn was pursuing.
"The treatment didn't work for her, but I felt so impressed by her strength and her willingness to participate in a clinical trial," Ingunn said.
"This experience reminded me that life is short, so I decided to act immediately and take the leap to move across the country and start up my own pancreatic cancer research lab."
For Nancy, who recently joined PanCAN's National Board of Directors, supporting Ingunn gives her the opportunity to marry her own background in science, research and drug discovery with the work PanCAN is identifying as the most important to fund.
"PanCAN is the organization that's going to make a difference in this disease – and I'm so grateful to be a part of it," Nancy said.
Make a gift
of any size today and speed progress for patients. PanCAN's Research Grants Program, as well as its innovative scientific and clinical research initiatives, are funded by generous donors.