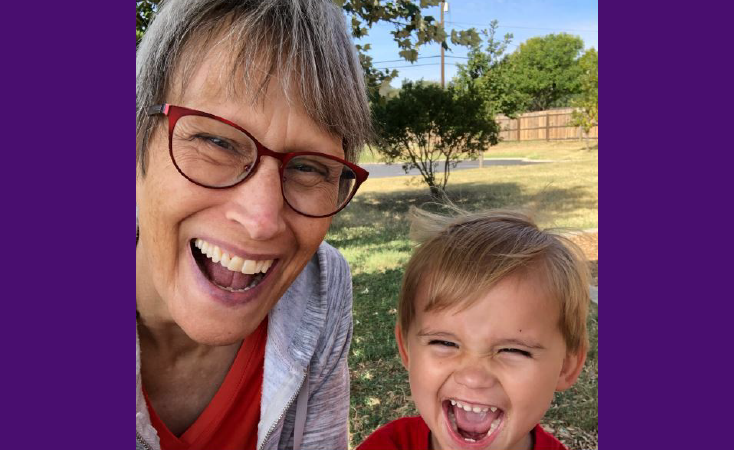 Editor's note: This article was written by Jennifer Lambert, a two-year pancreatic cancer survivor in Cincinnati who found free resources and a sense of community from PanCAN Patient Services soon after her diagnosis.
My journey with pancreatic cancer began in August 2019. My stomach wasn't feeling great and I just didn't feel well. My husband and I were about to travel to Europe, so I saw a doctor. We decided that I was probably dealing with a longer bout of the stomach bug my husband had just experienced.
So off to Italy and Spain we went.
Over the course of our 10 days in Italy, I had what I now know were signs of pancreatic cancer. Pale stool, dark urine and itchy skin (on my arms, legs and abdomen). I was getting fatigued much more quickly than usual. I wasn't overly concerned, though – I thought that perhaps the dry climate, Italian food, travel and walking a lot were contributing to my symptoms.
Next, we headed to Madrid, where my son and his family were living. By then, I was really feeling exhausted and just "not great." One Sunday we were at our son's church and a friend said to me, "Jennifer, you are yellow, your eyes are yellow, and you need to go to the hospital…now."
At that point I was happy to go anywhere I could lie down! (My husband and I spent six years in Latin America as missionaries and we are both fluent in Spanish, so being in a hospital in Spain also did not concern me.)
We went to the ER of the nearest hospital and the attending physician agreed that I was indeed jaundiced. Bloodwork revealed elevated bilirubin. I was admitted and a preliminary ultrasound revealed something pressing on my bile duct.
The nurse said, "It could be a gallstone, or it could be something else."
Over the next five days in the Madrid hospital, an in-depth ultrasound revealed a pancreatic tumor pressing on my bile duct. An MRI clarified that image and led to the decision to insert stents in my bile duct to lower my bilirubin. It worked, and I was released from the hospital so that we could fly home for care in the U.S.
I remember still being hopeful that the tumor was benign. There is absolutely no cancer of any kind in my extended family, and I have no risk factors for pancreatic cancer. I had been a very healthy person my whole life.
As soon as we returned home, we met with my primary care doctor, and she recommended a surgeon who saw a lot of pancreatic cancer patients – someone well-respected and someone we knew about.
It was Sept. 27 when we met with the surgeon. He reviewed the DVD of my scans that I left the Madrid hospital with, and he could clearly see my tumor. He told us that the location made me a candidate for the Whipple procedure.
My question to him: "How many Whipple surgeries have you done?"
We knew that finding a specialist with experience performing the Whipple was very important. Although we didn't know about PanCAN yet, I now know that this is something PanCAN tells patients and families, too.
The surgeon had performed 150 Whipple surgeries. I felt I was in great hands.
My Whipple was done on Oct. 3. My tumor was stage 2. I had 21 lymph nodes removed, and thankfully, all were clear. There was no metastasis.
The surgeon recommended chemotherapy as an extra precaution, and my oncologist suggested FOLFIRINOX. I began FOLFIRINOX on Nov. 18. My liver began to suffer after seven of the anticipated 12 rounds so I stopped chemo and my liver has since recovered. Since February 2020, I have had eight clear CT scans.
I realize that I am extremely fortunate. My husband is a great caregiver and my family is very supportive.
I am grateful for an excellent surgeon and oncologist in Cincinnati. We had so much confidence in them that we did not feel the need to seek a second opinion.
My surgeon referred me to PanCAN at our first visit, saying they could offer us more information and resources, and we reached out to PanCAN right away. We received a free packet of information – the Diet and Nutrition booklet PanCAN Patient Services included was especially helpful. I have spoken with a dietitian, which has also been very helpful and is something that PanCAN recommends that patients do. I take pancreatic enzymes to aid in digestion.
Through PanCAN I've read so many survivor stories, listened to educational webinars about research, early detection and clinical trials, and I've connected with people in my area who are also facing pancreatic cancer and want to share their story and hear mine.
I've appreciated that PanCAN is a community that provides support, friendship, and a cheering section of people who really understand and provide guidance on this journey. I know that pancreatic cancer could reappear, yet I thank God that I do not have pain, my weight is steady, and my energy keeps increasing.
I pray to be around to see my grandsons grow up!