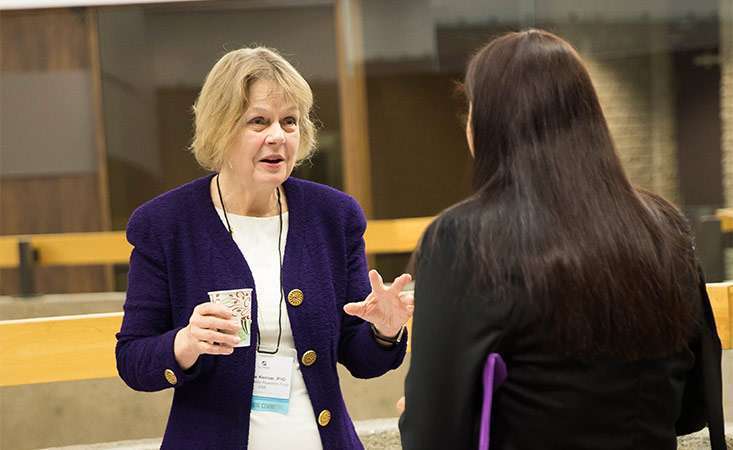 Editor's note: Our "It Starts with Someone" series chronicles all kinds of Pancreatic Cancer Action Network (PanCAN) supporters – volunteers, survivors, caregivers, advocates, healthcare providers, researchers – and describes the "someone" who has impacted their efforts in the fight against pancreatic cancer. Today's article focuses on Barbara Kenner, PhD, member of PanCAN's Board of Directors and founder of the Kenner Family Research Fund. Kenner's "someone" is her husband Peter, who died of pancreatic neuroendocrine cancer in 2010.
Barbara Kenner, PhD, never expected her professional training as a clinical neuropsychologist to intersect with her husband and his mental or physical health – and certainly not years after his death.
But after witnessing her husband Peter's unexplained psychological distress preceding his diagnosis with a pancreatic neuroendocrine tumor (PNET), she scoured scientific and clinical literature to determine whether changes in mental health could be an early symptom of pancreatic cancer.
"Peter worked in finance, and in 2008, he, like many in his business, was affected by a tumultuous market, which I thought explained his mood changes and stress levels," Kenner recalled. "But the following year, the market turned around and his investment business was once again doing well."
Nevertheless, Kenner still observed her husband experiencing "low-level anxiety and irritability." He also complained of lower back pain, stomach discomfort and fatigue. Peter was diagnosed with PNET, a rare type of pancreatic cancer, in 2010. He died two months after diagnosis.
There is significant evidence that psychological distress, including anxiety and depression, can occur as a result of a cancer diagnosis – and that managing these and other symptoms and side effects can have an impact on a patient's quality of life and perhaps affect their overall disease survival.
It's important for pancreatic cancer patients who experience anxiety, depression or suicidal thoughts to speak with their healthcare team immediately. PanCAN Patient Services can also provide support resources and information about how to find help.
A recent study suggests that suicide is alarmingly prevalent among those diagnosed with cancer – especially pancreatic cancer – underscoring the importance of addressing these issues as soon as possible.
"Pancreatic cancer patients may not know about mental health resources available to them, which can include psychiatrists, psychologists, social workers and therapists," Kenner said. "There is still a gap in knowledge of how to identify and manage mental health issues that occur as a result of a cancer diagnosis, so we also need to better educate healthcare professionals."
And Kenner's findings after reviewing the literature – which were published in a 2018 article in the journal Pancreas – suggest that anxiety and depression can manifest before a pancreatic cancer diagnosis, too.
Kenner's article, which has been well-received by readers, states, "The depression-before-diagnosis relationship is particularly notable in pancreatic cancer, which has very few symptoms and frequently is a systemic disease at the time of detection."
The article continues, "It is important that medical and mental health professionals are aware of the pancreatic cancer-depression relationship, particularly sudden-onset depression and anxiety in people who have never experienced this condition before, so that the cancer can be identified and treated at an earlier stage."
Kenner will continue to research, publish and speak to the community about these findings to raise awareness about the possibility of psychological distress being an early symptom of pancreatic cancer.
Kenner also brought her passion to understand and fight pancreatic cancer – and especially improve early detection – to the founding of the Kenner Family Research Fund (KFRF) in her husband's memory. The mission of KFRF is to further advance early detection of pancreatic cancer by actively promoting inter-professional strategic collaboration among researchers, government, industry and patient advocacy groups. KFRF's involvement spans the National Cancer Institute (NCI) Alliance of Pancreatic Cancer Consortia for Biomarkers for Early Detection, the NCI Early Detection Research Network and much more. In addition, KFRF organizes forums on various aspects of early detection for the research community, which has resulted in multiple publications.
In 2018, Kenner joined the Pancreatic Cancer Action Network's (PanCAN) esteemed Board of Directors.
"I have such respect for PanCAN," Kenner said, "and their creative strategies and initiatives that benefit so many patients and families."
Contact Patient Central
to learn more and receive support resources about depression and anxiety related to a pancreatic cancer diagnosis, and for any questions about the disease and its treatment.