Kristin Escobar describes her older sister Tracy as "the healthiest person I knew." Tracy was an active 37-year-old and mom to an 8-month-old daughter when she was diagnosed with pancreatic cancer in the fall of 2014.
Tracy was also a physician assistant by trade, so when she experienced jaundice and abdominal pain, she knew to seek medical attention right away. Still, the diagnosis came as a shock, as she was an active, healthy woman with no family history of the disease.
After a year of chemotherapy and radiation treatments, Tracy underwent a successful Whipple surgery. For a time, there was no evidence of disease. She regained some strength, spent more time with her daughter, Addison, and even served as Escobar's maid of honor in her 2016 wedding.
However, in the fall of that year, a routine scan discovered a recurrence. Surgery and radiation were no longer an option. Tracy passed away on Nov. 21, 2017, just about three years from the date of her diagnosis.
"Tracy fought to the bitter end with a smile on her face and an awe-inspiring attitude," Escobar said. "She even donated her body to research in hopes of finding a cure for pancreatic cancer. That is just a glimpse into the kind of person she was. Simply the best."
Following her sister's passing, Escobar found the Pancreatic Cancer Action Network (PanCAN) and learned about PurpleStride, the walk to end pancreatic cancer. When she saw that the 2018 event in her city would fall around the one-year anniversary of Tracy's passing, she knew it was important to walk in her sister's honor. More than 30 friends and family joined her to form Team Tracy.
"Leading up to the walk, I was nervous. I thought I would just be really emotional," Escobar shared. "But actually, it was a beautiful day. We were overwhelmed by the number of people who came to support us and remember Tracy.
"I remember as I was walking over a hill, I could see ahead of me and behind me and I was just surrounded by a sea of purple. It was a special moment."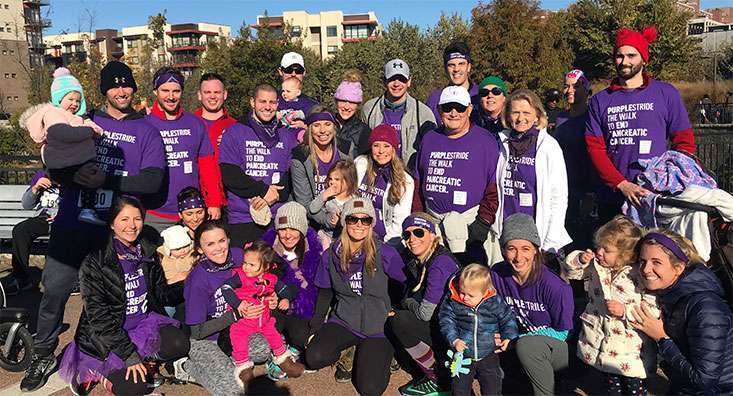 Members of Team Tracy, a top 10 fundraising team at PurpleStride Atlanta 2018.
Even though this was their first event, Escobar and other members of Team Tracy raised nearly $8,000 ahead of their PurpleStride walk – almost quadruple their original fundraising goal – making them a top 10 team for PurpleStride Atlanta. Escobar said she harnessed the power of social media as a successful fundraising tool for her team.
"Originally, I was hesitant about posting on Facebook because I don't typically share a lot of personal stuff," Escobar said. "But it's for a good cause and it did a lot to raise awareness. I knew more people would support us if we shared our fundraiser there."
By making her fundraiser public on Facebook, Escobar was able to reach friends in other cities and states. In many cases, those friends also shared the fundraiser to support Escobar, further amplifying her message.
By personally raising $2,710 toward the team's total, Escobar became a member of the Grand Club, a nationwide program recognizing participants who individually raise $1,000 or more for their PurpleStride event.
Escobar is already planning to participate in PurpleStride Atlanta in 2019 and beyond. Team Tracy will be expanding to PurpleStride events in other cities as well, with Escobar's childhood friends planning to walk in at the Miami event in the spring.
The funds raised by Team Tracy support PanCAN's various initiatives to attack pancreatic cancer on all fronts and improve patient outcomes including: research, clinical initiatives, patient services and advocacy.
"We'll definitely be doing this every year and will continue to increase our fundraising goals," Escobar said. "If the money we raise can help keep just one more person from having to go through what Tracy did, it will all be worth it."
Sign up as a participant for your
local PurpleStride
today to demand better for patients, advance research and create hope for survivors and their families.