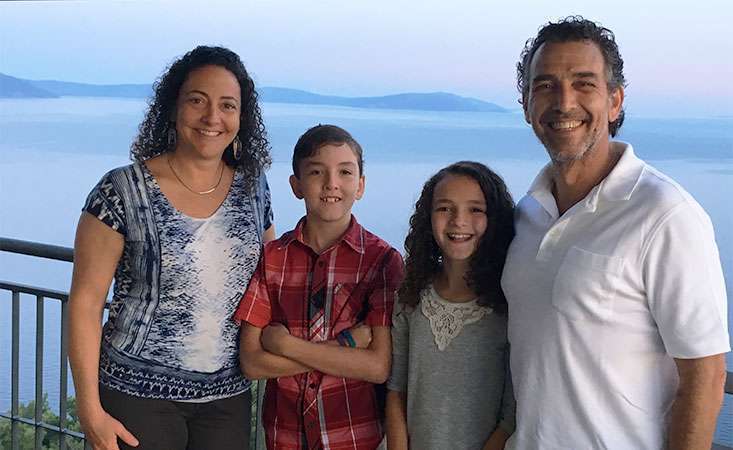 Franco Juricic was a force to be reckoned with. His commitment to his family, his faith and his purple family was unbeatable. Pancreatic cancer: the one thing he strived so hard to beat, the disease he tried to bring as much awareness to as possible, the foe many thought he had conquered, ultimately had found its match.
This is why the community was struck so hard by his passing.
However, it was through his diagnosis that the community could truly see how great of a man he was. Juricic was an active force in his community, not just as the volunteer Mission Chair and previous Advocacy Chair for the Pancreatic Cancer Action Network's (PanCAN) New Jersey Affiliate, but also as a pastor. His strong faith and devotion to service carried him throughout his battle.
This devotion is why Juricic's family, his wife Jacquelyn and his children, his friends and supporters, rallied together to form Friends of Franco to honor his amazing legacy at PurpleStride New York City, the walk to end pancreatic cancer. They have already exceeded their fundraising goal of $20,000.
The team was formed in honor of Franco after his second diagnosis by colleagues of him and his wife from Merck & Co. The team has grown even bigger after his passing. Jacquelyn opened the team to all friends and family as an opportunity for others who were touched by Franco to honor him.
When he was first diagnosed, Juricic's outlook on life changed: He felt that he was here for another purpose. Juricic had been a chemical engineer and then manager of finance and business integration for 25 years at Merck. At the same time (for eight years after his initial diagnosis), he went to school at night to obtain his Master of Divinity degree.
Juricic eventually retired from Merck and became a pastor at his church. In this role, he could extend the level of care that he had been given, and fulfill a dream of loving what you do each day. This role aligned perfectly with his volunteer role in terms of being able to give back and provide hope.
However, his most important role was being a father to his two kids. After they were born, all that Juricic did was tied to the responsibility of being their dad. He also made sure after his diagnosis to live his life to the fullest, knowing how precious life truly was.
Juricic fought hard for ten years after his initial diagnosis. His own father Bruno passed away from the disease two months after he was diagnosed, four years after Franco had been diagnosed.
Juricic commemorated his father's legacy with a tattoo on one arm and a tattoo for his advocacy work on his other arm. He had a third tattoo along his scar from Whipple surgery, marking his 10 years of survival. His tattoos of hope were featured in a July 2018 blog post.
It was not a coincidence that after Juricic became connected to PanCAN his favorite color was purple. Purple was his way of providing an opportunity, a prompt, for others to question why he was wearing it, but also to know they had someone to reach out to fighting pancreatic cancer.
His New Jersey Affiliate colleagues shared their memories of Juricic at a recent meeting:
Todd Cohen (November Awareness Chair): "The amount of people [at his wake] was overwhelming. It showed how devoted he was as a family man, as a religious individual. The amazing thing is, if you saw him and the work that he did with our affiliate, you would think that this was his full-time job."
Michael Weinstein (13-year survivor): "He had such determination. It really changed his life. He didn't look at the negative side of it, he looked at the positive side. He took every day after that. He put his heart and soul into PanCAN. He never wasted a day, an hour, a minute, a second of the rest of his life."
Kayla Schneider (Affiliate Chair): "He was a major reason why I felt comfortable in taking this [volunteer leadership] role. I realized that this person is setting me up for success. I will cherish the things he told me and what I learned from him."
Juricic is a symbol of hope for his community and a beacon for all of compassion and how special a person can be in one of the most difficult cancer diagnoses.
If you are in New York City on Saturday, April 13, join
Friends of Franco
at Prospect Park. Or find your
local PurpleStride
and walk for Franco and all those battling the world's toughest cancer.