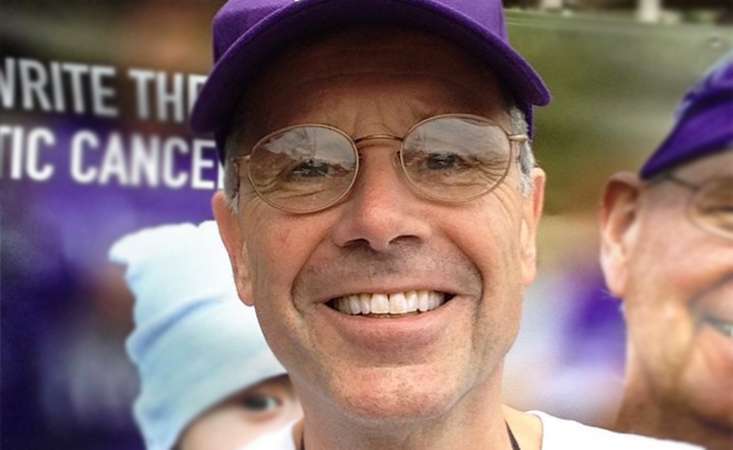 Passionate advocate. Dedicated volunteer. Beloved community member.
Often seen decked out in purple, Maurice Bason was a walking billboard for pancreatic cancer awareness. But he wanted much more than awareness – in the 13 years after his pancreatic cancer diagnosis, he demanded progress.
The long-time Pancreatic Cancer Action Network (PanCAN) volunteer inspired everyone around him to work harder and faster to improve outcomes for pancreatic cancer patients. He dedicated countless hours to the cause – and was a compassionate friend, devoted community member, and loving father alongside that.
From the time he was diagnosed in 2006, Maurice fought against pancreatic cancer with a vengeance. He went from advocating for himself as a patient to advocating and being an ally for everyone diagnosed with the disease, which he continued to do until he passed away earlier this year.
Maurice was determined to change the outlook of this disease for others, and he never let up.
"I remember the intensity Maurice had about his responsibility to represent patients," said PanCAN President and CEO Julie Fleshman, JD, MBA. "He was always thoughtful, prepared and compassionate about whatever he was working on. Most importantly, he inspired all of us – staff, volunteers, supporters and researchers – to do better."
Maurice was described by his children as a man with "a particular passion for justice" and a "strong sense of personal ethics," as well as a belief that everyone – himself included – could always improve and accomplish more.
"Surviving his pancreatic cancer diagnosis gave him the opportunity to teach others that they had a fighting chance against the unfair forces of nature," his daughter Margot shared.
As a PanCAN volunteer with the Cincinnati Affiliate, Maurice worked relentlessly to spread the word about resources available to all patients through PanCAN's Patient Services and to ensure that healthcare professionals in his community had the latest information and knew what to do when they had a patient diagnosed with pancreatic cancer.
He attended PanCAN's Advocacy Day events year after year to show his members of Congress why funding pancreatic cancer research was important.
Though he participated in advocacy work at both the local and national level and believed both were important, his son Peter shared, "It's the local level where he felt the most impactful. It was this 'boots on the ground' approach to fighting, which, for him, is where the real difference was being made."
Perhaps most importantly, Maurice was a beacon of hope and a sympathetic ear for those facing pancreatic cancer. He was also a volunteer for PanCAN's Survivor & Caregiver Network, speaking to countless others who had been diagnosed.
"I would watch him answer phone calls [from others diagnosed with the disease], which sometimes interrupted his dinner or work, and see how ready he was to stop whatever he was doing and give everything to this person who was scared, worried and in need of compassion," Margot said. "He would help them stay focused on what was possible and offer a much-needed glimmer of hope."
This compassion extended beyond other survivors to everyone around him. His fellow volunteers in Cincinnati often expressed that he always wanted to know how they were doing and truly cared about the answer.
Whether it was building deep relationships with those around him, teaching others about things he knew, advocating for pancreatic cancer research and progress, spreading awareness, or helping those diagnosed with the disease, Maurice wasted no time.
"He considered his 13 'bonus years' (as he called them) a gift," his daughter Alexandra said.
Son Peter agreed, saying, "He infused his days with meaning, spending time with those he loved, seeking wisdom, personal enlightenment and making a difference in the world in a way that mattered most to him."
He added: "Sunday dinners with the family; meditating and helping others learn to meditate; building furniture in his woodshop or toys for the grandkids; teaching his grandchildren how to play squash and the importance of sportsmanship; speaking with, guiding and coaching pancreatic cancer sufferers; advocating, including trips to Washington, D.C., to speak with legislators; meeting with local doctors and surgeons to provide them with the latest studies on pancreatic cancer…"
Even while reaching and touching so many people affected by the disease, Maurice wasn't satisfied.
Alexandra shared, "In my dad's effort to connect and share PanCAN resources with as many professionals and community members as possible locally, he became increasingly concerned about the patients and families he was not able to reach. He felt a sense of urgency to widen our reach, and saw this movement as a great opportunity for PanCAN volunteers."
Maurice inspired others to have hope. To do more. To demand better.
When he was diagnosed in 2006, the five-year survival rate for pancreatic cancer was just 4%. Today, it is 10%. "Make no mistake," Cincinnati Affiliate Chair Danielle Gentry-Barth said. "Maurice Bason's blood, sweat and tears helped make this happen."
Alexandra has volunteered with PanCAN alongside her dad for 10 years. "He has left big shoes for me to fill," she said, "but I am committed to continue my involvement in the fight against pancreatic cancer in his and so many, many others' honor."
"He was an amazing man with so much strength," Fleshman said. "He was a hero, and his legacy will live on forever in the important work that he did for PanCAN and our mission. I am forever grateful for all that he did for everyone impacted by pancreatic cancer."
At PanCAN, we will channel Maurice's unflagging spirit to continue our work to change outcomes for this disease.