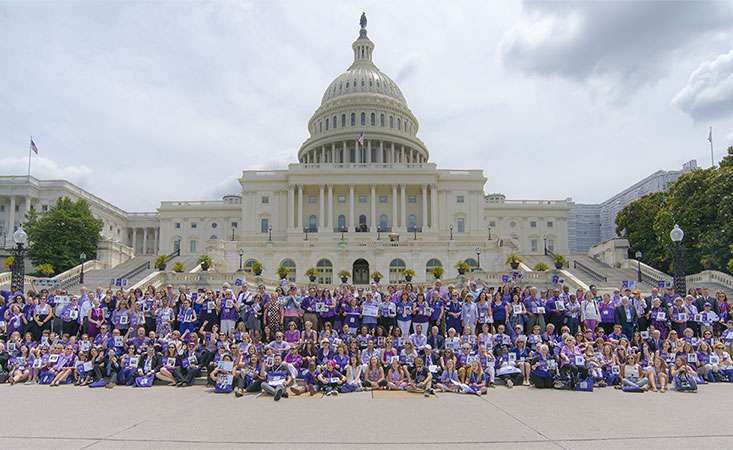 National Pancreatic Cancer Advocacy Day 2019, hosted by the Pancreatic Cancer Action Network (PanCAN), was one for the record books. Thank you to everyone who attended the event, participated in Pancreatic Cancer Action Week, called your members of Congress, shared on social media, and so much more.
Your impact was significant!
On Tuesday, June 25, 650 registered participants from every state, including 110 pancreatic cancer survivors, loved ones, healthcare professionals and other passionate supporters, donned their purple and ascended on Capitol Hill.
They urged their members of Congress to increase federal funding for pancreatic cancer research, including creating a dedicated pancreatic cancer research program in the Department of Defense's (DoD) Congressionally Directed Medical Research Program.
There were more than 370 meetings with members of Congress on Advocacy Day, and advocates delivered 6,700 petitions to their representatives in the U.S. House and the Senate.
Meanwhile, thousands of advocates made Moments Matter (a theme at this year's Advocacy Day) in their own homes by raising their voices during Action Week.
Over 4,600 people sent messages to their elected officials to tell them to prioritize funding for pancreatic cancer research
1,900 phone calls were made as part of Call Congress Day on June 20
More than twice the number of people participated in Call Congress Day over last year
This strong display of action shows that the pancreatic cancer community is fired up to improve patient outcomes and survival rates through increased research funding.
In addition to taking action and contacting Congress, Action Week participants helped spread the word about our cause on social media.
More than 25,000 social media engagements created a surround sound around Advocacy Day, and our message resonated loudly and clearly over Capitol Hill.
Here are highlights from the media's coverage of PanCAN's Advocacy Day 2019:
I met with @PanCANRI advocates today about increasing funding for pancreatic cancer research. I'm glad to support research to increase awareness and improve treatment options for those battling this disease. #DemandBetter pic.twitter.com/FQ8yDRDnwG

— Sheldon Whitehouse (@SenWhitehouse) June 25, 2019
More articles about Advocacy Day 2019:
Learn more
about our advocacy issues and how you can join the fight!