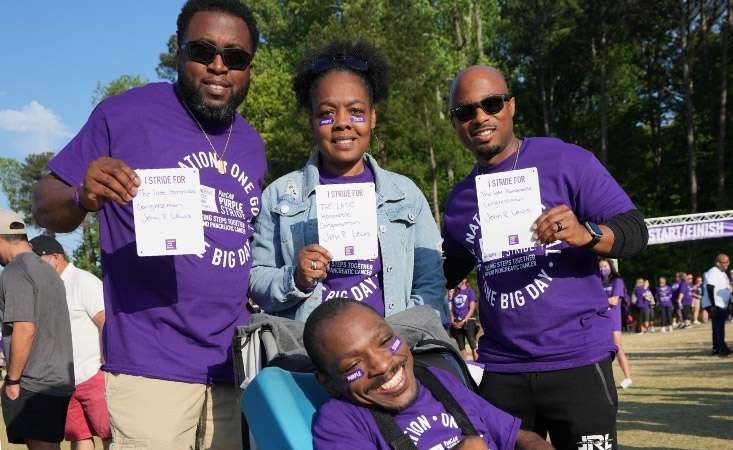 Though I may not be here with you, I urge you to answer the highest calling of your heart and stand up for what you truly believe.
— John Lewis, civil rights leader and congressman, in an essay published in July 2020, just after his death
He was simply "Uncle Robert" to his 25 nieces and nephews.
He was a family man through and through. He loved coming home to Troy, Alabama – to a family reunion or for any other special occasion. And he loved having family visit him at his home in Atlanta.
Nephew Ron Lewis remembers well his joking personality.
Cousin Garry Lowe vividly remembers him with a big smile on his face.
"It was back home in Alabama where he could relax and spend time with the people who loved him, those who knew him best," Garry said. "Home was his sanctuary."
It was never lost on Garry and Ron that "Uncle Robert" was an extraordinary person. Sometimes, they said, he would go into "activism mode" and tell them about meeting Dr. Martin Luther King Jr.
John Robert Lewis was revered for his work in the fight to enact civil rights legislation in the 1960s. He was an original Freedom Rider, chairman of the Student Nonviolent Coordinating Committee and organizer of the march from Selma, Alabama. He joined Dr. King in the March on Washington in 1963, speaking before the crowd of 250,000, when he was just 23 years old.
In 1986, Lewis was elected to the U.S. House of Representatives, serving nearly 35 years and continuing the fight to cause what he called "good trouble." In 2019, that fight also included pancreatic cancer.
After Congressman Lewis passed away two years ago – on July 17, 2020, the Lewis family was reminded how loved and admired he was by many.
"We spent four days traveling with his body," Ron said, "and seeing people lined up on the highways and in the streets for the procession was awe-inspiring. Uncle Robert was the bravest man I had ever known, and during the funeral I saw that so many other people felt the same."
Garry remembered teaching his young son to ride a bike not long after Lewis passed.
"We pedaled by a house that had a huge heart on it and in the center of the heart was John Lewis," Garry said. "I stopped and started a conversation with the lady out front and told her who I was. She started crying and sharing thoughts about Cousin John. It's experiences like those that validate the impact that he had on so many people."
When they were growing up, Garry and Ron remember seeing Lewis's picture in their history books and reading about the Selma march and Bloody Sunday.
Ron said, "As kids, knowing about his legacy always made us stick our chests out a little more. And it made me more determined to learn even more about him, his activism, the movement, and Dr. King.
"I remember when he ran for Congress the first time, in the '80s. We proudly collected a lot of 'John Lewis for Congress' T-shirts. When he was elected, he'd always bring us little trinkets from his trips to D.C."
Ron grew up in Troy on the Lewis family property. Garry grew up in Atlanta – in the congressional district Lewis represented.
"My mother made sure that I knew what John Lewis stood for and what he meant to the civil rights movement," Garry said. "And of course, anytime I was around him, I felt so much pride."
Just before PanCAN PurpleStride Atlanta in April, Garry saw a TV commercial advertising the event, and that it was a fundraiser for PanCAN, designed to raise funds to improve lives for people with pancreatic cancer.
He and Ron gathered family and friends and formed a team for the event, The Good Troublemakers – a nod to Lewis's famous "good trouble" saying. They knew it was important to support the movement to end pancreatic cancer. At PurpleStride, they learned more about PanCAN's mission, heard uplifting survivor stories, met local volunteers and found out surprising facts about the disease.
"It was eye-opening," Garry said. "I didn't know that pancreatic cancer disproportionately affected African Americans, and being at PurpleStride added even more fuel to our passion to get involved and help PanCAN raise awareness and funds. We're locking arms with PanCAN to find better treatments and early detection for pancreatic cancer. The sky is the limit on what we can do together."
Last year, Garry and Ron, along with other family members, started the John Robert Lewis Legacy Institute.
The Institute has three pillars, which represent what Lewis was passionate about – what he believed in and felt was important. Social justice with a focus on voter registration is one pillar because, "You can't talk about John Lewis without talking about voting," Ron said.
There is an equity in education pillar focusing on childhood literacy. The "Trench Coats and Backpacks" youth literacy campaign encourages kids to read and gives away books that educate them on social justice and equity.
Finally, there's a health awareness pillar, in which the Institute raises awareness and funds to address the disease that took their Uncle Robert away from them.
"When he died," Garry said, "I was angry. He had been through so much in his life – he was beaten and left for dead multiple times. And then what took him from us was pancreatic cancer. He still had so much life left to live."
This weekend, the family will celebrate Congressman Lewis's life. The annual John Lewis Memorial Freedom Ride will take place in Atlanta on Saturday, July 16, and is expected to draw over 700 cyclists. And later this summer, an event is planned to commemorate the historical marker that will be placed at Lewis's birthplace in Troy.
Garry and Ron know that Uncle Robert would have been proud of the work they have done so far through the Institute.
Ron said, "He encouraged everyone that, 'When you see something that is not right, you must say something. You must do something.'
"With the essay he wrote before he passed, challenging everyone to continue his work, there's no way we could sit back and do nothing. All those years, he was our voice in Washington. Now we need to stand up and be our own voice."
I want you to know that in the last days and hours of my life you inspired me. You filled me with hope about the next chapter of the great American story when you used your power to make a difference in our society.
— John Lewis
Join the movement to create a better future for pancreatic cancer patients.
Get involved today
.