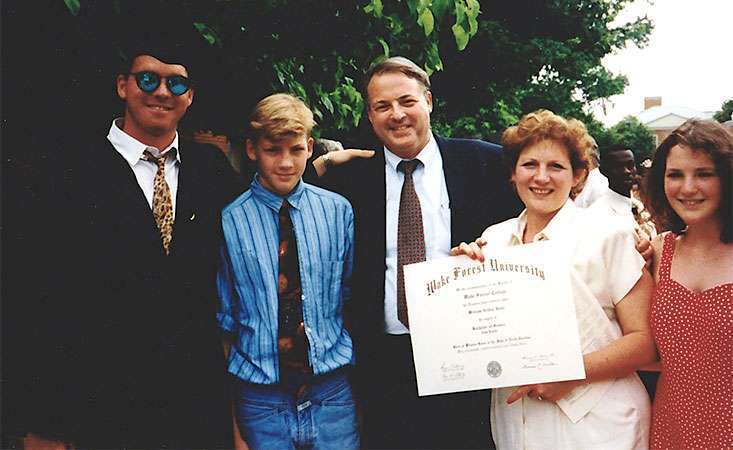 Editor's note: Our "It Starts with Someone" series chronicles all kinds of Pancreatic Cancer Action Network (PanCAN) supporters – volunteers, survivors, caregivers, advocates, researchers – and describes the "someone" who has impacted their efforts in the fight against pancreatic cancer. Today's article focuses on William (Willy) Hoos, who has served as a consultant for PanCAN's Scientific and Medical Affairs team for the past six years. Hoos lost his father to pancreatic cancer in 2003. 
When William (Willy) Hoos of Chapel Hill, North Carolina, finished business school in 2000, he focused on getting into the software industry. An organic chemistry major from college, he was not initially interested in the healthcare or biomedical industries.
That changed when his father was diagnosed with pancreatic cancer the following year.
"My dad's diagnosis came right on the heels of some health concerns with my mom, leading to a pancreas and kidney transplant," Hoos recalled. "Twenty years later, my mom is doing great. But my dad was diagnosed with a small tumor on the head of his pancreas and died less than two and a half years later."
Initially, Hoos' father was able to undergo a Whipple surgical procedure, and his disease responded to chemotherapy and radiation. "He had one good year following his diagnosis," Hoos said.
However, that phase was followed by a recurrence, leading to a more difficult chemotherapy regimen and a rapid decline in his father's health.
"My dad started asking me if I could do research about pancreatic cancer," Hoos said. "My family didn't know that much about navigating the health system. After I looked closer at my dad's care and the progression of his disease, I wondered if there was something I should be doing in that field."
Hoos decided to sell the software company he had started and shift his focus back to science – and find a way to impact and improve healthcare options.
He started out working with a medical device company, which allowed Hoos to learn the ins and outs of the healthcare system.
"After five years with the medical device company, I decided to venture into consulting and shift my focus to cancer. I worked with some start-up companies focused on diagnostic tools or drug development, and I got exposure to some cancer advocacy organizations," Hoos said.
Remembering his father's request, Hoos looked into what was happening in the pancreatic cancer advocacy space. "I found the Pancreatic Cancer Action Network (PanCAN) and looked at everything they were doing, and I was very impressed. I saw an opportunity for my experience, training and entrepreneurial expertise to complement the organization's efforts."
Hoos decided to "cold call" Julie Fleshman, JD, MBA, president and CEO of PanCAN. Fleshman, who's accustomed to hearing from constituents and community members who want to help join the fight against pancreatic cancer, quickly passed Hoos' contact information over to Lynn Matrisian, PhD, MBA, chief science officer at PanCAN.
Matrisian remembered, "Julie told me something like 'I think you should talk to this guy; I think he is the real deal.'
"And I agreed immediately once Willy and I connected!"
One of the first projects that Hoos and Matrisian tackled together was determining how to bring precision medicine to pancreatic cancer patients.
Precision medicine utilizes information from the molecular profile of a patient's tumor – a list of the genetic and protein changes unique to that patient's tumor – to determine the best treatment options for that patient.
"Willy and I pitched the idea of precision medicine for pancreatic cancer patients to PanCAN's Scientific and Medical Advisory Board (SMAB), and we were pretty devastated to hear all the obstacles," Matrisian said. "But we did a lot of brainstorming and talking to other groups and came up with what turned out to be our Know Your Tumor® precision medicine service."
"To PanCAN's credit," Hoos said, "within a couple months, we got the idea for Know Your Tumor approved by the SMAB and had money allocated for the project – then we had the first patient enrolled in the service shortly thereafter."
Four years later, in June 2018, PanCAN and partners published an analysis of the first 640 patients to complete Know Your Tumor – and found that the information provided through the service can improve patient outcomes.
Hoos also felt it was important to capture as much data as possible from patients who undergo Know Your Tumor – and all patients who've been diagnosed with pancreatic cancer – leading to the launch of PanCAN's Patient Registry.
Today, Hoos and Matrisian are partnering on a project to detect pancreatic cancer earlier in adults who have been diagnosed with new-onset diabetes.
Regarding Hoos, Matrisian beamed, "Willy is incredibly knowledgeable and incredibly creative, a true entrepreneur. He has been not only a partner but also an inspiration – he continues to push us to imagine and to create a better world for those facing pancreatic cancer."
As a father to three girls, Hoos is reminded of his dad's work ethic and life lessons: "Work hard but not too hard. Be sure to enjoy life."
And he's grateful to be able to honor his dad's memory through his work with PanCAN.
Donate today
to help PanCAN continue to invest in scientific and clinical initiatives to advance research and improve patients' lives.