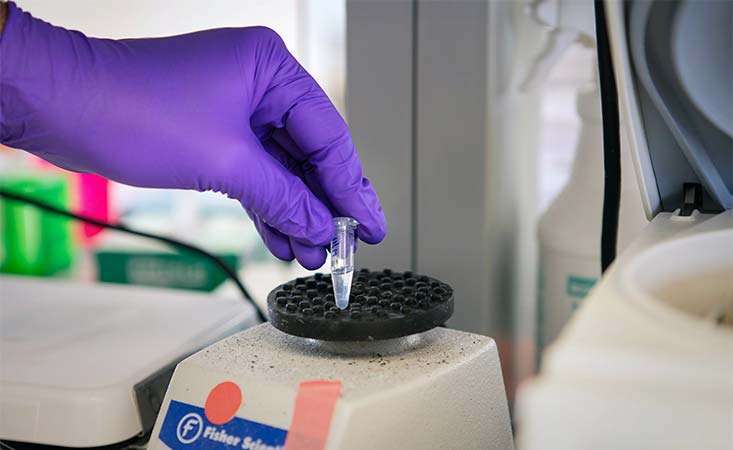 When immunology expert Ingunn Stromnes, PhD, assistant professor of microbiology and immunology at the University of Minnesota, unexpectedly discovered a population of immune T-cells that can recognize – and attack – pancreatic cancer cells, she wasn't sure whether she'd be able to pursue this finding.
Her first research grant from the Pancreatic Cancer Action Network (PanCAN) – a 2017 Career Development Award funded in memory of Skip Viragh – helped her move forward with this investigation.
"PanCAN funding has contributed to this work. It helped permit us to follow a serendipitous finding that we probably would not have been able to pursue, because we are a small lab and have other ongoing critical projects," Stromnes said.
Thanks to this funding support, Stromnes and her research team recently published findings in the prestigious journal Cell Reports, describing these rare T-cells and how their presence may improve the effectiveness of immunotherapy efforts for pancreatic cancer patients.
One of the keys to successful immunotherapy is to empower the cells of the patient's immune system to identify cancer cells as foreign. "Pancreatic cancer typically does not respond well to immunotherapies, and we decided to ask, 'Why is that?'" Stromnes said.
She continued, "It is challenging to find the needle in the haystack – there are numerous T-cells in the body, yet identifying the ones that actually can respond to pancreatic cancer is difficult because they are so rare. We hope our study will help provide a path toward doing so in patients."
After discovering the tumor-specific T-cells, Stromnes and her team set up a model to track their fate. They found that these T-cells were eventually shut down by the cancer cells and surrounding tissue.
Aiming to strengthen the T-cells and weaken the tumor's ability to block an immune attack, the researchers decided to take a combination immunotherapy approach.
"Our preclinical studies show that combining two immunotherapies (already FDA approved for other cancers), leads to stronger and more effective anti-tumor T-cells in pancreatic cancer mouse models," Stromnes said.
She added, "Our results must be interpreted with caution, because all the studies are in animal models. However, they do support testing this immunotherapy combination in clinical trials, at least in patients that have these rare T-cells."
Stromnes is also interested in identifying – and overcoming – ways that pancreatic tumors may become resistant to immunotherapy treatments. This is the focus of her most recent PanCAN award, a 2019 Catalyst Grant funded by Nancy Stagliano, PhD, in memory of her mother, Julia.
"The next step in the lab is to identify the molecular traits of these tumor-reactive T-cells that are capable of effectively killing pancreatic cancer in animals," Stromnes said. "With this understanding, we hope to develop more effective cellular therapies for targeting this disease and to identify other rare T-cells that can recognize pancreatic cancer in patients."
Not only has PanCAN's donors' support contributed to these important scientific advances, but their funding enables grantees like Stromnes access to other experts in the field.
"PanCAN has brought me together with a community of investigators, such as Dr. Michael Hollingsworth, who has been an incredible source of inspiration to pursue our studies and help inform upcoming clinical trials designed to harness these rare tumor-specific T-cells in patients," she said.
Your support
allows researchers like Dr. Stromnes to make scientific and clinical discoveries to improve and extend patient lives.