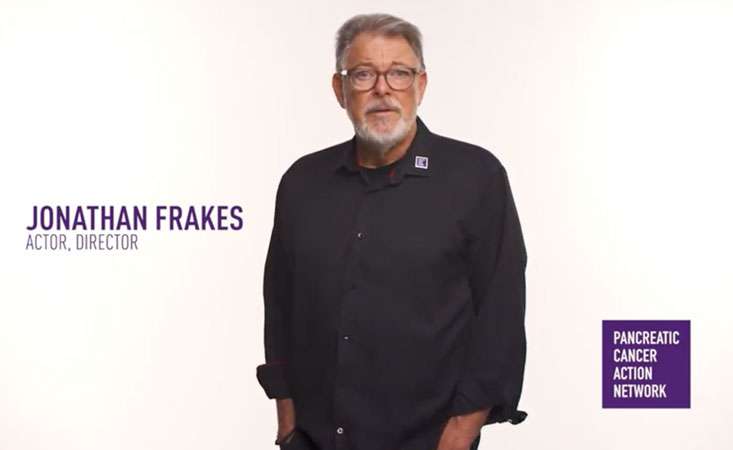 Editor's note: November is Pancreatic Cancer Awareness Month. Throughout the month, we'll be sharing inspiring stories that highlight the urgent need for more research. Here, actor and director Jonathan Frakes shares his story and his reasons for joining PanCAN in raising funds and awareness.
Actor and director Jonathan Frakes describes his younger brother, Daniel, as his best friend.
The person he'd call in the middle of the night, the one who was always there for him no matter what else was happening. The pair were inseparable growing up, a close relationship that extended into adulthood.
"He and I moved to New York together -- we came across the country together in a 1967 Chevy Sportvan," said Jonathan. "We listened to music together. We lived in rundown apartments together."
Then, the unthinkable happened. Daniel was diagnosed with pancreatic cancer.
He died May 17, 1997, at the age of 41, just one week shy of the birth of Jonathan's daughter.
"It was quite shocking – and still is – to not have him as part of my life," said Jonathan.
Now, Jonathan uses his fame – he played the role of Commander William Riker in the television series "Star Trek: The Next Generation" – to honor his brother's memory through his work with PanCAN, raising funds and awareness.
In addition to his brother, Jonathan has been inspired by fellow "Star Trek" actor and dear friend Kitty Swink, an 18-year pancreatic cancer survivor. Together, they created the PanCAN PurpleStride team Trek Against Pancreatic Cancer, raising tens of thousands of dollars while spreading the word about PanCAN's vital work on behalf of patients with pancreatic cancer.
Today, thanks in large part to PanCAN, the prognosis for many patients is better than when Daniel battled the disease. Jonathan points to the steadily increasing survival rate for the disease – it was 4% when Daniel was diagnosed and now it's 11% -- as a reason for optimism.
"We make progress, but we have a long, long, long way to go," he said. "We need to detect pancreatic cancer earlier, so that people like Daniel aren't diagnosed so late. We need to find better treatment options for those who are battling the disease. And PanCAN is leading the way, accelerating this progress."
He cites PanCAN's "cutting-edge research" as critical to saving lives. One example: The Early Detection Initiative focuses on a screening strategy to detect pancreatic cancer early, before the disease has spread, a key component of PanCAN's overall goal of improving survival rates. When it comes to treatment options, PanCAN is working on that front as well through Precision PromiseSM, an adaptive clinical trial designed to require fewer patients and less time to test new treatment options. And PanCAN Patient Services ensures everyone affected by the disease has access to free resources and personalized, one-on-one support.
All of this work inspires hope for other families faced with pancreatic cancer, said Jonathan, a fitting tribute to his brother, whom he describes as "funny, intelligent, delightful…and greatly missed."
During Pancreatic Cancer Awareness Month, he urges the nation to join him in advancing research and support for patients by making a gift to PanCAN today.
"The research that we do is for all of us," he said. "And it's funded by PanCAN. So I honor my brother, Daniel, and I also help survivors, like Kitty."
"Join me and donate to PanCAN today."
We need your help now to continue to accelerate progress and inspire hope.
Donate today
.