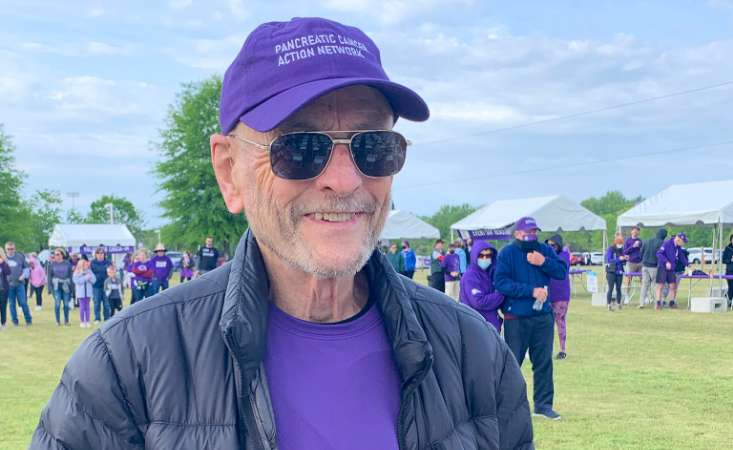 Editor's note: Our series focused on pancreatic cancer survivors leading into PanCAN Action Week (starting June 13!) continues, featuring a moving speech from Rod Devlin given at PurpleStride Richmond on April 30, 2022.
We hope you are as inspired by Rod, and all pancreatic cancer survivors, as we are. To show your support, RSVP for "Voices in Action," the free, virtual kickoff to PanCAN Action Week and advocate for all pancreatic cancer survivors by urging Congress to increase federal research funding for the disease.
Gearing up for Action Week, Rod said:
"Pancreatic cancer impacts thousands of individuals and many times more of their family members and supporters every year. The financial and emotional impact is devastating and extends far beyond the patients and their supporters into the communities where they live. Additional research funding is desperately needed to find a cure for this disease."
Here, Rod's PurpleStride speech:
My journey began in November 2016. At that time, I had been a long-distance runner for about six years. I didn't start seriously running until I was 60. I ran the Richmond Half Marathon in November 2016 and made a hernia I had been dealing with for years worse. I had surgery in December 2016 to repair not one but three hernias.
I started running again in January 2017 and started having minor lower back pain from time to time. At first, I just figured it was related to running since I had had back pain in the past. But the pain started becoming more frequent and severe and I started having abdominal pain as well. I went back to the doctor who had performed the hernia surgery and told him that I thought I had adhesions caused by the surgery. He agreed to do another surgery to check for them and concluded that the healing was fine and was not causing the pain after the second surgery.
By the end of 2017 I had seen at least six specialists, every type – from back surgeon, to orthopedic, to pain management, to neurologist. I had also gone to two physical therapists, two chiropractors, and a massage therapist. I had numerous blood tests, X-rays, a MRI, an ultrasound, a CT scan, a colonoscopy and an endoscopy. I even bought a new mattress to replace one that was only a couple of years old. I was living on over-the-counter pain killers, couldn't sleep at night and used a heating pad on my back all day at work. By the end of the year the pain was 24/7 and becoming debilitating.
By the beginning of 2018 I was beginning to have digestive problems. Sometimes when my wife and I would be out having dinner and I would be headed to the bathroom before I finished my meal. In February and March, I lost 30 pounds. I took a food allergy test that didn't find any specific food allergies. I was calling my gastrointestinal doctor every week or so and going to see my family doctor every few weeks. In late April, I went to my family doctor and gave him a three-page summary of all the tests and doctors I had seen in the past year. He ordered another CT scan but said, "we won't find anything because you just had one six months ago."
The morning after the scan, he called me. He said I had a tumor on my pancreas and that I needed to have a biopsy ASAP.  The doctor who performed the biopsy told my wife and me that I had pancreatic cancer and it was probably stage 4. No one had ever mentioned my pancreas. I was devastated.
I went back to my gastrointestinal doctor and told him that if I could have surgery, I wanted to have it at Johns Hopkins. At Johns Hopkins, they told me that the cancer was wrapped around my arteries and because of that I was not a candidate for surgery at that time. They said I needed to start chemotherapy within the next two weeks.
As soon as we got home from Johns Hopkins my wife posted my condition on Facebook and started asking for prayers from friends. During the past four years I've probably had 200+ people praying for me and was on about a dozen church prayer lists. If I didn't believe in the power of prayer before, I believe in it now. We have focused on the pancreatic cancer successes and stories instead of the negative.
I started chemo the first week of June 2018 and was on it for seven months. My tumor shrank. In December 2018 I had intense radiation every day for a week at Johns Hopkins. I also took part in a clinical trial in December 2018 and January 2019.
In February 2019 one of the surgeons at Johns Hopkins told me that he thought he could get me through surgery. I had a six-and-a-half-hour surgery on February 28, 2019. The surgery removed most of my pancreas, my spleen, 17 lymph nodes and my celiac axis. The surgeon told me that the surgery was a complete success (the margins were clear) and I went home in about a week.
After the surgery I went back on chemo in May and June 2019 as a precaution. Although I hadn't had any significant side effects before the surgery, it really drained me of energy this time. I was diagnosed with pneumatosis and because of that, I couldn't resume the clinical trial.
Then life started returning to the new normal.
In the fall of 2019, I slowly started running again. I signed up for a 10K. It was on March 7, 2020, just over a year since my surgery. I finished first in my age group. I should tell you that I was the only one in my age group!
In early 2020 some spots in my lungs started growing and my CA 19-9 count started going up, so I went back on chemo. My oncologist has told me that chemo will be a way of life for the rest of my life.
I attribute the fact that I was in such good physical condition from running to the success I have had with the treatment plan for the past four years. Unfortunately, I always took my good health for granted. I used to think health problems and old age happened to other people but not to me. I'll be 73 in a couple of months. My wife and I just walked the Monument Avenue 10K last weekend. I spend a lot of time clearing brush and cutting down trees on land I own. I highly recommend getting as much exercise as your condition will allow, with your doctor's approval, of course. But listen to your body. If you feel like resting or taking a nap, do it.
Before my cancer diagnosis I never questioned what a doctor told me. Now I do. If you aren't satisfied with what you are being told, get a second or third opinion. You have to advocate for yourself.
Maintain your diet. You may not always feel like eating but maintaining your diet is very important.
Avoid stress if possible. I had a very stressful career but now the slightest thing gets me stressed out, which causes pain in my abdomen and lower back for hours.
Be careful what you read on the internet. So much of the information on the internet is outdated or just wrong. The PanCAN website is one of the best sources for accurate and current information.
Try to maintain a positive attitude. It's not always easy but it's so important. I've always said that attitude is half of everything
Pray. I am a firm believer in the power of prayer. People tell me that I'm lucky, but I am not. I'm blessed!
I have an acronym I like. It's PAAPA. Prayer and a Positive Attitude.
If anyone would like to talk about their situation, give me your phone number or email address and I'll be glad to talk.
We're bringing Washington D.C., to you! Join us for Voices in Action, the virtual kickoff to PanCAN Action Week 2022, taking place on Monday, June 13, at 2 p.m. ET / 11 a.m. PT.
RSVP today
.