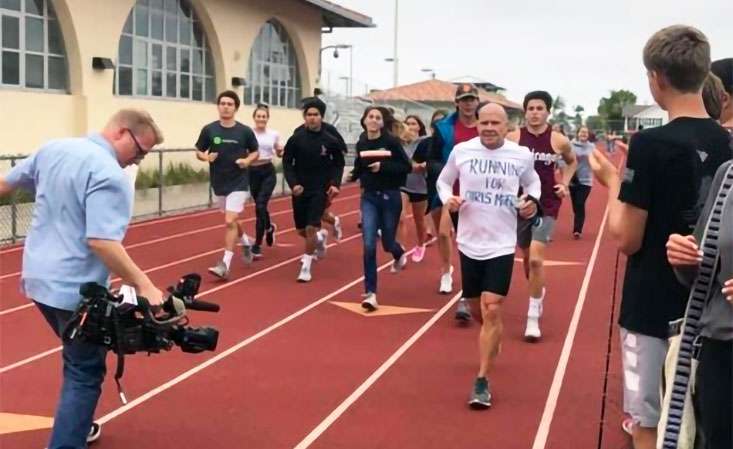 Editor's Note: Last week, we featured PanCAN staff member Maggie Walsh's story about the beginning of her fundraising career, which included her inspiring high school teacher and water polo coach, Tom Atwell. Today, we're featuring cancer survivor Atwell's own story.
Twenty-five years ago, Tom Atwell was working to qualify for the Ironman World Championships. He had just gotten married and was in great physical shape. Then he was diagnosed with a rare kind of soft tissue sarcoma and given a 25 percent chance of survival. But he was offered hope – the chance to receive a new clinical trial of chemotherapy and treatment.
"Had I come in with the same diagnosis a year earlier, the doctors' course of action would have been to amputate my entire left leg at the hip," said Atwell. "Because I was physically fit, the doctors were able to offer this new type of treatment. I was able to keep my leg and have since fully recovered.
"That new treatment protocol was only available because of the hard work of doctors, scientists and the everyday people who helped to raise funds for these doctors and scientists to do their work."
Then, 10 years ago, Atwell's wife Utahna was diagnosed with breast cancer. "She is doing amazing now," he said. "Beyond my own and my wife's battle with cancer, I have had numerous relatives, family friends, students and parents of my students who have dealt with cancer and touched my life in their own way."
One in particular was Maggie Walsh and her family. Walsh was a sophomore in his AP European History class when she lost her father to cancer. Atwell knew him personally and, like Walsh's family, was devastated.
"I marveled though, at how Maggie exhibited such incredible strength over the rest of that year and honored her dad with her hard work in class and by being the most positive, uplifting person," Atwell said.
Ten years ago, Walsh came to him about ways to generate interest in a fundraising idea she had – Teens for a Cure Walkathon. Atwell told her to tell everyone he would run 100 miles on the school track during the event.
It worked. People were fired up and motivated, said Atwell. And he was locked into running for the fundraiser, which he's done every year since 2009. It's become a big part of his family, with his own daughter organizing the event a few years ago.
"And unfortunately, every year there is a new diagnosis of someone close to me, a passing of someone due to this dreadful disease. There is no shortage of motivation to keep doing what I can, running every year, to raise money for cancer research and treatment," he says.
"Maggie continues to be a huge source of inspiration for me, as she has made it her life work to do what she can to help bring an end to cancer."
Teens for a Cure is an event that brings out the entire community. Atwell says that one of the ways he's helped make that happen is to simply ask others. He invites people to run with him. "I send emails and put posts on social media explaining who I am running for and ask them, 'Who are you running for? Who can you do a lap, a mile, a few miles for?'"
Atwell starts his run in the evening, goes through the night and during the entire following school day. He says students show up in the middle of the night to run with him for the novelty of running on the school track at 3 a.m. Associated Student Body Advisor and close friend Joe Cavaiola always bikes with Atwell at the start of the run, generating interest throughout the school and community.
One of his former student athletes, now a Navy SEAL, comes out and runs if he's in town. "If he's not available, he makes sure a few of his fellow SEALS, stationed nearby, show up between 2 a.m. and 4 a.m. to help motivate me and get me through the night," said Atwell.
Atwell credits Walsh as the reason for choosing the Pancreatic Cancer Action Network (PanCAN) as the beneficiary on the 10th anniversary of the event this year, creating a Wage Hope My Way page to raise funds.
"Since it all started with Maggie Walsh, and she is now working for PanCAN, we thought this was a great way to bring things full circle and honor her for getting us all motivated to do something in the first place," said Atwell. This year, Cavaiola's mother is battling pancreatic cancer and this was a way for the community to show support for her as well.
Atwell offers some great tips for a successful event, especially #5:
Find a group of people who share your common goal and motivation
Use every tool at your disposal: social media, email blasts, putting posters up and getting school sports teams involved
Make the event a fun, goal-oriented fundraiser that will generate enthusiasm
Set reasonable goals but don't create expectations that will cause your group to feel discouraged if you don't meet the goals you've set
Find a school teacher who is crazy enough to do something like run 100 miles for your event
It's no wonder that Maggie Walsh says of Coach Atwell, "He's my hero."