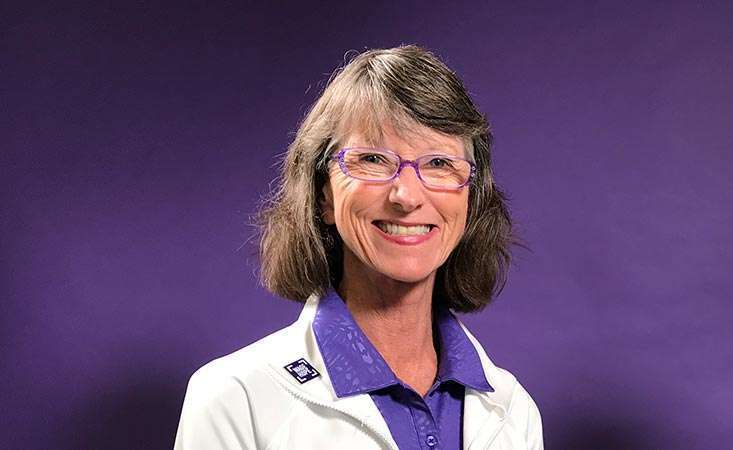 Not long after Marie Durbin lost her husband to lung cancer, she started having cancer symptoms of her own. Mild, persistent nausea plagued her for months. That was followed by amber urine and grey floaty stools.
But it was jaundice, with insatiable itching on her hands and feet, that eventually sent her to the doctor. When steroids didn't help, and blood work showed abnormalities, her doctors ran more tests.
Eventually the diagnosis came: locally advanced pancreatic adenocarcinoma.
In early 2015, Marie had chemotherapy, then surgery to remove the tumor, followed by chemotherapy again. While helping to rid her body of cancer cells, these treatments also caused challenges.
Marie had some complications from the surgery that had to be treated, in addition to nutritional challenges many people with pancreatic cancer face. "I had to relearn how to eat," Marie recalled. She contacted the Pancreatic Cancer Action Network's (PanCAN) PanCAN Patient Services, who gave her diet and nutrition information.
After an adjustment period, things were working smoothly again. Marie was doing well. Then, about a year ago, she started experiencing another common pancreatic cancer challenge: pancreatic insufficiency. This means the pancreas isn't secreting enough enzymes needed for digestion. Again, she turned to PanCAN Patient Services.
"My diet, once again, has had to change dramatically," Marie said. Over the years, she has had to take pancreatic enzymes, adjust her portion sizes and work hard to stay hydrated. Dietitians and PanCAN Patient Services have helped.
Good nutritional care improves outcomes and is critical for your quality of life. The Pancreatic Cancer Action Network strongly recommends that patients have access to pancreatic enzymes and see a registered dietitian.
Marie has a strong support network, including six sisters, to help when challenges arise. PanCAN Patient Services has also been a go-to resource for support throughout her diagnosis.
"PanCAN Patient Services is an ongoing resource, not just when you're in the thick of diagnosis and treatment. You can continue to use this service for years. They've given me a lot of resources, including a diet and nutrition booklet and lists of support groups."
Marie's family also appreciates the resource. "I don't always understand what Marie is going through or what resources she needs," her sister Karen said. "That is where PanCAN Patient Services is so helpful."
Though it can sometimes be difficult, Marie strives to stay positive and to use her experiences to help others. She travels around the country to visit family and connect with others to provide support. In October, she even did a tandem skydive with her son.
Marie's recommendations for those facing pancreatic cancer?
Contact PanCAN Patient Services for resources and information.
Talk to others who have been in your shoes. PanCAN Patient Services can give you a list of support groups near you or connect you with PanCAN's Survivor & Caregiver Network for one-on-one peer support.
Get as much information as you can about your diagnosis, treatment and side effects.
Record your appointments so that you can share with family or go back and listen again to what your doctor said.
Take someone with you to your appointments for support and to help you remember what was said.
For more information about support for pancreatic cancer patients – including the popular Diet & Nutrition booklet – or disease information,
contact Patient Services
.