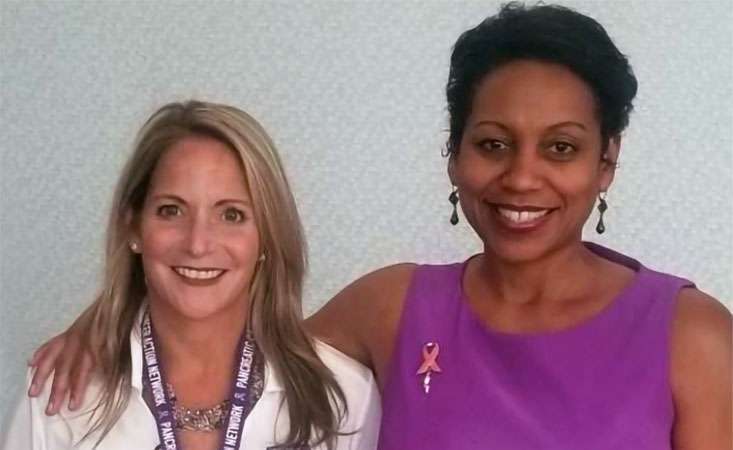 Editor's note: National Cancer Survivors Day was June 7, 2020. All week long we're featuring inspiring stories of survivors nationwide. We celebrate all pancreatic cancer survivors, whether they were diagnosed today or have lived with the disease for years.
Teona Ducre and Elise Roth Tedeschi lead the Pancreatic Cancer Action Network's (PanCAN) Atlanta Affiliate of volunteers as Co-Affiliate Chairs. Today, on Best Friends Day, we share their perspective on all they have gained as a result of a pancreatic cancer diagnosis bringing them together.
Let's talk about first impressions…
Teona: My first impression of Elise was before I even met her. She had just written the open letter to Alex Trebek and had become famous! When I read her story, I remember thinking, "This woman is remarkable and fearless."
Elise: I thought Teona was a rockstar! We met at an event but didn't get to talk much. We had heard a lot about each other, and I just wanted to know her – and her story!
Was there an instant connection?
Teona: Absolutely. We talked over email and phone a few times before we met in person. She was so gracious and willing to join forces so we could make a difference. When we finally met at an event I had organized for pancreatic cancer, she was incredibly kind, greeted me with a big hug and then right away said, "OK, we've gotta get together." It wasn't long before we figured out we were twins.
Our stories were so similar, even our pancreatic tumors had been the same size! But in addition to our cancer connection, we also had other things in common. Another important factor that sealed the deal on our friendship is that we both love wine!
Elise: We had an instant connection with an instant admiration for each other, too. We wouldn't have met unless it was for our cancer, but that is the gift that we get. Our personalities are very similar – we both work hard, we both have awesome kids, and we both really want to make a difference.
Tell me more about how you would describe each other.
Teona: Elise is dedicated, energetic and the consummate professional in her occupation and as the Affiliate Chair for Atlanta. She is passionate, compassionate and a woman with great tenacity. She is a woman of faith, she's fearless and she has a heart to serve. Not to mention, she's fun and cool. 
Elise: Teona is simply amazing – she is positive, strong, beautiful and can always make me smile. She also has the most soothing voice!
Let's talk about your friendship.
Teona: It's unique and continually growing. We came together under the most unlikely of circumstances. After all, how many pancreatic cancer survivors does a person meet with such a similar story? And now, we are fighting this fight together, and neither one of us will stop until we improve the lives of other patients and families.
Elise: It is as real as it gets. We have incredible respect for each other. Teona is family to me. We do talk a lot about cancer, but I think it is because we had never found someone that we could really talk to like we can with each other. I also love that Teona thinks that we need to be on Good Morning America and be interviewed by Robin Roberts for her "Thriver Thursday" series!
What are your thoughts on the fact that cancer brought you together?
Teona: It's a weird kind of "club" to be in. It's a strange blessing when you think about it. Something so unideal can end up being the very thing that brings strangers together and there is great joy in that. So, thank you, PanCAN!
We often talk about the guilt of, why us? When we talk about people who do not survive, I think it helps to know that there is someone right here in my own city who I can go to on days when I am feeling down about this disease, and she will encourage me.
We can talk for hours about our experience with cancer and the life we now have post-cancer, which is comforting. We've been able to take a lousy situation and see the good in it.
Elise: We are each other's cheerleaders, and we always have each other's back. We can always be ourselves with each other and that is so important, especially when one of us is scared or emotional. Both of us question every single random pain or even a symptom that will come back out of the blue and then stop out of the blue. There are so many "new normals" for a survivor that you tend to not want to talk about – Teona and I can talk about them and laugh, cry or simply realize we have that in common.
I have always felt that pancreatic cancer was a gift in a very strange package. I would not change my journey for anything, especially because of the people that I have been so incredibly privileged to meet, namely, Teona!
You can join Teona and Elise in working to improve patient outcomes by attending our first virtual PanCAN Advocacy Week. Pledge to take action and register for Monday's free, one-hour virtual kickoff event, featuring advocates and special guests Sen. Sheldon Whitehouse (D-RI) and cancer researcher Anirban Maitra, M.B.B.S.