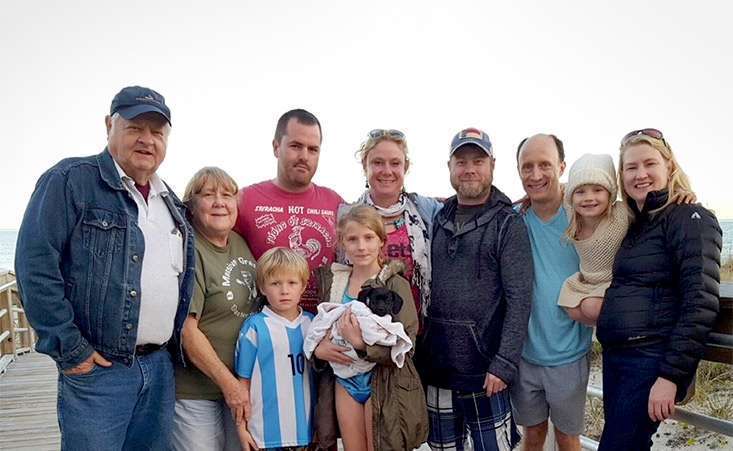 The name Earl Groce may sound familiar to you. In January 2018, the then two-and-a-half-year survivor lent his voice during National Pancreatic Cancer Clinical Trials Awareness Month to encourage patients to consider clinical trials during treatment decisions.
Groce remains adamant about delivering a message of hope to those facing the disease – especially to other stage IV survivors. Now, nearly four years since his diagnosis, Groce says, "Life continues to be good!"
After his diagnosis confirmed stage IV pancreatic cancer that had spread to his liver and lungs, Groce enrolled in a phase I clinical trial for CPI-613, a targeted therapy aimed at cancer cell metabolism. He received the test drug in addition to FOLFIRINOX, a combination of chemotherapeutic agents.
He continues to receive treatments every two weeks and has now completed more than 80 rounds of the therapy. His CA19-9 levels have remained normal, and he continues to receive clear scans.
Groce acknowledges this diagnosis can be hard, but he remains hopeful and optimistic – and he wants that for other patients, too.
Throughout his experience with the disease, the 71-year-old has made it a point to live life to its fullest, and he refuses to slow down. His main focus is spending time with his family and creating new memories.
Groce and his wife, Juanita, who recently celebrated their 50th wedding anniversary, travel to Canada multiple times each year to visit their grandchildren. And Groce, a driving enthusiast, drives over 700 miles each way.
In August 2018, the traveling duo made their fourth cross-country (5,500-mile) pilgrimage to the Burning Man festival. This event is particularly important to the couple, because Groce received his diagnosis only a couple of weeks after returning from their first expedition.
After his diagnosis, Groce wasn't confident he would be able to return to the festival, but his wife said they would go back. Each year that follows, this trip marks an important milestone for the pair.
Outside of traveling, Groce loves to do work around the house and in his yard. He and his wife also enjoy spending time by the beach and being near the water.
Groce also spends time as a clinical trials advocate, helping to spread his message of hope to others diagnosed with pancreatic cancer. As he reflects on his recent activities, he asks, "How many stage IV patients do you know who do all of this?" He continues, "I want to get the word out that there is hope for those diagnosed with pancreatic cancer." He encourages others facing the disease to find an expert healthcare team, actively seek out clinical trials and try to maintain a positive attitude.
Contact Patient Services
for a list of pancreatic cancer experts in your area, a personalized clinical trials search, comprehensive disease information or answers to other questions you may have.
Any treatments, including clinical trials, mentioned in this story may not be appropriate or available for all patients. Doctors take many things into account when prescribing treatments including the stage and type of cancer and the overall health of the patient. Contact PanCAN Patient Services for personalized treatment options.