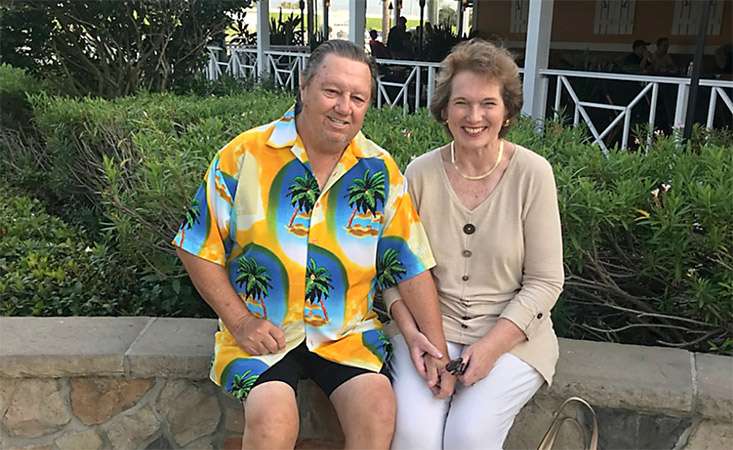 Here's the #1 thing Kathy Wilkes wants to pass on to others facing pancreatic cancer: Get biomarker testing done as soon as possible.
And the second, equally important suggestion: Take charge of your healthcare. Learn how to access the records in your patient portal. Research, research, research. Contact PanCAN Patient Services for free, one-on-one help. Armed with information, don't be afraid to ask questions at every turn. And don't back down until you have answers.
Kathy has been in the national news recently for the success she saw with an experimental treatment for metastatic pancreatic cancer that had spread to her lungs. After receiving a novel type of immunotherapy in June of 2021, she saw a 72% reduction in her tumors – results that were sustained six months after the treatment, according to a case report published in June of 2022 in the New England Journal of Medicine.
It's a positive outcome that has been heralded as proof-of-principle that a therapy harnessing the body's own immune system to fight cancer holds promise for patients with chemotherapy-resistant pancreatic cancer. (Read more about the science behind the treatment as well as the need for larger-scale clinical trials.)
What the headlines don't capture is the dogged determination Kathy had to find a treatment that would work for her.
"I grew up in a small town in Iowa," she said. "I'm very competitive. I wanted to beat my cancer; I wanted to live."
First diagnosed in 2017, she went through rounds of chemotherapy, radiation and a Whipple procedure. In 2019, a CT scan revealed that the cancer had spread to her lungs.
She didn't want to go through chemotherapy again as it had not worked previously, so – aided by her background in the healthcare field – she began a deep dive into alternatives.
"All during this time when I knew chemo was not the answer for me, I was researching and came across many articles on immunotherapy and the potential that immunotherapy had for cancer."
Critical at this juncture: She had already had biomarker testing on her tumor, so she knew the mutations she carried.
"I didn't realize at the time how valuable doing that was, but it's just a really important step," she said.
PanCAN's Know Your Tumor
®
precision medicine service provides eligible pancreatic cancer patients and their oncologists with information about the patient's biology through tumor tissue biomarker testing and genetic testing for inherited mutations.
Learn more
.
This information allowed her to target clinical trials that held promise for her specific disease. When she found a relevant trial or experimental treatment, she got on the phone and asked questions of the researchers.
Her conversations – along with reams of lists and spreadsheets – first led her to a clinical trial in Florida. When that one didn't pan out, she entered a different clinical trial in Pennsylvania.
One researcher who loomed large during this search – Eric Tran, PhD, a research scientist at Providence Cancer Institute in Portland, Ore. His 2016 publication in the New England Journal of Medicine kept popping up in Google: A patient with colon cancer who had the same mutations and clinical characteristics she did saw success with an experimental immunotherapy treatment he was testing.
When they first spoke, he didn't have a trial that would benefit her. When she called him after the other trial – and she reported back on some positive results – he thought she'd be a good candidate for an immunotherapy he was investigating.
Kathy made the first trip to Portland in February of 2021 and returned in June of 2021 for the infusion. She was treated with a modified version of her own T-cells, known as autologous T-cells, a cell type key in immune response. Her T-cells were engineered to become more potent and to recognize a specific mutation of the protein KRAS, which is mutated in nearly all pancreatic tumors. It was a one-person trial approved just for her.
"Since immunotherapy is precision medicine targeted to the individual, biomarker testing is the critical first step to reveal what treatments may work," she said.
Kathy also urges attention to the early warning signs of pancreatic cancer.
"I had pancreatitis attacks in November 2015 after having dinner, a turkey dinner, and again after Christmas dinner," she said. "And so the higher fat meals that I had, which I normally didn't consume, were causing that issue."
Although she saw a gastroenterology physician for treatment at the time, she didn't receive a diagnosis of pancreatic cancer until two years after those early symptoms, a not uncommon path for patients. If identified early, before the cancer has spread, patients are more likely to be eligible for surgery and see positive outcomes.
"If pain still persists and you're not getting the right answers from the GI doc, seek a second opinion right then and there because that's a problem," Kathy said.
Now she's much more comfortable reviewing reports and information in her electronic health record – something she encourages others to do.
"Know how to read a radiology report, know how to ask the right questions about tests and results, rather that just waiting for your physician to tell you what was found," she says.
Kathy encourages patients and family members to contact PanCAN Patient Services for help at every juncture. The personalized support can be invaluable for anyone trying to find the right treatment path for them.
"Go to PanCAN if you have pancreatic cancer – people need to know that – and work with them one on one on searching trials," she said.
She's glad her story stands to help others be their own best advocate.
"I can guide people and say just don't give up. Yeah, don't give up."
Any treatments, including clinical trials, mentioned in this story may not be appropriate or available for all patients. Doctors take many things into account when prescribing treatments including the stage and type of cancer and the overall health of the patient. Contact PanCAN Patient Services for personalized treatment options.
Contact
PanCAN Patient Services
for a free clinical trials search and to learn more about treatment options for patients with pancreatic cancer and ways that you can advocate for yourself or your loved one.