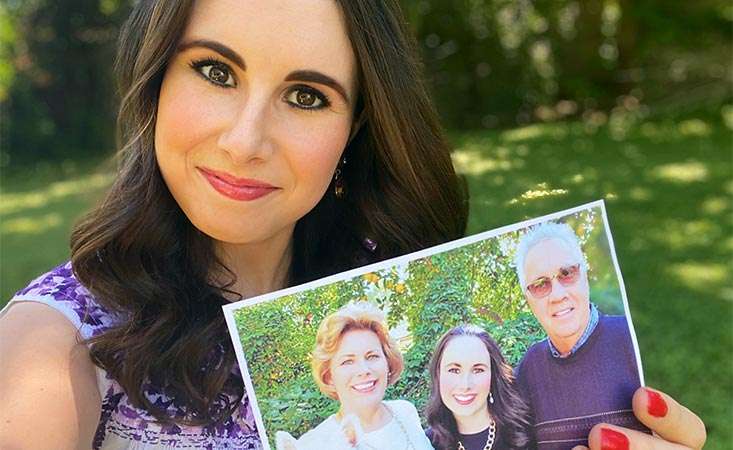 Editor's note: April 19-25 is Volunteer Appreciation Week, and we're celebrating, recognizing and thanking Pancreatic Cancer Action Network (PanCAN) volunteers by shining the spotlight on a few of the hundreds of volunteer leaders who embody passion, commitment and true grit in the fight against pancreatic cancer. Check back each day for a new story!
Alison Lewis was just 23 when pancreatic cancer robbed her of her dad.
He was her rock, always believed in her, and wholeheartedly supported everything she cared about. It was the greatest gift he left her. Losing him was devastating.
When Lewis's dad, Steve, was receiving treatment during his valiant, three-month battle with pancreatic cancer, she remembers him saying, "There must be someone doing something about this disease."
Shortly after that, she found a PanCAN brochure in the lobby of the oncology center. It stood out as a symbol of hope during her darkest moment. But Lewis had no idea how far it would take her.
Join us
for a virtual event Thursday, April 23 at 7 p.m. ET/4 p.m. PT, where we'll share how volunteer efforts are making a big difference for patients!
Her father passed away in early 2017. Three years prior, his brother had died from pancreatic cancer. The two brothers lost their own father to another cancer when they were still young men.
Lewis knew in her heart that she had to do something to create positive change for the disease, "in hope that in my lifetime another family doesn't have to experience the same suffering we have."
Just three weeks after she lost her dad, Lewis attended her first PanCAN Phoenix Affiliate meeting of volunteers. It was there that she met Megan Martin, the affiliate's then Advocacy Chair, whom she describes as her PanCAN big sister.
"She was so welcoming to me during my most vulnerable time," she said of Martin.
On the meeting agenda that day was the upcoming National Pancreatic Cancer Advocacy Day in Washington, D.C., hosted by PanCAN. Inspired and energized to learn that Advocacy Day attendees' voices could be heard on Capitol Hill, Lewis called her mom and said, "Pack your purple, we are going to D.C.!"
Three years later, her service to advancing research, supporting patients and creating hope for them and their families has only gained momentum.
Lewis' leadership role as the Affiliate's Mission Chair allows her to use her gift for conveying information with impact and finding opportunities that fit each volunteer's talents. She thrives sharing PanCAN's mission with everyone she meets and inspires volunteers with her can-do attitude.
Natascha Martin, PanCAN Community Relationship Manager, described Lewis as, "very inclusive and someone who recognizes everyone's efforts."
Lewis rises to any challenge, and the tougher, the better.
When the coronavirus (COVID-19) pandemic required PanCAN's PurpleStride events to become virtual, she used her skills as a marketer to lead dedicated volunteers in producing PanCAN's first-ever PurpleStride opening ceremonies Facebook video .
The video unified Virtual PurpleStride Phoenix participants by reminding them of the mission they support and recognizing their commitment to fighting pancreatic cancer. It's also now being used as a model for other affiliates.
When the Phoenix Affiliate needed to fill open leadership roles, the busy 26-year old marketing consultant stepped up and added Interim Team and Individual Development Chair, Interim Advocacy Chair, and State Leader at Advocacy Day 2019 to her already demanding volunteer role as Mission Chair.
Lewis shared how she felt in December 2019 when Congress created the dedicated $6 million Pancreatic Cancer Research Program at the Department of Defense. It was as if, "we'd reached the peak of the mountain after a long hike, and the view at the top was bright and crystal clear."
After months of advocacy work, including personally contacting her members of Congress and spending a day on the Hill, she said she was moved, "by the direct success of our grassroots actions, and the possibilities of new doors opening for treatment."
The young Mission Chair finds inspiration from the affiliate's volunteer network. They are truly passionate and, "while each journey with this cancer is different, we all share the same will to want to spark change…that common thread brings you close to other volunteers so quickly."
Lewis began her volunteer work in honor of her father's memory and nearly every day pulls strength from his belief in her. But it's been the survivors and impacted families along the way that keep her motivated.
She summed it simply, saying, "The work keeps us going forward, and the friendships keep us together."
Join PanCAN's nationwide grassroots movement by becoming a
volunteer
.