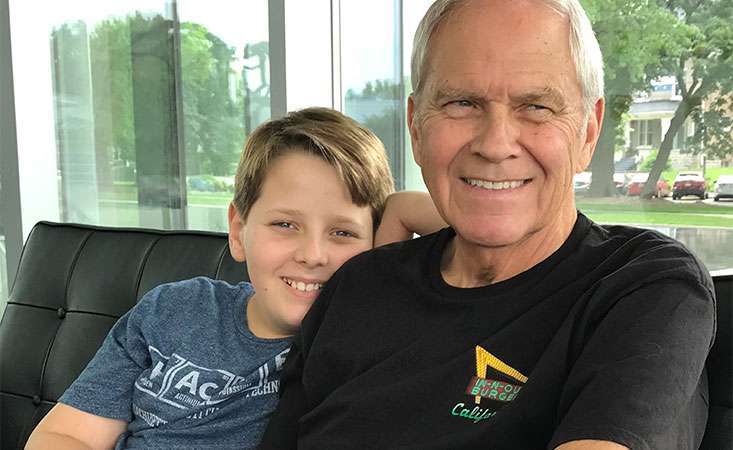 Editor's note: In honor of International Youth Day, we pay tribute to all the young people who are passionate about the cause. Many of them have relatives who have had pancreatic cancer. Here is one of their stories.
Big Jake and Little Jake never pass up a good practical joke opportunity.
Take the time that Little Jake, an avid video gamer who, at 13, is already looking forward to his college years at MIT, was excited to open a present from Big Jake. One after the other, Little Jake pulled out hats. Each hat was smaller than the last.
"Because video games make your brain smaller," Big Jake chided.
The insinuation that his gaming hobby might hinder his ability to get into MIT still makes Little Jake laugh.
"He's hilarious," he said. "He hasn't slowed down at all. It seems like he doesn't have cancer."
"Big Jake" – a.k.a. Keith Jacobs – is "Little Jake" Harmon's grandfather. He is a stage 4 pancreatic cancer survivor, diagnosed in April 2019.
And he is the inspiration for Team Big Jake at the Pancreatic Cancer Action Network's (PanCAN) PurpleStride Louisville (Ky.) on Oct. 4, 2020. The family – grandparents, parents and Little Jake's sister – are participating and raising money for PanCAN. Their team fundraising goal is $5,000.
Little Jake hasn't wasted a minute reaching out to ask his fellow eighth graders to post on social media what he is doing to raise money, and he's begun to send emails out to his contacts to drum up support, too. He's confident Team Big Jake will reach its fundraising goal.
"Just reach out to everyone you want to contribute to your goal, and it will spiral from there," is his recommendation to others asking for PurpleStride donations.
Big Jake is also the inspiration for Little Jake's dream of not only attending MIT, but for becoming an oncologist one day. After he earns his medical degree, his goal is to work at Koch Institute for Integrative Cancer Research at MIT.
"The key part that interests me about working there is the integrative part," he said. "They take a cross-disciplinary approach."
This summer, he took an online class through Duke University that explored the ethics of cancer treatment – the importance of treating patients as people, and not simply treating the cancer. And he has also participated in cancer-related Programs for Talented Youth at Vanderbilt University.
Little Jake doesn't let his age hold him back from making big plans for the future. Or volunteering with PanCAN. He's energized by all the ways today's young people can be active in a cause.
"Find something you can do and go for it," he said. "There's no age limit on being passionate about something. Jump in, get to work and see where it takes you."
He and his mom, Katrina (Big Jake's daughter), are part of the PanCAN Louisville Affiliate (check out some of the affiliate's activities by joining them and/or their Facebook group) of volunteers.
The two distribute PanCAN literature for patients at their local Gilda's Club and other healthcare institutions. They want everyone to know the symptoms and risk factors for pancreatic cancer and all the ways PanCAN's Patient Services can help patients and families.
Big Jake was diagnosed after an abdominal scan revealed a tumor on his pancreas. Prior to that, bloodwork showed he had elevated blood sugar levels. (A sudden change in previously well-controlled blood sugar levels, and new-onset diabetes in people over 50, may be symptoms of pancreatic cancer.) He dieted and lost 30 pounds – more easily than he should have, he says – but even after weight loss (also a symptom of pancreatic cancer), his blood sugar levels didn't return to normal.
He recently completed 31 rounds of chemotherapy – and, as Katrina said, is "focused on living his best life."
Meanwhile, Little Jake is more determined than ever to devote himself to a cause that will honor his grandfather – his practical-joke partner-in-crime.
Right now, being involved with PanCAN and PurpleStride is "the biggest thing I can do in my community," he said. "When I found out about it, I knew I had to be part of it."
His PanCAN involvement is also a big part of an eighth-grade service project he's working on. And he's ready to do so much more.
It's in his nature to meet challenges head-on.
"Cancer is a hard problem to solve," he said. "That's why I'm interested."
Join Jake in his efforts to raise more awareness and funds for pancreatic cancer.
Sign up
for a PanCAN PurpleStride today.