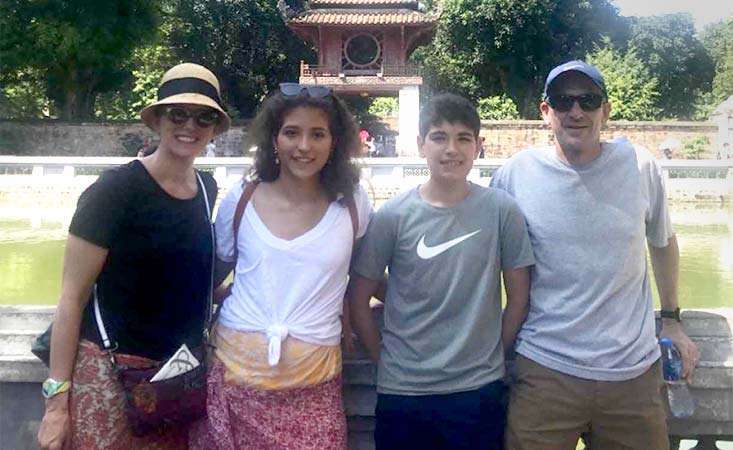 Editor's note: In an ongoing series featuring our Pancreatic Cancer Action Network (PanCAN) Board of Directors, today we spotlight Michael Korengold. He is president and chief executive officer of Enhanced Capital, a national asset management firm in New York City that finances businesses and projects underserved by traditional sources of capital.
PanCAN: Michael, tell us your reason for supporting the pancreatic cancer cause.
Michael Korengold: My mother was diagnosed with pancreatic cancer in 1994, and she passed away in 1995. This was pre-internet, so it was harder for us to get disease information or to find support communities going through a similar experience. We really struggled on that front.
Many years later, as I was settling into my career, I began to think more and more about how I wanted to spend my time and the causes that I might want to give back to. Pancreatic cancer was a natural fit.
PanCAN: How did you find PanCAN and then decide to join our Board of Directors?
MK: I did my research on the organizations in the pancreatic cancer space, and the more I dug around, the more I saw that PanCAN was the true national leader. I live in New York and I had seen ads for PanCAN and PurpleStride and was really impressed by the scope of what they were doing. I reached out to Julie (Fleshman, JD, MBA, and president and CEO of PanCAN), and said, "I would love to join your Board or find a way to get involved."
PanCAN: And we are glad you did!  
MK: Julie invited me to come to Washington, D.C., that year for National Pancreatic Cancer Advocacy Day. I had never heard of the event, so when I got there and saw all of the people wearing purple, I was blown away. I immediately called my sisters.
"You will never believe where I am," I told them. "I'm surrounded by a sea of purple – hundreds of people all here to raise awareness about pancreatic cancer!"
Every time I go back to D.C. for our Board meetings, I think about that first time at Advocacy Day. It gave me such a sense of hope.
PanCAN: This year, PanCAN's 20th anniversary, our theme is "Moments Matter." Would you say this was a standout moment for you – Advocacy Day?
MK: Absolutely. My first interaction with pancreatic cancer had been back when people didn't talk about the disease. When my mom had pancreatic cancer, there was little hope and no notion of survivability or organizations making a difference.
Going to that first Advocacy Day and meeting pancreatic cancer survivors – people like Laurie MacCaskill and Stu Rickerson and so many others, was incredible. And all the advocates that were there getting things done – more research funding for the disease, more awareness. I was so impressed.
PanCAN: What else have you been impressed by?
MK:
I feel really lucky to have joined PanCAN at a time when it was going through major, positive growth. That growth is reflected in the revenue and fundraising, but just as important, that growth is reflected in the reach and impact of PanCAN in the lives of patients and even in the expansion of the Board and the
leadership team
on staff.
PanCAN: Tell us about your professional background and how that influences what you bring to the PanCAN Board.
MK: Being part of an investment firm helps me bring a finance mindset to the table. As Chair of the Board's Audit and Investment Committee, I'm bringing my background in finance to help ensure the organization continues to stay as appropriately managed as it always has been.
I've been a part of financial growth with a lot of organizations on the for-profit side. I was excited to contribute on the nonprofit side for an organization that is poised for even greater – I would say explosive – growth. I would like my legacy to be that I helped the organization through some of that growth, alongside the other board members. I love being part of this group.
PanCAN: As someone affected so personally by a pancreatic cancer diagnosis, what do you tell others who are in a similar situation as yours?
MK: Don't believe anyone who says that pancreatic cancer is a death sentence or that there is no hope. There is a phenomenal amount of activity going on in research and beyond, fueled by PanCAN, to improve the statistics.
When I tell people all that PanCAN is doing – that they're at the forefront of early detection, clinical trial innovation, delivering hope to patients – they are blown away. Just like I was.
Improve outcomes for pancreatic cancer patients with your
donation
of any size.