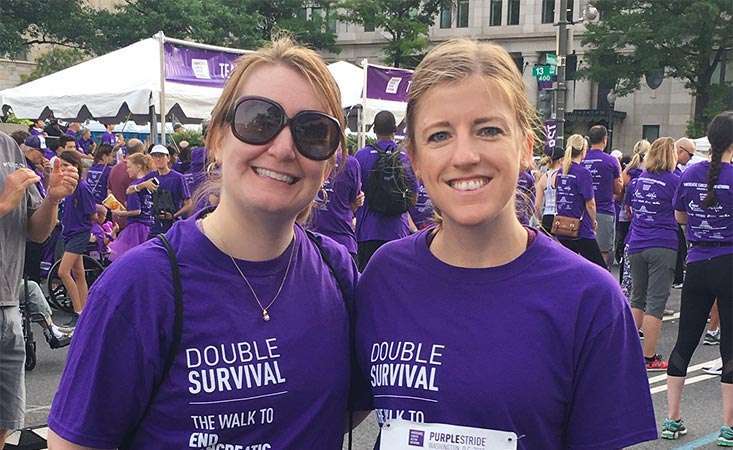 Today kicks off National Nurses Week, and we're proud to bring you the story of a nurse who has more than one reason to support the Pancreatic Cancer Action Network (PanCAN).
In a little more than a month, oncology nurse Kristin Ferguson will set off on her fifth PurpleStride Washington, D.C., 5K run to end pancreatic cancer.
She's already planning her route, which will take her by her favorites of the capital's famous monuments.
This year, the annual PanCAN walk is a Virtual PurpleStride instead of an in-person event, and participants are asked to spend the day supporting the pancreatic cancer cause in a way that is most meaningful to them.
Ferguson will have one thing on her mind on PurpleStride day: her mom.
She passed away late last summer, after surviving pancreatic cancer for nearly two years.
"It's hard to put into words what my mom was like and what she meant to me," Ferguson said. "She was the best."
Ferguson had known about PanCAN prior to her mom's diagnosis – a patient at the oncology center where Ferguson works had told her about all the services PanCAN offers patients and caregivers.
Years later, when Ferguson was a caregiver, PanCAN was there for her.
Today she is a volunteer leader with PanCAN's Washington, D.C., Affiliate. When she was offered the position as Outreach Chair, she was happy to step in.
"It's a good fit for me," Ferguson said. "I really enjoy it, because it allows me to look into new ways our affiliate can get info about PanCAN into the hands of pancreatic cancer patients, caregivers and healthcare professionals."
Ferguson is also a top fundraiser for PurpleStride Washington, D.C.
It's important to raise money for the cause, she said, not only for patients who look to PanCAN's Patient Services for free resources and help navigating the journey, but because of the hope patients and families receive when they get connected.
"PanCAN is a great organization that puts patients first. It's so helpful for people to be able to connect with a caring, supportive community during a rough time in their lives."
And this sentiment is, for Ferguson, what she takes pride in being able to bring to her job working with cancer patients every day.
"I can be a calm presence and at the same time, educate and answer their questions," Ferguson said. "I've also been there, as a caregiver, and I understand those challenges."
She said her volunteer work with PanCAN is a fitting parallel to her day job.
"Being able to personally connect with other volunteers who have had a similar experience is fulfilling.
"And supporting PanCAN gives me hope."
Volunteer
with PanCAN in your community. There's a role for everyone!