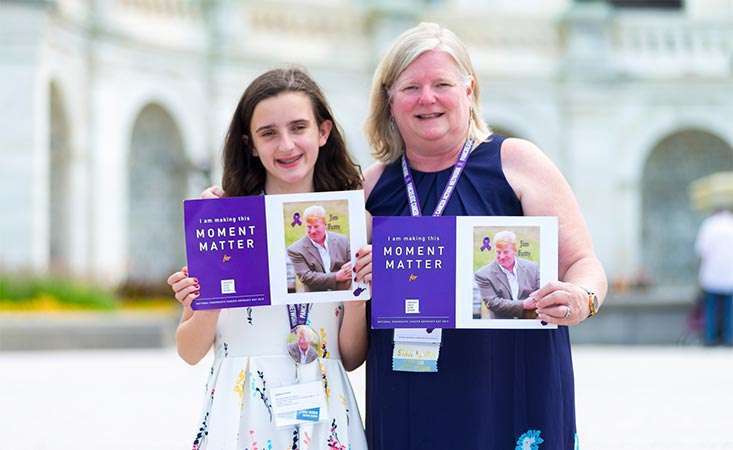 Annette Fetty-Santilli and daughter Stephanie are longtime Pancreatic Cancer Action Network (PanCAN) volunteers in West Virginia. Annette got involved with PanCAN more than a decade ago after her brother died of pancreatic cancer.
Today she is a Community Advocate for PanCAN in her state, and she also serves on PanCAN's Volunteer Advisory Council. Stephanie, who is 15, has been involved with the cause since she was 5.
Recently, both mom and daughter were recognized with prestigious service awards for their dedication.
Stephanie was honored with a Governor's Service Award in the Youth category on Sept. 5 at the W.V. State Capitol (her mom received this award in the Adult category in 2009), and Annette received the James R. McCartney Community Service Award from her alma mater, West Virginia University (WVU), on Oct. 5.
Stephanie Santilli discusses her reason for volunteering with PanCAN.
In part one of our two-part story, learn more about the mom and daughter power-duo and their incredible efforts for the pancreatic cancer cause. (Check back tomorrow for part two!)
PanCAN: Congratulations on receiving your awards, Annette and Stephanie! How does it feel to be honored in this way? (Also, it's amazing that you've both received the Governor's Service Award!)
Stephanie: Thank you – it really meant a lot to be selected, but that's not the reason I volunteer. The cause is extremely important to me and my family, and to be able to help my community means the world to me.
Annette: As Stephanie said, we don't volunteer for the recognition, but it definitely means a lot!
Just before Stephanie was to receive her award, I found a photo of when I received the same award from then-Gov. Joe Manchin, now our U.S. Senator. Stephanie was 5 years old and went up on the stage with me, and I held her on my hip.
She has been my most dependable volunteer since we began this journey. Of course, 10 years ago I was toting her with me! But now she volunteers on her own, and it is very heartwarming.
I was humbled and honored to be selected out of the thousands of WVU alumni all over the world to receive the Community Service Award. It had been my dream to have PanCAN mentioned on the loudspeaker at Mountaineer Field, but I never dreamed it would be like this.
That day got even better when we were leaving the stadium – a man wearing a University of Texas visor and sweatshirt (that's who WVU played that day) asked me if I was the award winner who volunteered for pancreatic cancer. I said I was. He said he had participated in PurpleStride DFW in memory of his father. We ended the conversation with a hug.
Except for WVU losing the game, it was a perfect day!
PanCAN: How did you feel for each other, receiving your respective awards?
Annette: I was thrilled for Stephanie! She is one of the best youth volunteers in West Virginia for any cause or organization.
Stephanie: I was very proud of my mom. We got to watch the WVU football game from the President's suite, and when she was down on the field at halftime getting the award, I told people in the suite, "That's my mom!"
PanCAN: What inspires you to support PanCAN?
Annette: I don't ever want my daughter to hear the words, "You have pancreatic cancer." My brother was the inspiration, and on the last day he was alive, I heard my inner voice say, "You need to do something about this disease. No one else should ever have to suffer like this."
Every night, when Stephanie and I say our prayers, we tell her Uncle Jim hello, and I see his face and hope that he is proud that we are doing this in his honor and memory.
Stephanie: At first, I just tagged along with my mom to volunteer activities. (I met my Uncle Jim but I was too young, and I can't remember him; however, from all the stories I've heard, I know he was a great guy.) Later, I started wanting to volunteer on my own.
When I was in kindergarten, my parents and I went to the State Capitol to get a proclamation from our governor about Pancreatic Cancer Awareness Month.
I will never forget him reading the proclamation to me, in my pretty purple dress, and telling me it was important that I keep doing what I was doing so other little girls wouldn't have to lose their uncle.
Stay tuned for part two of this story tomorrow, and join Annette and Stephanie by volunteering in your community!