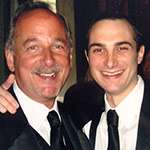 One Man's Commitment to Wage Hope for His Best Man
In the fall of 2011, when Ethan Blum married his college sweetheart, Rebecca, his father was his best man at the wedding.
"I had always known he was going to be, because he was my best man every day of my life," Ethan said. "He was my brother, role model, best friend…the guy I tried to emulate in every way."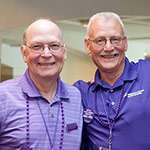 When Michael Met Ralph
"Did we meet on a blind date?" Ralph asked Michael.
"Yeah, that sounds reasonable," Michael replied jokingly.
Listening to Michael Weinstein and Ralph Cheney speak, you'd think they've been best friends for decades. Witty banter coupled with enough laughing to make you sore, they're quick to tell you they're "brothers from another mother."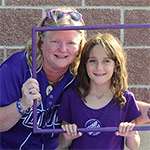 Young Advocate Sends a Powerful Message to U.S. House of Representatives
A strong message for more federal pancreatic cancer research funding was heard on June 26, 2014, by the entire U.S. House of Representatives. This message came from 10-year-old Stephanie Santilli of Philippi, W.Va.
Stephanie's interest in advocating for a cause she believes in started with her mother, Annette Fetty-Santilli, who for years has shared her passion for advocacy on Capitol Hill with her young daughter. When Annette lost her brother Jim to pancreatic cancer in 2007, she decided to dedicate her volunteer efforts to advocacy, hoping to increase federal research funding.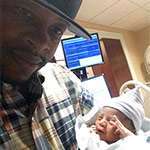 A Blessing Named Lance
Every day is a blessing.
For Billie Vaughn this saying is true, even though her life was turned upside down when her husband, Terry, was diagnosed with stage IV pancreatic cancer in February 2013. At the time of his diagnosis, the cancer had spread to almost half of his liver and his oncologist gave him four months to live. He was 34 years old.
But Terry defied the odds.
"With love and faith, he got healthier by the day," Billie said.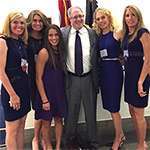 The "Hallerettes" Take to Capitol Hill for the Sixth Straight Year to Fight Pancreatic Cancer
The Haller sisters come from a family of five girls and one boy and were known as the "The 5 Hallerettes" growing up. Mary Kay, Barbara, Dianne, Joan and Katie were close and always supported each other through thick and thin. Nothing could get in the way of that.
Not even cancer.
One of the sisters, Barbara, had a captivating personality and lived her life to the fullest.