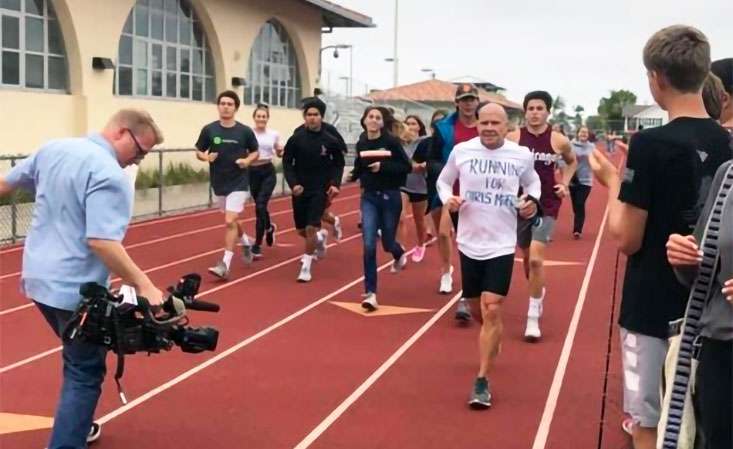 Editor's note: Today's installment of our 2019 Year in Review series highlights the success and creativity of events hosted by our individual fundraisers.
The coast-to-coast creativity and enthusiasm of the Pancreatic Cancer Action Network's (PanCAN) Wage Hope My Way fundraisers in 2019 highlight the commitment and dedication of our DIY participants.
From a high school coach running 100 miles around his school track to tournaments featuring pickleball, golf or cornhole, the accomplishments of these individual fundraisers are an inspiration.
Earlier this year, we featured the stories of Maggie Walsh and Tom Atwell. Walsh lost her father to brain cancer when she was 15 years old. In 2009, in his honor, she launched Teens for a Cure and was joined by her teacher, water polo coach and two-time cancer survivor, Tom Atwell.
Atwell ran 100 miles around the school track and together, they raised $10,000 for the American Cancer Society that first year.
Fast forward to 2019: Walsh now works for PanCAN in the Washington, D.C., office and Atwell, who Walsh calls her hero, has continued his 100-mile run in what has become an annual fundraiser. This year, he ran for PanCAN.
"Since it all started with Maggie Walsh, and she is now working for PanCAN, we thought this was a great way to bring things full circle and honor her for getting us all motivated to do something in the first place," said Atwell.
Wage Hope My Way fundraisers used some very creative ways to honor family and friends in 2019.
Jeff Christman passed away earlier this year and his vast network of family and friends honored him in a truly unique way with the First Annual Jeff Christman Pickle Ball vs. Cancer Invitational. The event raised more than double its fundraising goal and attracted nearly 100 participants! Learn more about pickleball.
"Pickleball was one of the few activities Jeff considered 'a real sport,'" said friend and organizer James Butler. "He actually painted lines for a pickleball court in his backyard the summer before he died. This tournament epitomizes Jeff and his distinct, remarkable and oftentimes, peculiar personality."
Lisa Severt lost her mom in 2012. "Losing my mom to this devastating disease was life changing," said Lisa. "We wanted to do what we could to raise money and awareness and make a difference in other lives affected by pancreatic cancer."
Severt not only wanted to do something to make a difference, she wanted to do something fun, in contrast to this very serious disease. In 2013, Severt and her best friend Lindsay decided to organize the Play for Purple Cornhole Tournament and Tailgate Party.
To date, they've donated more than $73,000 to PanCAN. And while the event takes a lot of time and energy to produce, they're already planning for the 8th Annual Cornhole Tournament in 2020.
PARS for Pancreatic Cancer is a long-time golf tournament raising funds for PanCAN. Sarah Smith started the tournament in honor of her father, Ken Carstensen, who passed away in 2013.
"PARS for Pancreatic Cancer serves as a chance for family and friends to remember and honor my father," said Smith. "It also is an opportunity to raise awareness and funds for PanCAN. Over the last six years, we've been able to donate more than $55,000!"
We are grateful to all our DIY fundraisers – those who raise funds year after year and those who held their very first fundraiser this year. Because of you, we can offer hope to more patients and their families.