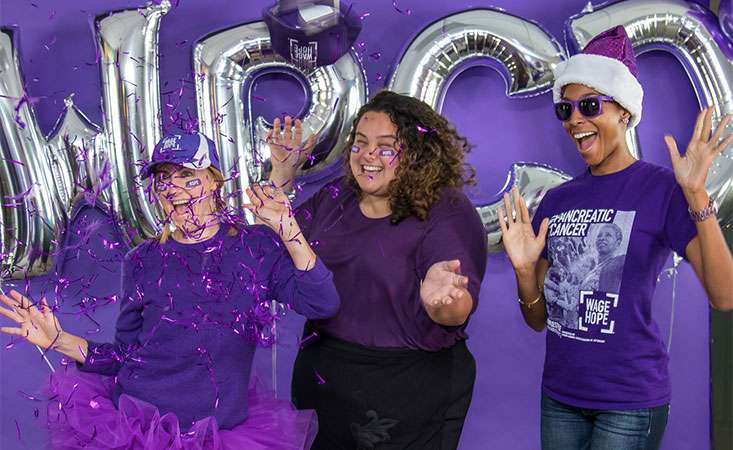 Put on all your purple – World Pancreatic Cancer Day is Thursday, Nov. 19, 2020.
Wearing purple and spreading the word about pancreatic cancer symptoms and risk factors are just two of the ways you can take action to show your support of the cause.
Here are three more things you can do on World Pancreatic Cancer Day 2020 on behalf of patients:
Share a photo of you wearing purple on social media and tag #PanCANforProgress
RSVP and join our webinar, "Treatment Advances: The Latest in Pancreatic Cancer Clinical Research" on Nov. 19 at 11 a.m. PT/2 p.m. ET
Donate to fund progress in the fight against pancreatic cancer, including research breakthroughs and patient support
World Pancreatic Cancer Day is always held in November, which is Pancreatic Cancer Awareness Month.
This November, PanCAN is sharing stories from our community that shine a light on research and how you are advancing breakthroughs by raising awareness and donating.  
Among the stories are those of Mindy Kaling, actor, writer and producer/director, who lost her mother to pancreatic cancer. This year, she is joining PanCAN as our ambassador to bring more attention to the disease.
Also, Lisa Niemi Swayze is sharing the story of her continued fight against the disease that took the life of her husband, actor Patrick Swayze.
More than 30 of your stories – survivors, caregivers, researchers and more – are being highlighted throughout the month.
PanCAN is one of more than 95 pancreatic cancer organizations from 35 countries and six continents that participate in World Pancreatic Cancer Day. The organizations are part of the World Pancreatic Cancer Coalition (WPCC), of which PanCAN is a founding member. PanCAN's President and CEO Julie Fleshman, JD, MBA, serves as chair.
World Pancreatic Cancer Day is one initiative of the WPCC.
A common goal all WPCC members share: To advance progress for pancreatic cancer patients. The organizations focus on key areas in their own countries – funding research, increasing awareness, advocacy, early detection and enhancing quality of life for pancreatic cancer patients.
On this year's World Pancreatic Cancer Day, look for members of Congress, the news media, PanCAN supporters and a host of others to wear purple and post on social media. Also, iconic buildings and monuments around the world will be bathed in purple light to call attention to the disease.
With so many recently mourning the death of "Jeopardy!" host Alex Trebek to pancreatic cancer, more people than ever are aware of the disease. Thank you for doing your part to keep the spotlight shining brightly on it in tribute to all those affected.
Visit PanCAN's Facebook, Twitter and Instagram to stay updated on all the World Pancreatic Cancer Day activities and be inspired to keep the momentum going year-round.
Donate
today – because you fund every bit of progress we make, giving pancreatic cancer researchers the funds to keep going, and giving patients guidance every step of the way.