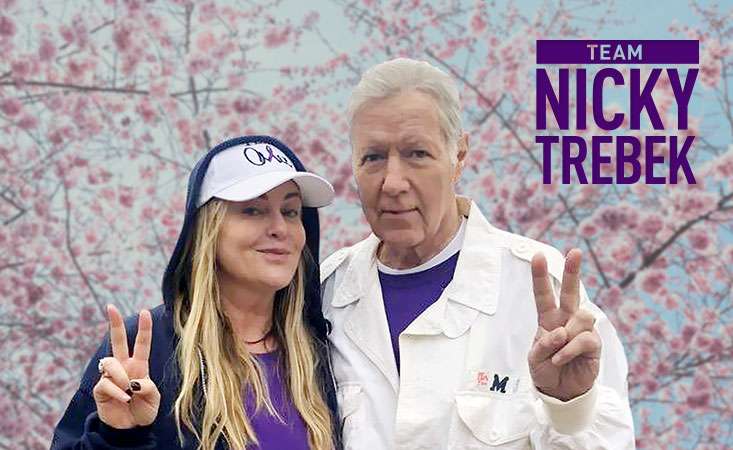 Nicky Trebek, the daughter of the late Alex Trebek, announced yesterday on "CBS This Morning" that she has started a team for PanCAN's PurpleStride Los Angeles and invites others to join her on the team and fundraise for PanCAN's programs and services for patients and families – offered free of charge thanks to donors and fundraisers.
"I want to carry on his legacy and honor his fight," Nicky said on the national morning show.
Alex Trebek's daughter announced she's creating a team for the virtual #PurpleStride walk benefiting @PanCAN.
The longtime @Jeopardy host died in November after battling pancreatic cancer.

Nicky Trebek joins us to reflect on her father's life and her plans to honor his legacy. pic.twitter.com/NMxKi2yPM6

— CBS This Morning (@CBSThisMorning) March 30, 2021
PurpleStride Los Angeles is on Saturday, May 1, 2021, and anyone can participate from anywhere since the event is virtual. Team Nicky Trebek has set a fundraising goal of $222,222 – the number 22 is meaningful to her because her dad's birthday is July 22.
The beloved "Jeopardy!" host died of pancreatic cancer in November 2020. In May 2019, just two months after he announced his diagnosis to the world, Nicky attended PurpleStride Los Angeles with her dad and Alex's wife, Jean, as part of Team Alex.
During the CBS interview she said, "To be at PurpleStride that year with my dad and Jean, and to see him standing on stage with other survivors, hearing their stories and sharing his, was mind-blowing."
After the morning interview, Nicky also appeared on "Entertainment Tonight" to share the news of her involvement with PanCAN.
On her fundraising page for PurpleStride Los Angeles, Nicky explained why she is joining PanCAN's PurpleStride:
"We'll get it done."
When my dad, Alex Trebek, announced to the world that he had been diagnosed with pancreatic cancer, he ended the video with those powerful words.
"We'll get it done," is always on my mind. And the same is true about fighting back against pancreatic cancer.
On Nicky's PurpleStride fundraising page, she and her dad are posing for a photo at PurpleStride Los Angeles 2019 doing the peace sign gesture (she explains why it was a special moment for her on her page, saying, "Ever since I was a little kid, I tried to get him to pose with the peace sign gesture in our photos and he never would! But he did that day.").
Cherry blossoms in the photo make for a beautiful backdrop.
The cherry blossoms are symbolic, as well, Nicky said. Her dad loved them, and when she sees them she is reminded of him. Cherry blossoms are dotting much of the country right now as spring – known for renewal and rebirth – comes to life.
PanCAN's PurpleStride is a nationwide event held in nearly 60 communities to honor all those affected by pancreatic cancer. We encourage everyone to join an event (it's free to register!) in their community or in another part of the country – like Team Nicky Trebek – and fundraise to support PanCAN's programs and services that help pancreatic cancer patients and families. On PurpleStride event day, join our virtual opening ceremony, then walk, ride, run, bike or do anything meaningful to honor a loved one or support the cause.
PanCAN's mission is to take bold action to improve the lives of everyone impacted by pancreatic cancer by advancing research, building community, sharing knowledge and advocating for patients. Funds raise through PanCAN's PurpleStride go toward this mission and are critical as we work to double the survival rate for pancreatic cancer.
Today, the five-year survival rate is 10%. With your support, we're changing the statistics.
Sign up for
Team Nicky Trebek
or for a
PurpleStride
in your area and help us create a world in which all patients with pancreatic cancer will thrive.