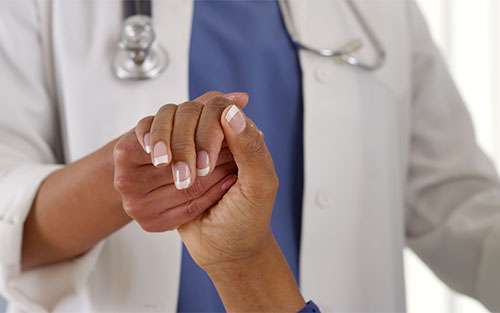 The final episode of a three-part documentary, First in Human, aired on Aug. 24, on Discovery. The six-hour series provided a thorough investigation of phase I clinical trials being conducted at the National Institutes of Health (NIH) Clinical Center's Building 10.
"First in Human" followed the stories of four patients with rare diseases who agreed to participate in clinical trials that were being tested on humans for the first time. The final episode revealed the outcome for each of the four patients.
In episode 2, Bo Cooper, who had been fighting aggressive leukemia for six years, was told that his biopsy was cancer free. After receiving immunotherapy for four months, Cooper was finally able to return home, but was to report back to Building 10 in two months to see how he was progressing. In the final episode, two months later, a bone marrow biopsy showed that his leukemia returned. And Cooper passed away in November of 2016.
Deidra Williams suffered from the deadly sickle cell disease and underwent a bone marrow transplant as part of her clinical trial. The treatment cured Williams and has subsequently cured 90 percent of all patients who have received it. Her doctor hopes to make this treatment available to hospitals around the world and one day for it to become the standard of care.
Anita McAllister had been fighting aggressive melanoma for seven years and received an immunotherapy treatment. Her test results showed that her disease was stable, but there were no signs of improvement. While McAllister was not cured, the treatment she received did extend her life. She was able to cherish more time with her family before she died in August of 2016.
Lucy Wiese was diagnosed with Job's syndrome, a rare genetic disease that affects several body systems, particularly the immune system. She received a bone marrow transplant as part of her clinical trial, which proved to be successful. The final episode revealed that after four months in Building 10, Wiese was able to return home.  She will continue to regularly check in with her doctors to be observed and studied. There are still a lot of unknowns with the disease, and Wiese's doctors expressed that it may take decades to know how she will progress.
Standard of care is the goal of every doctor in Building 10. The medical breakthroughs come from the willingness of patients to enroll in a clinical trial that is experimental. No matter the outcome, every patient plays a role in finding tomorrow's medicine.
"Participation in phase I clinical trials is necessary for medical breakthroughs," said Allison Rosenzweig, PhD, scientific communications manager at the Pancreatic Cancer Action Network (PanCAN). "Progress is not possible without patients and doctors who are willing to participate in this high-risk, yet critical and potentially high-reward research that tests new treatments for the first time."
During the finale, the PanCAN social media team live tweeted to inform the pancreatic cancer community on the importance of phase I clinical trials and to acknowledge and honor the patients who participate in this research.
The Pancreatic Cancer Action Network strongly recommends clinical trials at diagnosis and during every treatment decision. That's because pancreatic cancer patients who participate in clinical research have better outcomes. Every treatment available today was approved through a clinical trial.
To learn more about clinical trials and other pancreatic cancer information or resources, please contact PanCAN Patient Services.
READ MORE: