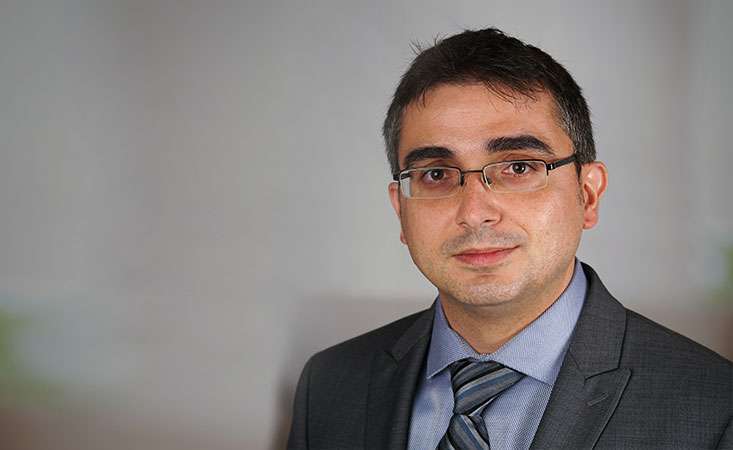 Christos Fountzilas, MD, is proud to be a member of the Pancreatic Cancer Action Network's (PanCAN) Patient Champions program.
"PanCAN is an essential part of caring for patients with pancreatic cancer in the U.S.," he said.
There are three ways healthcare professionals can become a Patient Champion:
Fountzilas is an assistant professor of oncology at Roswell Park Comprehensive Cancer Center in Buffalo, NY, primarily treating patients with gastrointestinal cancers, like pancreatic cancer.
He was inspired to focus on oncology during his third year of medical school in Greece, and he decided to become a gastrointestinal oncologist following his grandfather's death to colon cancer.
Fountzilas joined Roswell Park in 2017.
"I wanted to help as many patients as I could – not just through my clinical practice, but by being part of an academic team," Fountzilas said.
"I was moved to join academics because scientific and clinical research have the potential of changing clinical practice – changing how patients with gastrointestinal cancers are treated all over the world – rather than just helping the patients under my care."
Partnering with PanCAN – by referring patients to its Patient Services program and by ordering free educational materials to share with patients and their families – also helps achieve those goals.
"PanCAN provides patients with good, quality information that can help them understand their options and guide their decisions," Fountzilas said.
He recognizes some of the unique challenges to treating patients with pancreatic cancer. The disease's biology makes early detection difficult, and it's often resistant to standard treatments. The anatomy of the pancreas makes it hard to access and monitor, and surgical procedures require an enormous amount of skill and expertise.
And, physiologically, pancreatic tumors often disrupt the normal functions of the pancreas, leading to major changes in a patient's ability to digest food or regulate their blood sugar properly.
Because of these challenges and more, Fountzilas asserts that it's important for pancreatic cancer patients to be treated by a multidisciplinary team of healthcare professionals at the same institution who have considerable experience treating the disease.
Fountzilas considers PanCAN's Patient Services part of that team.
Especially during this time of uncertainty, oncologists and other healthcare professionals are recognizing the value of having additional support for their patients. "Due to the coronavirus pandemic, it's an extremely challenging time to offer cancer care. Pancreatic cancer doesn't wait," Fountzilas said.
"We've had to retrain ourselves in the way we think to keep offering high quality care to patients."
With lots of misinformation available online, Fountzilas notes that PanCAN's print materials and website are accurate and easy to understand for people unfamiliar with medical terms.
"To me," he said, "PanCAN is one of the best things that has ever happened for patients with pancreatic cancer."