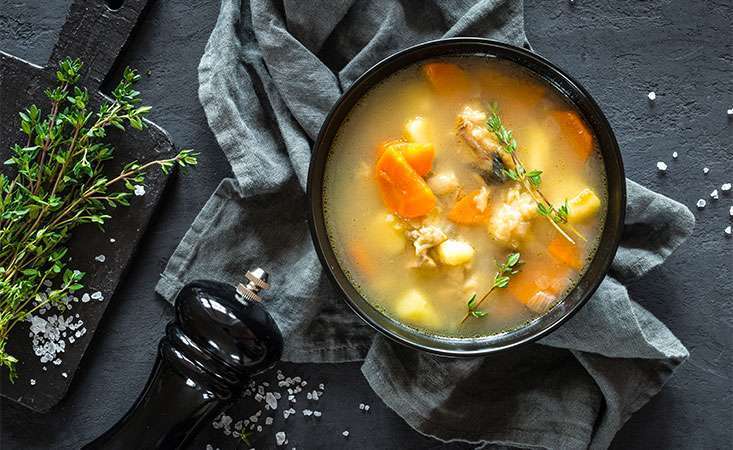 Editor's note: Each week, our Friday Fix series offers pancreatic cancer patients, their families and caregivers a new topic related to health, diet and nutrition. In June, we're focusing on how to best approach the core meals: breakfast, lunch and dinner. Today, it's time for dinner!
For pancreatic cancer patients, especially those undergoing treatment, eating any meal can be challenging because of common side effects like changes in taste, fatigue and a smaller appetite.
Dinner, especially, can sometimes seem overwhelming.
But outpatient oncology dietitian Jeannine Mills, MS, RD, CSO, LD, of the Norris Cotton Cancer Center at Dartmouth Hitchcock Medical Center – and also a Pancreatic Cancer Action Network (PanCAN) Scientific and Medical Advisory Board member – has a few suggestions for how to conquer the dinner dilemma.
According to Mills, "Sometimes [for pancreatic cancer patients], just the 'thought' of eating a meal can be unappealing."
As a workaround, Mills suggests eating nutritious snacks verses a formal meal. Also, she notes that dinner doesn't have to be consumed only in the evening.
"Timeframe for meals may vary from patient to patient," she said, encouraging patients to feel free to schedule meals as appetite dictates.
A snack for dinner does not have to be your average cheese and crackers.
Consider making a simple, wholesome soup, stew or chicken dish on a day when energy is up (or ask a family member or friend who has offered to help), and then transfer modest portions to freezer-safe containers to have any time you need a quick and healthy option.
Below are some easy, good-for-you and delicious options from the American Institute for Cancer Research, American Cancer Society and PanCAN that are freezer friendly, so you can decide when and how much you're in the mood for.
Enjoy more tasty recipes or request our free Diet and Nutrition booklet, which contains suggested meal plans and other dietary resources.
Have some nutritious and delightful recipes of your own? Please share them with us in the comments section below.
Pancreatic cancer patients often have many questions and concerns about nutritional care. MyPlate, American Institute for Cancer Research and Cooking. Comfort. Care., can be used as resources for healthy diets on a budget. Since each patient has their own nutritional needs, we recommend patients consult with a registered dietitian for nutritional advice.
Contact Patient Central
for comprehensive disease information – including our diet and nutrition booklet, nutrition tips and recipes, and help finding a registered dietitian in your area.