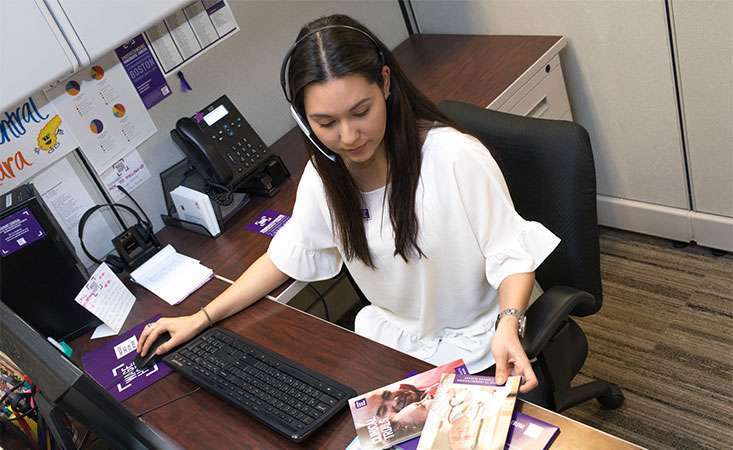 Editor's note: Especially during the coronavirus (COVID-19) pandemic, PanCAN Patient Services is available to provide free, in-depth and personalized resources and information on pancreatic cancer. Learn more about this highly trained team and the valuable services they offer to patients and their families.
"You were empathetic, took your time, listened and provided much-needed assistance, reassurance and information."
"You made me feel like I had control."
"Don't go to Google for information. Go to PanCAN."
These are the words of pancreatic cancer patients and families who have benefited from the compassionate support and comprehensive services provided by PanCAN's PanCAN Patient Services.
The team of highly trained associates and case managers provides free, one-on-one support, information and resources during what can be a challenging time for those facing the disease.
PanCAN Patient Services quickly follows up after a call or email with a free packet of information customized for each individual patient or family member. The staff member you speak with first is the person you continue to be connected with each time you reach out.
"I was so impressed with the promptness of your response and the comfort of your contact."
"You've given me back the confidence that pancreatic cancer has taken from my family."
Read more
about the areas in which PanCAN Patient Services can provide much-needed support and information.
Contact them
for a one-on-one conversation.
Since the program began in 2002, patients, caregivers and healthcare professionals have called upon this team more than 243,000 times for disease information, treatment options and hope.
PanCAN Patient Services can provide information on clinical trials that patients may be eligible for, information about testing – both molecular profiling and genetic testing, available through PanCAN's Know Your Tumor® service – a list of pancreatic cancer specialists in the patient's area, as well as information on diet and nutrition, supportive care, support groups and more.
Caregivers, family members and friends can also benefit from PanCAN Patient Services's information and support resources.
"Your ability to answer questions, along with providing a myriad of resources, provide a bit of calmness to a time of utter chaos."
"At a time when families and patients feel overwhelmed, it is a blessing to have someone who understands."
"You are the first person to take the time to really explain our options. Thank you. Thank you. Thank you."
PanCAN Patient Services is also a resource for healthcare professionals, providing free educational materials for their patients, molecular profiling, clinical trials resources and more.
Many people who have contacted PanCAN Patient Services tell PanCAN they feel more empowered and ready to advocate for themselves when it comes to treatment next steps, discussions with their healthcare team and seeking a second opinion.
"This is a difficult journey, but knowledge is power."
"You gave me hope. I will never forget it. I thank you from the bottom of my heart!"
"We consider you a part of our family. I don't know what we would do without you. Thank you."
PanCAN is extremely grateful to the PanCAN Patient Services team for all they do for the pancreatic cancer patient and caregiver community – as well as everyone working hard every day to improve outcomes and change lives.
Donate today
to ensure PanCAN can continue to provide free information, resources and services to pancreatic cancer patients.