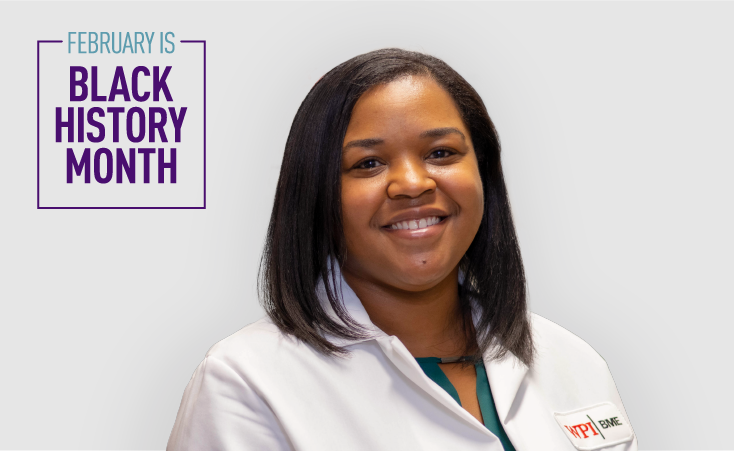 Editor's note: In honor of Black History Month, we're celebrating our community's Black supporters and how they're making a difference for pancreatic cancer patients.
Catherine Whittington, PhD, can quickly rattle off most of the names of fellow biomedical engineering faculty in the U.S. who are Black. The number gets even smaller when looking for Black women.
"I pretty much know where they all are," she said. "I've met a majority of them."
An assistant professor of biomedical engineering at Worcester Polytechnic Institute outside of Boston, she is passionate about increasing the diversity of researchers in her chosen field, which like many scientific disciplines has historically skewed male and white to some degree.
Although it's a complex problem to solve, Dr. Whittington points to specific actions -- like addressing unconscious bias in the National Institutes of Health (NIH) grant review process and recognizing the importance of a diverse research team -- as some ways to move the needle.
She gives credit to several of her biomedical engineering colleagues from across the country for publishing a commentary in January of 2021 that calls on the NIH to make changes to support Black scientists, including closing the disparity in NIH grant funding for this group.
"The article got a lot of traction and they're not letting up on it," she said. "They're still at it, actively seeking out and generating opportunities to create real change right now."
In 2021, Dr. Whittington received her first external grant, a PanCAN Career Development Award. She said the funding validates the ideas coming out of her lab and gives her a boost at just the right time – when she's learning how to balance the demands of running an independent research lab and teaching in her first faculty position.
This type of early career funding from PanCAN – as well as grants geared towards researchers from underrepresented backgrounds – is important to help level the playing field.
"My visibility as a Black woman increases – it shows my work can get funded," she said. "Because bias still exists. It's not always intentional bias, but things can be stacked against you."
Her research applies leading-edge bioengineering techniques to some of the most challenging aspects of pancreatic cancer. Through her PanCAN grant, she is developing new ways to study what makes obesity a risk factor for pancreatic cancer. Her lab uses cells grown in dishes with biomaterials to mimic changes that occur during disease progression. Specifically, she wants to understand more about how fibrosis – or excess tissue deposits – and tissue stiffness drive tumor cell invasion in the pancreas.
This work sets up new areas to explore.
"We're going to end up with lots of questions at the end of it," she said. "That's good because that gives us opportunities to see which direction we need to go."
The award has also helped to introduce her to fellow researchers focused on topics like obesity and pancreatic cancer. For Black and minority scientists who are establishing labs and research priorities, these opportunities to network can help push their work in new directions.
"It definitely helps to have connections and build collaborations," she said. "Nothing gets done in a vacuum."
And although when she began her research she wasn't necessarily thinking about the unequal impact pancreatic cancer has on different ethnic groups, her focus on better understanding risk factors stands to help address these disparities.
Recent data from the National Cancer Institute shows that Black Americans are more likely to get pancreatic cancer than any other racial or ethnic group.
As Dr. Whittington continues to forge ahead in the lab, she's also mentoring the next generation of researchers, another key piece of the puzzle when it comes to diversifying the fields of science and engineering.
She said she's had students seek her out when deciding whether they should apply to graduate school or pursue a research career. She makes it a point to bring topics related to diversity and inclusion into the classes she teaches, which signals to students that she's engaged in these issues and ready to listen. Sometimes they just need the confidence to make their choice.
"As a faculty member, I've learned quite a bit about the many different experiences of students and what they may be dealing with. I try to be mindful of that," she said. "Having empathy and showing grace towards people goes a long way."
Progress is made possible thanks to PanCAN supporters. Your gift today will fuel research and change lives.