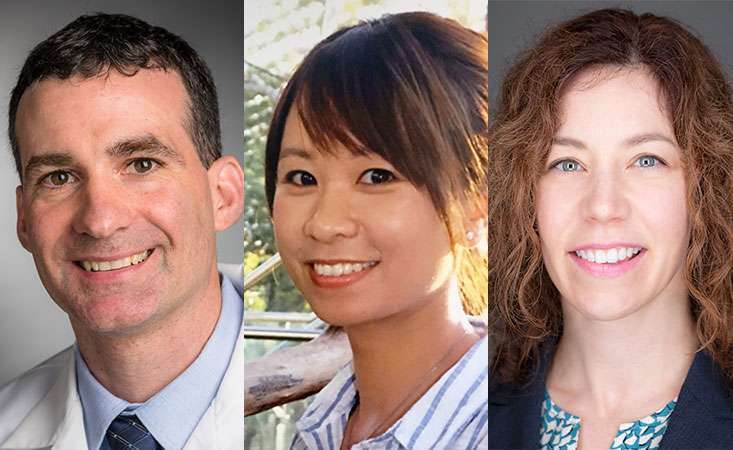 The Pancreatic Cancer Action Network (PanCAN) recently announced this year's recipients of prestigious research grants. Funding decisions were made by outside panels of experts through a competitive, peer-review process.
Since the grants program's inception in 2003, PanCAN has directed funds toward scientists early in their careers, to develop and sustain a pipeline of investigators focused on tackling one of the world's toughest cancers. In addition to funds, grant recipients receive career support, such as opportunities for mentorship, networking and collaboration-building with other junior and senior researchers, including some of the world's utmost experts in the disease.
This year, three early-career research grants were awarded. For the first time, the organization offered Catalyst Grants, designed to provide a boost for junior, independent scientists to establish successful career paths in the field. The two recipients of Catalyst Grants were each awarded $500,000 to use over the next three years.
For Andrew Aguirre, MD, PhD, the Catalyst Grant marks his second award from PanCAN. He also received a Fellowship Grant in 2013, while he was a postdoctoral fellow. Since that time, he has been promoted to instructor in medicine and independent laboratory investigator at Dana-Farber Cancer Institute in Boston where he has been involved in many high-impact projects, including co-leading a nationwide effort to uncover genetic clues in pancreatic cancer cells.
With his 2018 Catalyst Grant, funded in memory of Skip Viragh, Aguirre seeks to develop a combination approach to treat pancreatic cancer by identifying new drugs and strategies to enhance the effectiveness of current therapies.
"It has been my longstanding goal to develop new therapies for this disease, and I promise that I will work tirelessly to make research and clinical advances to improve the lives of patients suffering from pancreatic cancer," Aguirre wrote to the donors who generously funded his grant. "In doing so, I hope that I can honor the legacy of Skip Viragh and the many other patients who have so valiantly fought this disease in the past."
The second Catalyst Grant went to Iok In Christine Chio, PhD, at Columbia University Medical Center in New York City. Chio's postdoctoral training took place in the lab of David Tuveson, MD, PhD, a recipient of one of the first PanCAN grants in 2003. Chio is currently an assistant professor of genetics and development.
In her personal statement, Chio noted, "My commitment to cancer research is predicated on the belief that a bidirectional flow of information between the basic science laboratory and the clinic is essential to improve outcomes for patients with this devastating disease."
Chio's project focuses on a certain protein, called NRF2, that is involved in pancreatic cancer cells' ability to survive and thrive under very low oxygen conditions. A better understanding of NRF2's activity could lead to the discovery of strategies to stop or slow the growth of pancreatic cancer cells.
The final 2018 young investigator grant was awarded to Karen Mann, PhD, an assistant member in the department of molecular oncology at Moffitt Cancer Center in Tampa, Fla. Mann received a Career Development Award, providing $200,000 over two years. Her grant was also funded in memory of Skip Viragh.
"I am grateful for the support of the Pancreatic Cancer Action Network and for patients and their families who advocate for basic and translational research for pancreatic cancer," Mann told the Viragh family.
Her research project aims to understand how a process known as alternative splicing, by which pieces of genetic material can be either removed or rearranged in a new pattern, can influence pancreatic cancer cells' ability to metastasize, or spread to other organs in the body.
Mann added, "I have dedicated my career to studying the genetic underpinnings of pancreatic cancer metastasis, and my long-term goal is to contribute to significant clinical breakthroughs in managing this disease."
Donate today
to allow PanCAN to continue to support bright and motivated scientists to better understand, diagnose and treat pancreatic cancer.