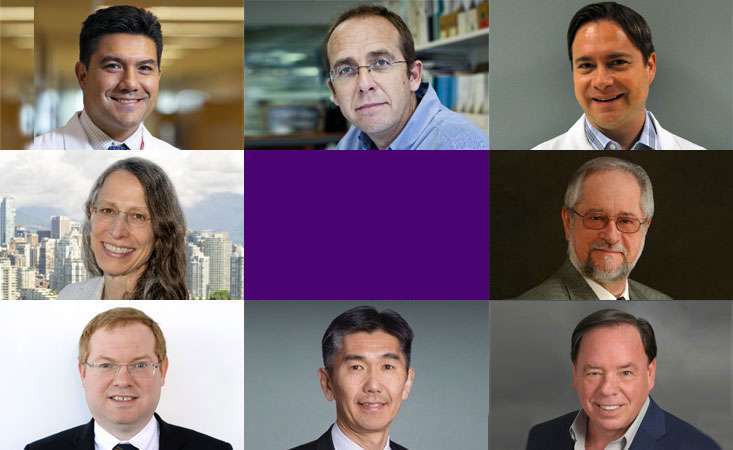 This year, the Pancreatic Cancer Action Network (PanCAN) awarded eight prestigious research grants to scientists and clinicians in the United States, Canada and France. Three of the awards were directed to support early-career investigators, with the remaining five grants going toward funding translational research projects.
Translational research bridges the gap between scientific discoveries in the lab and patient benefit in the clinic. PanCAN's Translational Research Grants were established in 2014 to help researchers conduct the necessary experiments to boost their projects' readiness for testing in the clinic.
This year's Translational Research Grant recipients, selected through a rigorous peer-review process, all focus on improving treatment options for pancreatic cancer patients. The projects can be classified as aiming to develop either targeted therapies, drugs that attack certain characteristics of cancer cells, or immunotherapies, which harness the patient's immune system to fight their tumor.
Targeted Therapeutic Approaches
The target that Darren Carpizo, MD, PhD, and his co-principal investigator, Patrick Mehlen, PhD, are aiming to focus on is called Netrin-1. The researchers think that stopping Netrin-1 signaling will directly encourage cancer cell death and possibly make the cells more susceptible to chemotherapy.
Carpizo, a two-time PanCAN grantee, noted, "We have formed an excellent team of experts to further investigate the therapeutic value of targeting Netrin-1 in pancreatic cancer. One of our main goals is to generate the necessary preclinical data to justify the conduct of a clinical trial of an anti-Netrin-1 therapeutic in pancreatic cancer."
The research team of Sharon Gorski, PhD, and Robert Young, PhD, MC, FRSC, have set their sights on a family of proteins called ATG4 that allow pancreatic cancer cells to undergo a process called autophagy to survive despite stressful conditions. They will determine whether blocking ATG4 could induce cellular starvation and death.
The final Translational Research Grant recipient taking a targeted therapy approach is Kenneth Shroyer, MD, PhD. He and his research team are working to block a protein called keratin 17 (K17), with the intention of preventing its ability to cause the growth of one of the most aggressive subtypes of pancreatic cancer.
"The studies proposed in this application are the culmination of collaborative efforts to further understand the mechanisms through which K17 promotes tumor aggression and to provide a rationale for targeting K17 in pancreatic cancer," Shroyer said.
Immunotherapeutic Approaches
The scientists working on immunotherapeutic strategies are Michael Curran, PhD, and George Miller, MD, with his co-principal investigator, Shohei Koide, PhD.
Curran and his team seek to recruit and empower dendritic cells within the immune system to get inside the tumor and attack the cancer cells. Simultaneously, they want to block the activity of other cells that suppress an immune response.
Upon learning that he'd received the award, Curran responded, "We're extremely grateful for the support for our work, and I've been hoping for the opportunity to work with PanCAN ever since starting my own lab."
Miller, also a two-time PanCAN grantee, and Koide seek to manipulate a certain type of immune cell, called macrophages, by altering the transmembrane receptor (a protein that is partially inside and partially outside the cell) TIM4 in those cells. The idea is the changed macrophages would shift their activity from blocking to causing an immune response, and impede instead of promote cancer development and progression.
The 2018 PanCAN Translational Research Grant recipients are all investigating innovative, promising approaches to discover more effective ways to treat pancreatic cancer and improve patient outcomes.
We need your help
to support leading-edge research moving us closer to our goal to double pancreatic cancer survival by 2020.