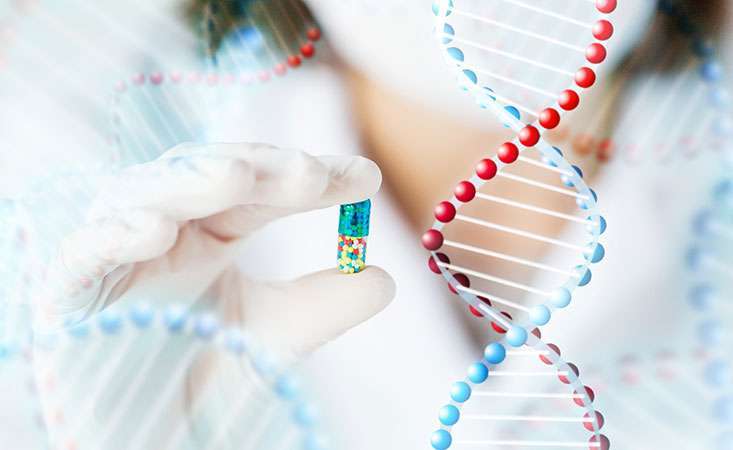 The U.S. Food and Drug Administration (FDA) approved Vitrakvi® (larotrectinib) today for the treatment of any locally advanced or metastatic solid tumor, anywhere in the body, that has an NTRK gene fusion.
Vitrakvi, developed by Bayer and Loxo Oncology, Inc., was tested in clinical trials as a treatment for adults and children whose tumors had NTRK fusions. Vitrakvi reduced tumors in 75 percent of these individuals. And these results were ongoing. 73 percent stayed progression-free for at least six months and 39 percent were progression-free for a year or longer.
"NTRK fusions can occur in pancreatic tumors, but they're very rare – thought to occur in less than 0.5 percent of cases," said Lynn Matrisian, PhD, MBA, chief science officer at the Pancreatic Cancer Action Network (PanCAN).
NTRK fusions occur as the result of two pieces of genes, located on different chromosomes, coming together abnormally. The resulting hybrid protein has enhanced cancer-causing activity. But the good news is that the hybrid protein is also susceptible to inhibition by drugs like Vitrakvi.
Information about gene fusions, as well as mutations and other abnormalities, can be gathered through molecular profiling. And using this information to guide treatment decisions is known as precision medicine.
Pancreatic cancer patients can access molecular profiling through their treating institutions or through PanCAN's Know Your Tumor® precision medicine service. Because every pancreatic tumor is different, PanCAN strongly recommends molecular profiling to help determine the best treatment options.
"Among the more than 1,000 patients who've received molecular profiling reports through Know Your Tumor, we've seen two patients with NTRK fusions," Matrisian said.
She continued, "Although this particular alteration is rare, through Know Your Tumor, we've found that about half of pancreatic cancer patients have at least one 'actionable' alteration in their tumors – meaning that information gained through the testing can influence treatment decisions for those patients."
Vitrakvi is the second example of a drug being approved by the FDA based on a patient's tumor's molecular information, regardless of the location of the tumor within the body. The first instance of this type of drug approval was Keytruda® in spring 2017.
"Historically, cancer drugs were approved for the treatment of breast cancer or lung cancer or colon cancer, but now we're moving in the direction of more targeted therapies that specifically attack the cancer cells' molecular vulnerabilities, wherever the cells arise in the body," Matrisian said.
The only way patients can learn if their tumors might respond to certain targeted therapies or immunotherapies is through molecular profiling.
Matrisian added, "It's encouraging to see pharmaceutical companies and the FDA moving in the direction of more personalized treatments for patients based on their tumor's biology instead of simply its location in the body."
Contact Patient Central
to learn more about molecular profiling, clinical trials and for other information and resources for pancreatic cancer patients.