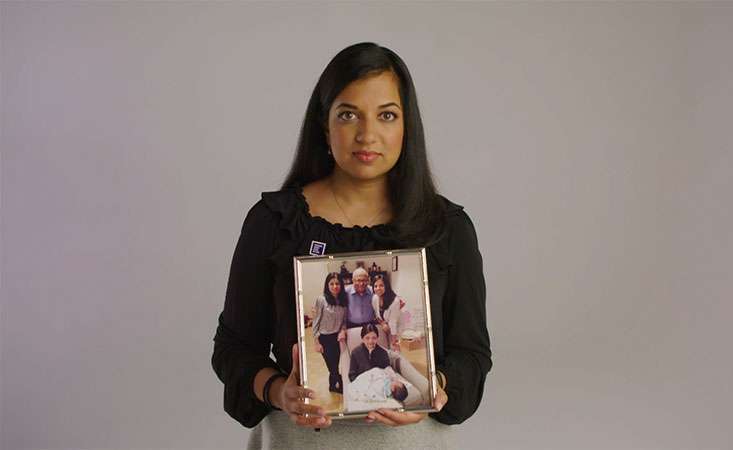 Knowing the symptoms of pancreatic cancer and getting it diagnosed early could save your life. This message is delivered personally by survivors, caregivers, researchers, public figures and more in the new public service announcement (PSA) video from the Pancreatic Cancer Action Network (PanCAN).
The video shares why early detection and understanding the symptoms of the world's toughest cancer is critical to survival. Released during Pancreatic Cancer Awareness Month in November, the PSA aims to make more people aware of the disease and the signs to look out for.
"Our hope is to raise awareness (but not fear) about risk factors and symptoms, so the disease can be diagnosed earlier, when it is more treatable," said Julie Fleshman, JD, MBA, president and CEO of PanCAN.
The following supporters graciously appeared in the video to share their personal experience and urgent call to get informed about pancreatic cancer, and to demand better before it's too late.
Survivors
Franco Juricic
4-year survivor
New Jersey Affiliate Mission Chair volunteer
Matt Wilson
7-year survivor
Co-chair of PanCAN's Volunteer Advisory Council and Delaware Affiliate Chair volunteer
Teona Ducre
2-year survivor
Atlanta Affiliate Chair volunteer
Michael Weinstein
13-year survivor
PanCAN Survivor Council and volunteer
Stu Rickerson
13-year survivor
PanCAN Board of Directors
Public Figures
Erin Willett
Singer-songwriter and reality TV star lost her father
David Robertson
New York Yankees pitcher lost his father-in-law
Dave Price
TV weather anchor for NBC New York whose brother is a survivor
Volunteers and Donors
Terrence Meck
PanCAN Board of Directors and donor lost his partner
Jann Skelton and her children William and Hannah
New Jersey Affiliate volunteers and PurpleStride fundraisers lost their father/husband
Ann Marie McCabe
New Jersey Affiliate Chair volunteer leader lost friends
Noila Johnson
New York City Affiliate Community Engagement Chair volunteer lost friends
Priya Kothary
New York City Affiliate volunteer lost her mother
Researchers / Healthcare Professionals
Diane Simeone, MD
Chair, PanCAN Scientific & Medical Advisory Board
Perlmutter Cancer Center/NYU Langone Health – professor of surgery and pathology; director, pancreatic cancer center; associate director, translational research
Alison Klein, MHS, PhD
PanCAN Scientific & Medical Advisory Board member
Johns Hopkins University – professor of oncology, pathology and epidemiology
Lynn Matrisian, PhD, MBA
PanCAN Chief Science Officer