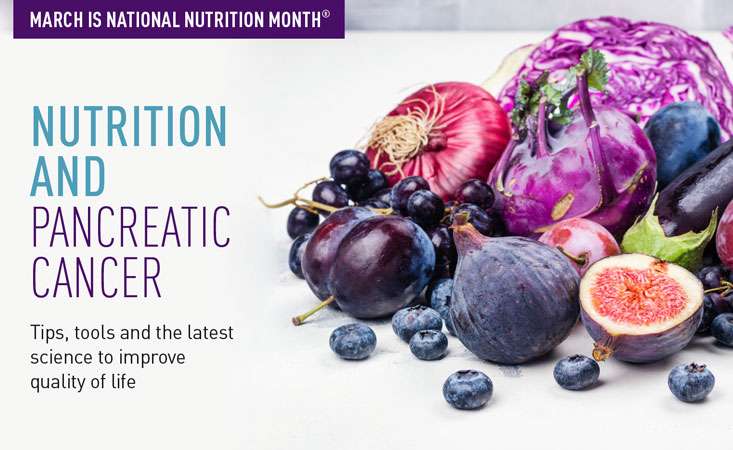 March is National Nutrition Month® and we're featuring a month-long series focused on diet and nutrition for people with pancreatic cancer. We'll explore the role of a dietitian, new research in the field, how to modify meal supplements and more. Stay tuned!
Making the healthiest choices possible to maintain good nutrition can help patients with pancreatic cancer minimize the side effects of treatment, recover from surgery and maintain the best quality of life.
During National Nutrition Month®, we'll be talking about common nutritional challenges as well as sharing recipes, suggestions from survivors, tips for working with a dietitian and more. At every stage of a patient's journey, proper nutrition can improve mental and physical well-being.
It's important to note that each patient has individualized nutritional needs.  Patients and their caregivers should consult with a registered dietitian or doctor before making any dietary changes.  The dietitian or doctor can also help create an appropriate dietary plan.
Here, to kick off the month, we share some tips for different stages of the pancreatic cancer journey, from diagnosis through treatment and survivorship.
Nutrition After a Pancreatic Cancer Diagnosis
PanCAN recommends connecting with a registered dietitian as soon as possible after diagnosis. These health professionals can work with you to build a plan that keeps you as healthy as possible for the road ahead. Consider meeting before starting treatment, a month or two into treatment and then once or twice a year to help monitor long-term nutrition. If surgery is planned, a dietitian can help to manage nutrition pre- and post-surgery, both for the short and long term.
Read more tips from Maria Petzel, senior clinical dietitian for the pancreas surgery program at MD Anderson Cancer Center.
Nutrition After Surgery
Patients who have surgery may need to modify their eating habits immediately following surgery and during the recovery process. Some general tips for patients after surgery include:
Eat 6-8 small meals and snacks daily to prevent feeling overly full. Small meals are easier to digest.  Space meals 2-3 hours apart.
Take small sips of liquids with meals. Drinking too much fluid at mealtime may cause the patient to feel full quicker or increase nausea. Drink liquids an hour before or after eating to avoid feeling full.
Keep a daily journal of your diet after surgery. In addition to the foods and the amounts eaten, also record daily weight, amount of pancreatic enzymes used, frequency and consistency of bowel movements, and blood glucose readings (if applicable).
Read additional information about nutrition following pancreatic surgery.
Managing Long-Term Nutritional Challenges
Some patients with pancreatic cancer are faced with conditions like diabetes or pancreatic enzyme insufficiency that need to be managed for the long-term. For diabetes, recommendations include incorporating into your diet foods with complex carbohydrates, such as starch and fiber, instead of refined versions, such as white breads or pastries. High-protein foods and small amounts of healthy fat with each meal and snack can also be helpful. A registered dietitian with expertise in both diabetes and oncology is recommended.
Pancreatic enzyme insufficiency happens when the pancreas is unable to secrete the enzymes needed for digestion. This can result in bloating, cramping, large amounts of gas and weight loss. Recommendations include small, frequent meals, eating food with minimal fluids and getting adequate exercise. Pancreatic enzymes, when taken properly, can be especially helpful. A registered dietitian can advise on how best to take these and help tailor them to your situation.
Read more about managing diabetes, pancreatic enzyme insufficiency and other long-term challenges.