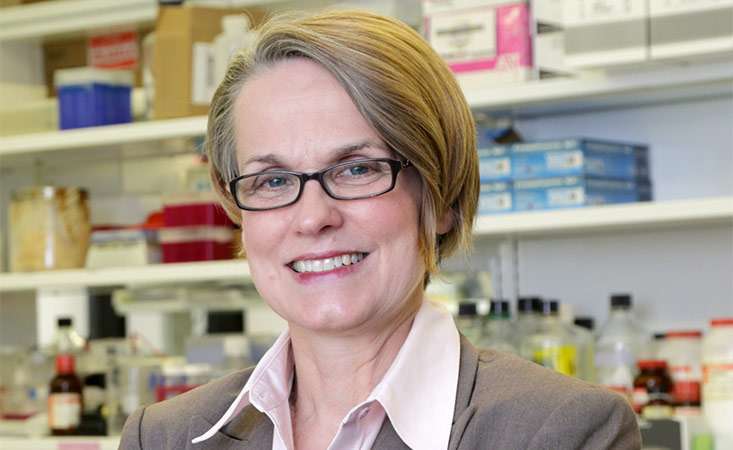 Editor's note: We recently announced the recipients of the Pancreatic Cancer Action Network's (PanCAN) 2020 research grants. Now we'd like to introduce you to each grantee to share what brought them to the field of pancreatic cancer research and what this funding means to them.
One word that is extremely important to patients with cancer is, "options."
Options mean being able to choose between effective types of treatment. Making informed, evidence-based decisions. Having a backup plan (or several) should treatment stop working.
Oncologist Susan Bates, MD, has made it her lifelong professional goal – both in the clinic and in the laboratory – to provide cancer patients with more options.
Early in her career at the National Institutes of Health, Bates studied proteins responsible for a process known as "multidrug resistance." Some of the proteins causing this resistance act by physically pumping the drug out of the cancer cells.
Bates and her team found that certain drugs could inhibit drug resistance pumps and studied this approach in the clinic. Her team was also one of the early discoverers of the drug resistance pump known as ABCG2. This formed the foundation for studying drug resistance in cancer throughout her career.
In studying drugs susceptible to drug resistance pumps she identified an epigenetic agent called romidepsin. Epigenetic agents are drugs that regulate genetic material called RNA, which directs how cells divide, grow or die.
Bates and her team found romidepsin was active in patients with T-cell lymphoma and shepherded that agent through a multi-year, multi-institutional trial to its FDA approval.
When Bates moved to the Herbert Irving Comprehensive Cancer Center at Columbia University her focus shifted to how to translate epigenetic therapies to solid tumors, using what she learned about T-cell lymphoma treatment and treatment resistance.
"I saw pancreatic cancer as a great unmet need," Bates said.
Looking at other cancer types, where patients have good options for many rounds of treatment, Bates felt frustrated that she didn't have more to offer her patients with pancreatic cancer.
She said, "Patients are often very committed to survive and thrive, despite the therapies we offer. But in pancreatic cancer we do not have the multiple lines of therapy we need to achieve this aim."
Bates' 2020 PanCAN Translational Research Grant project aims to address that.
The funding will allow Bates and her team to conduct experiments testing a combination of novel experimental pancreatic cancer drugs, deepening their understanding of how the drugs work alone and when given together.
The goal is to gather enough evidence to be able to offer the experimental combination to patients through clinical trials.
Prior to receiving this award, Bates had participated in several PanCAN events as the co-principal investigator for a previous PanCAN grant: the 2017 Translational Research Grant, funded by Tap Cancer Out, awarded to Dr. Timothy Wang.
"I attended two of PanCAN's Annual Scientific Summit events and found them inspiring," Bates said. "It's clear PanCAN prioritizes both science – as a funder and through its internal initiatives – and by supporting patients."
She added, "I was thrilled and extremely grateful to get this grant from PanCAN. I'd like PanCAN's donors to know how important these grants are to investigators like me.
"My PanCAN grant will free me up to think a lot about pancreatic cancer and how to make it better – with the goal of providing more options to patients."
You can contribute
to potentially lifesaving pancreatic cancer research by donating today.