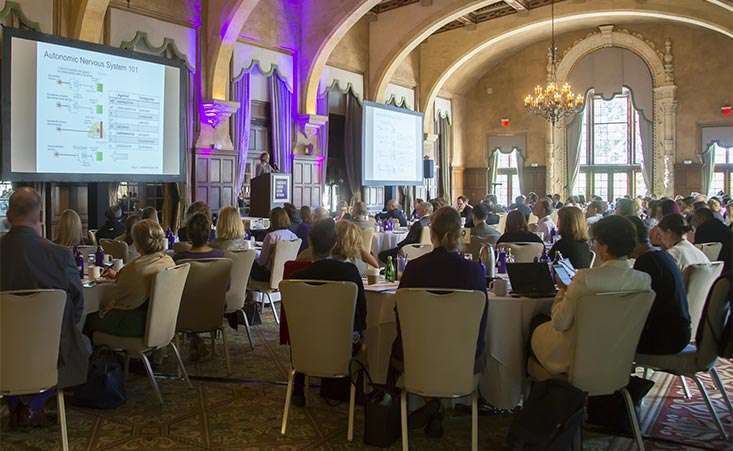 Editor's note: The Pancreatic Cancer Action Network's (PanCAN) Annual Scientific Summit took place earlier this month in Coral Gables, Fla. The event brings together our recent research grant recipients, members of our Scientific & Medical Advisory Board, the Precision PromiseSM adaptive clinical trial team and other special guests to discuss important topics, share ideas and encourage collaboration.
"This work wouldn't have been possible without PanCAN."
"This was my first translational research grant."
"I built this project on other studies conducted by fellow PanCAN early-career grant recipients."
These were just a few of the remarks made during PanCAN's 2019 Annual Scientific Summit.
"Through PanCAN's research grants program and other initiatives, we have built a robust community of bright and motivated scientists and clinicians dedicated to working together to improve patient outcomes," said PanCAN chief science officer, Lynn Matrisian, PhD, MBA. "Our Annual Scientific Summit serves as the cornerstone event to bring together our Community for Progress."
The event kicked off with a welcome reception for all attendees, featuring poster presentations from some of PanCAN's early-career investigators.
"Creating and displaying a poster allows these young scientists to summarize the goals for their PanCAN-funded projects, get feedback and start to build relationships with experts in the field," Matrisian said.
The following morning began with opening remarks from Julie Fleshman, JD, MBA, PanCAN's president and CEO. Fleshman outlined progress made over the organization's 20-year history and outlined key priorities and initiatives moving forward.
Next up were presentations from recipients of Translational Research Grants. The purpose of this grant mechanism is to support the final steps of laboratory-based experiments before a new treatment strategy or early detection tool is ready for testing in patients.
"We've heard the period of translational research referred to as the 'valley of death,'" Matrisian explained, "because it's difficult to secure funding to accumulate sufficient data to ensure a project's readiness for clinical trials.
"That's why we offer this funding mechanism to support acceleration of research from the lab bench to the patient's bedside."
The projects described in this session ranged from a novel early detection strategy evaluating endoscopic ultrasound samples to new targeted therapies aiming to block cancer cells' ability to break down nutrients, and immunotherapeutic approaches to block the cancer cells from hiding from immune recognition and attack.
Another highlight was a "rising stars keynote" featuring two junior researchers who recently published companion articles in the highly prestigious journal Nature Medicine.
Kirsten Bryant, PhD, and Conan Kinsey, MD, PhD, described their work evaluating a combination approach of targeting signaling generated from mutant KRAS, an alteration occurring in nearly all pancreatic tumors, along with blocking a cellular survival mechanism known as "self-eating."
Based on Bryant and Kinsey's exciting findings, several clinical trials are launching to test this highly promising treatment combination.
A few hours were also dedicated to discussing the recent American Association for Cancer Research (AACR) special conference on pancreatic cancer, which took place in early September in Boston.
PanCAN invited Eric Collisson, MD, and Kenneth Olive, PhD, to revisit a paper they wrote outlining the 2016 AACR pancreatic cancer conference. In the paper, they described benchmarks for success they anticipated reaching by today.
"Looking back, Eric and Ken's predictions were incredibly accurate," Matrisian said.
"They identified advancements in precision medicine (the ability to customize a patient's treatment based on their tumor biology), progress toward immunotherapy, a focus on early detection and better ways to model the disease in the lab – all topics the field has moved the needle on over the past several years."
Breakout groups were then convened to evaluate the current landscape of pancreatic cancer research and to help Collisson and Olive identify the benchmarks anticipated to be reached in the next few years.
The final morning of the Scientific Summit featured another opportunity for early-career investigators to describe their PanCAN-funded projects and progress.
The broad range of topics discussed included a deeper understanding of the behaviors of mutant KRAS, ways to overcome resistance to immunotherapy and the biology of cancer cachexia, a muscle-wasting syndrome that plagues 70 to 80 percent of patients with pancreatic cancer.
"Throughout the event, I think the question-and-answer opportunities were my favorite part," Matrisian said. "It's wonderful to hear junior and senior investigators providing input and suggestions to strengthen one another's projects and accelerate progress toward patient benefit.
"The collegiality and sense of collaboration within this community always amaze and inspire me."
Donate now
to help PanCAN continue to fund innovative science as well as build and strengthen a community of researchers focused on this disease.