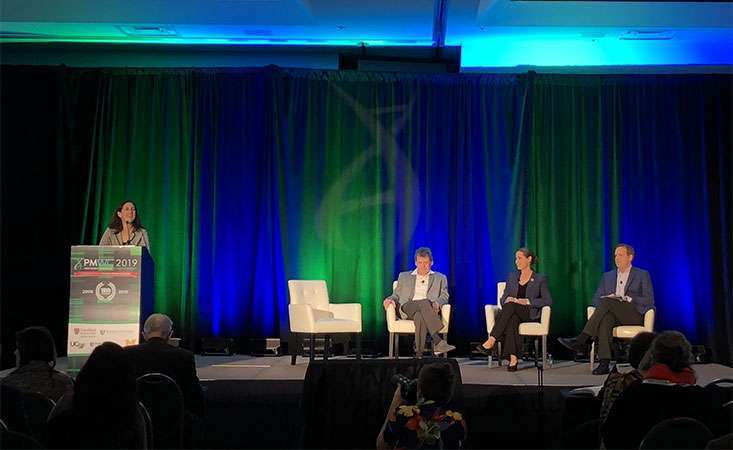 Last week, Jenny Isaacson, vice president of strategic partnerships and projects at the Pancreatic Cancer Action Network (PanCAN), championed cross-sector collaboration in a panel discussion at the 2019 Precision Medicine World Conference.
The panel focused on how various stakeholders within precision medicine use "collective impact" to create an ecosystem of shared value  to overcome obstacles and improve patient care and outcomes. Isaacson discussed how PanCAN is highly collaborative and plays a leadership role bringing stakeholders to the table within pancreatic cancer.
She highlighted PanCAN's involvement in Harvard Business School's Kraft Precision Medicine Accelerator, as an opportunity to work across oncology.  She discussed the Accelerator's four, integrated work streams – Direct to Patient, Data & Analytics, Innovative Trials, and Investment/Venture – all critical elements of precision medicine.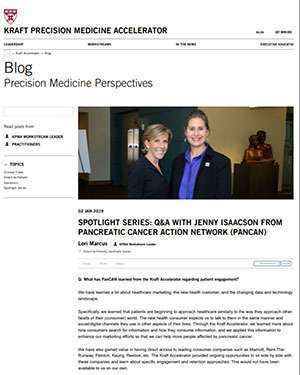 Harvard Business School recently interviewed Isaacson about PanCAN's takeaways from participating in the initiative. Read the full Q&A.
As part of the Harvard initiative, PanCAN has had the opportunity to learn about engagement and retention strategies from major consumer companies such as Marriott, Rent-The-Runway, Reebok and more. PanCAN has used these tactics to enhance their marketing efforts in order to engage and assist even more patients facing pancreatic cancer.
PanCAN also gained value from working with other nonprofits involved in the initiative. Isaacson spoke about the Right Track, a resource roadmap for patients to get on the right path to precision medicine and treatment. PanCAN adopted the model for pancreatic cancer patients and is integrating it into their approach for fighting the world's toughest cancer.
Read more about pancreatic cancer patients getting on the Right Track:
Isaacson was joined on the panel by other healthcare experts focused on accelerating the discovery, development and delivery of precision medicine. This year marked the Precision Medicine World Conference's 16th installment. Featuring this panel and many others, the conference program covered innovative technologies, thriving initiatives and clinical case studies that enable the translation of precision medicine into direct improvements in healthcare.
For more information about precision medicine, the Right Track or any other questions about pancreatic cancer,
contact Patient Central
.