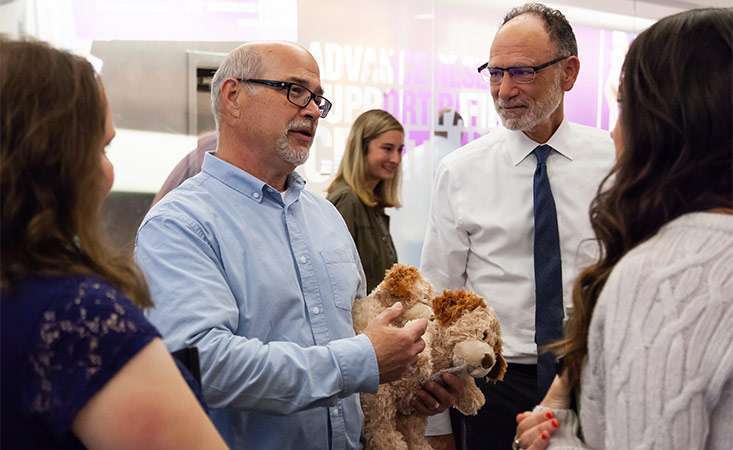 When doctors told David Watson of Santa Monica, Calif., that he had type 2 diabetes in November 2016, he couldn't shake the feeling that something else was wrong.
"I had been losing weight for several months," Watson recalled, "and having type 2 diabetes did not explain my steady weight loss – in fact, it felt contradictory."
After Watson insisted on receiving a CT scan, the mystery was solved four months later. He was diagnosed with metastatic pancreatic cancer – on Valentine's Day.
"My wife was with me at the time of diagnosis, and I remember feeling a deep, deep sadness," said Watson, who was 59 at the time. "My biggest fear was not having time with my wife and our daughters, who were then 8 and 2 years old."
He continued, "We explained my diagnosis to our 8-year-old as honestly and age-appropriately as we could. As for our baby, we simply told her that Daddy is sick with a disease called cancer – and assured her that she couldn't catch it."
Watson began a powerful chemotherapy regimen two weeks after his diagnosis in February 2017.  While he was able to tolerate the strong side effects, and his tumor showed an initial response, Watson wondered if there were other treatment options that could more selectively attack his cancer cells.
A water resources engineer, Watson was used to problem-solving and critical thinking. He and his wife began thoroughly researching the various treatment options available.
In the course of their research, they discovered the Pancreatic Cancer Action Network (PanCAN) and the abundance of information and resources PanCAN had available. Watson quickly enrolled in PanCAN's Know Your Tumor® precision medicine service, eager to learn the unique molecular characteristics of his tumor.
Being a cautious person, he also sought a second opinion with Nicholas Nissen, MD, director of liver transplant and hepato-pancreato-biliary surgery at Cedars-Sinai Medical Center and member of PanCAN's Scientific and Medical Advisory Board.
Nissen reiterated that PanCAN's PanCAN Patient Services call center would provide valuable information and referred to a new immunotherapy option that would be made available soon.
Watson received his Know Your Tumor report in August 2017, which contained information about the specific biological characteristics of his tumor as well as possible treatment options that may be particularly beneficial for him.
At the top of Watson's list of treatment options was a revolutionary new immunotherapy drug called Keytruda. Keytruda had been approved by the U.S. Food & Drug Administration (FDA) three short months earlier. The landmark ruling stated that Keytruda was effective for any solid tumor, regardless of where in the body it arose, which carried certain biological traits.
Keytruda was approved based on its effectiveness in patients whose tumors had either high microsatellite instability or mismatch repair deficiency. Watson's tumor was found to have both abnormalities. Watson also tested positive for Lynch Syndrome, an inherited disorder that increases the risk of developing many types of cancer.
"I felt relieved and excited that I was a candidate for Keytruda, since I had heard about its breakthrough approval," Watson said. "I was also pleased that my results matched me with an immunotherapy drug, since immunotherapeutic approaches had been quite effective in other tumor types."
The traits found in Watson's tumor led to very high numbers of mutated proteins within the cancer cells, which can spark a robust immune response once the tumor's immune-shielding mechanisms are lifted by drugs like Keytruda.
Watson took his first dose of Keytruda on Sept. 18, 2017, and his tumors quickly showed signs of shrinking. Then, he hit a bump in the road. Since Keytruda works by altering the patient's immune system, it can also cause other inflammatory responses in the body.
"I started showing signs of pneumonia in November 2017 and ended up hospitalized for a few days in late December," Watson said.
"It was tough getting through that illness, but as soon as I began feeling better, I urged my doctor to allow me to restart Keytruda," he continued. Easing in with a half-dose, he was up to a full dose again by March 2018.
Today, Watson said he is feeling "very positive and focused emotionally," and he's feeling well physically, too, and beginning to increase his exercise intensity.
Most of all, he's grateful for the opportunity to spend time with his family and loved ones and to continue to watch his beautiful daughters growing up.
When asked what advice he'd provide to newly diagnosed pancreatic cancer patients, he shared, "First and foremost, be your own advocate, and seek second opinions and advice when available. Definitely get the support of PanCAN and their resources."
He also recommends that people get molecular profiling done as soon as possible and avoid reading statistics, as they're mostly bad news and not necessarily relevant to each person's case.
Watson added, "To me, self-advocacy means being responsible for the decisions you make in your life, and for pancreatic cancer patients, that means seeking the best treatment options. Seek out the most knowledgeable organizations, like PanCAN, and take advantage of the services and information they provide."
If you have questions about molecular profiling, Know Your Tumor, treatment options or anything related to your or a loved one's pancreatic cancer diagnosis,
contact Patient Services
today.
Any treatments, including clinical trials, mentioned in this story may not be appropriate or available for all patients. Doctors take many things into account when prescribing treatments including the stage and type of cancer and the overall health of the patient. Contact PanCAN Patient Services for personalized treatment options.